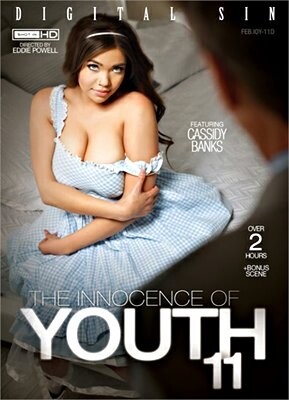 It's definitely fun watching highly bangable young girls who look innocent and may even claim to be innocent (yeah, right), but are far from it; which is exactly what you get — times four! — in this electric eleventh volume of the ongoing hit Digital Sin anthology series.
James "Mr. Wonderful" Deen likes his women to wear white, which he thinks is a sign of purity, before he bones the livin' hell out of 'em, as is the case with the white-wearing-but-far-from-pure Emma Hix, in one superb opening scene. Emma might use a little too much hand/wrist when it comes to sucking cock, but she's incredible to watch getting her pussy penis-probed in any position, with my own faves being spoon (which transpires, thankfully, twice!) and doggie, in that both stances allow us to fully appreciate Em's killer ass cheeks, while her big head-givin' lips ultimately take a major dumpin' o' Deeno dick paste in a way-horny fashion you won't wanna miss. Prick-lovin'-Hix is the shit.
Next, Chad White portrays a kinky bastard who finds an equally kinky bitch, in the form of brunette babe-a-roo Judy Jolie, via the internet, with the two putting in one scorcher of a sequence themselves. After a thoroughly horny face-fucking, Jolie gets pounded mish style, then offers show-stopping cowgirl, with her juicy, shiny ass undulating all over the place as White salami-slams her silly. Reverse-cowgirl lets us really enjoy J.J.'s meaty fucking thighs, while doggie is out of this world in terms of Jolie's butt bongos wailing like crazy. And what a totally cute face this sweet-/exotic-looking bitch has!
Delicious brunette Harmony Wonder finds a "stray" on the side of the road in the form of (not a dog or cat) but Lucas Frost, with her father (whom we never see) telling her that it's okay if she wants to keep Luke once daddy sees photos of the fortuitous bastard in an email; with Harr really going to town here on lucky Luke — and vice versa! Check out how awesome lil' slut Wonder sucks Frost's boner to the base — after she unties him, that is — and with loud, wet, slurping suck-off noises, too! Doggie and cowgirl are terrific in terms of showcasing Harr's succulent ass, while mish provides some primo shots of her moist twat; reverse-cowgirl showing what a devastatingly darling fuck she is, as she bounces like an excited little girl on that gnarly piece of man-gristle. Brilliant scene!
And, lastly, we have old dude Steve Holmes as (yet another!) bent bastard who likes to get all perverted on his young female subjects, in this case the voluptuous Cassidy Banks, who graces the DVD's boxcover for damn good reason; this final scene being one barn-burner of a cunt-clusion. Check out Cassidy's large, all-natural chest orbs (as in hooters!), which Steve more than happily sucks at the start of his ravishment of this extraordinary young piece of ass, who has a gag in her mouth while he sucks her twat, then whips it, before finally vibing it. Stevie boy then removes the gag and has Cass dutifully, deeply suck his trouser weasel throughout the scene, with Banks getting lots and lots of saliva all over that overworked veteran worm, while she has fun bags (as in large fucking breasts) big enough to actually fuck, which Stevie boy ever so ecstatically does. Doggie is amazing, what with Cassidy's ultra-juicy butt cheeks. Ditto for cowgirl. And it's not surprising that horndog Holmsie dumps dick snot all over those same priceless Banks boobies. Fantastic!
From start to finish, "Innocence of Youth 11" is one highly wankworthy quartet of stories, starring such totally porkable female cuties that it's hard to figure out which one you'd wanna bang first. Recommended.
Synopsis:
The Innocence of Youth returns in the 11th installment and it hasn't aged one bit! The delectable cast will steal your heart and your cum if you're not careful. Don't miss a second of these devilishly charming cuties in all brand-new scenes.