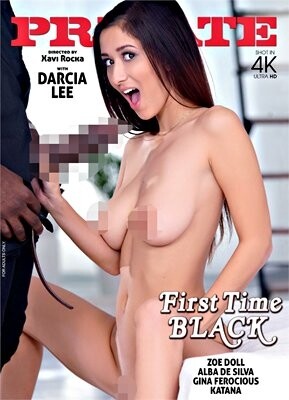 European babes from Spain and Hungary — including the deliciously exotic-looking Katana (of tasty Chinese/Japanese/Spanish roots) — X-perience their (at least on camera) first-ever black kielbasa, care of the fab foreign fornicators over at Privaten ... with this terrific gonzo including five (not yer paltry four) scorching scenes!
We start off with quite a zinger, indeed, as 24-year-old cutie Zoe Doll from Spain (and speaking Spanish during her "interview" with Joss Lescaf, before the two cunt-tinue with the "international" language), as the luscious Zoe sucks and fucks a mean prick. By the way, this bitch is absolutely gorgeous and thoroughly juicy. I also love the way she chokes on bruthah Joss' black snake while she's getting face-fucked, as well as attempting to go balls-deep. Doggie with Zoe's succulent butt cheeks is nothing short of amazing, while she really grinds down on gristle during reverse-cowgirl, and we later get a kick-ass return to doggie, which is even more potent which, like cowgirl, puts those award-winning Doll derriere cheeks in full motion. Yeah!
DVD cover fox Darcia Lee, who's 19 and from Hungary, is another delight, with marvelously big and long (yes, long! — but in the best sense possible) all-natural tits, a killer booty and one very pretty face (as well as a winning, totally honest smile!), as this both curvy/rangy spinner, quite hornily, goes head-to-mouth-and-muff with black lovah boy Antonio Black. I love Darcia's eye contact with both the camera and Black as she's suckin' peppered beef, though I think she uses a bit too much wrist; Darce, however, does give a better upside-down suck-off at the end of the episode. She looks amazing, by the way, bent over with her pear-shaped ass up in the air. Whew! And dig how she rides that dark meat during cowgirl, her ass shakin' and her tits jigglin'; ditto regarding those first-class mams during reverse-cowgirl. And wait until you get the full extent of just how perfect her entire body is during missionary; while we're duly rewarded with more tit-swirling during spoon. Man, is this chick scrumptious!
And speaking of scrumptious, 23-year-old Eurasian Katana is oh so off the scale, as the very lucky Jesus Reyes gets to bang the shit outta her gob and gash. I love Katana's almond-shaped, liquid, lust-drenched eyes; pert tits; and marvelously shaped butt. She's also quite the smoocher, with deep, long, loving kisses and lots of eye contact. I even dig this sweetie's name! Katana. Got a classical ring to it, dunnit? Easy to remember, too. For the raunch record, she makes lots of slurping noises (excellent) when mouth-massaging dick and really seems to enjoy ball-suckin', as well as getting lots and lots of saliva on the worm to which she's attending. Katana movingly moans during mish, and enjoys getting her anus tongue-lashed before doggie, which is a movie highlight in itself, seeing as her butt's so perfect and her facial expressions are of sincere arousal, lovin' every inch o' that greasy black boner. Reverse-cowgirl lets us fully absorb more of that wonderful Katana mug, while cowgirl is another showcasing of both her lovely face (she loves looking right at the camera) and juicy booty, while you really see her little titties bounce during spoon; right before, that is, Reyes dumps sperm all over her dreamy lips. Love this babe!
Next, 23-year-old Spanish brunette Alba de Silva has a sexy face and voluptuous body, which the returning Joss Lescaf gets to ravage, with her best positions being cowgirl and doggie in that they fully display her truly marshmallowy butt cakes; while we cunt-clude with 20-year-old Spanish tart Gina Ferocious living up to her last name by really jamming that Antonio Black beefstick deep down her gullet, and it's a kick to witness her pussy gape during highly probing doggie, while just as enjoyable seeing Geen's all-natch boobies circulate during spoon. And don't miss her healthy ass jiggling like mad during jack-hammerin' missionary. Wow!
If you like highly attractive Euro babes — particularly Zoe Doll, Darcia Lee and Katana! — who enjoy sucking and fucking cock, be the prick brown, yellow, purple, blue, ivory and/or (as is the case here) ebony, then you're gonna absolutely adore "First Time Black."
Synopsis:
Get ready for the wildest interracial experience of your life! Privates girls are always looking to try new things and, for some of our cock seekers, dark meat is hard to find. Debutants Darcia Lee, Alba de Silva and Gina Ferocious also star alongside the experienced Zoe Doll and the Asian Katana in this ass slamming masterpiece. These girls have had their fair share of big cocks but our team of black stallions are a whole new challenge! These cum hungry hussies have always loved chocolate but they have developed a whole new appetite, they have gone black and they might never go back!