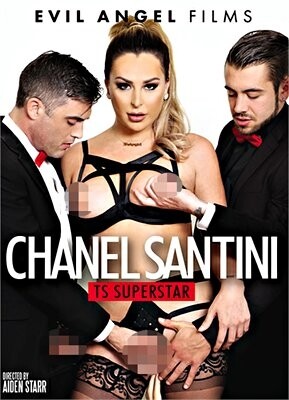 A strong showcase for Chanel Santini, the two-time (2018-19) XBIZ Awards winner for Trans Performer of the Year, finds the voluptuous beauty enjoying romps that include men, a cis starlet and a fellow trans ingénue. Cinematography, under 2019 XBIZ Trans Director of the Year Aiden Starr's direction, is heavy on lush glamour.
A pink-haired Santini and sultry blonde Aubrey Kate (the 2017 XBIZ Awards winner for Trans Performer of the Year) flirt with the camera and stroke and tease hunky, hung Pierce Paris, as he is strung up on a St. Andrews Cross. The action segues to a threesome where Paris is in charge; both ingénues slurpily suck down his cock and then submit to his alpha-top ministrations. Paris shoots a load onto Santini's face and neck.
Our star is next seen cavorting, in a pale yellow bra and panties and bunny ears, with redhead Maya Kendrick. The ladies giggle and flirt as the lingerie slowly gets peeled off; this time, Santini takes the reins as she seduces Kendrick, who happily submits to being serviced. She melts as soon as Santini begins to lick her pussy and remains hungrily compliant throughout multiple fuck positions.
An eye-catching vignette has Santini with Havoc and Hudson teasing the camera under a blacklight, so their underwear and body makeup glows in vivid whites, yellows and oranges. It's a terrific tease for a sweaty threesome that has the two men thoroughly dominating Santini; Havoc, especially, keeps up a steady stream of dirty talk as she sucks down their cocks and then bounces from boner to boner, eventually culminating in a double-anal that really seems to feel good to both men (Havoc continually groans about how tight she feels).
A gangbang brings back Havoc, Hudson and Paris, with Dante Colle and Lance Hart, beginning with a fashion photography layout with the men in tuxes and Santini in a black lingerie ensemble. Santini displays her estimable oral skills before the men take turns pounding her ass; the sexplay slides onto the floor as she invites her boytoys to tease and rub her with their feet, which she appears to adore, and ending in multiple cumshots.
Synopsis:
Director Aiden Starr blends the production values of a music video with her trademark kinky outlaw sexuality in Chanel Santini: TS Superstar. The luxuriously wrought Evil Angel Films showcase presents the voluptuous, titular T-girl diva engaging men, women and trans ladies in intimate coupling, wild threesomes and a five-stud anal gangbang! Curvy bombshell Chanel and blonde TS superstar Aubrey Kate release Pierce Paris from bondage to give him a double blowjob and a buttfuck sandwich, forming lewd daisy chains of anal intercourse! Chanel and all-natural, redheaded cis female Maya Kendrick share oral pleasure. Maya gags on she-dick and Chanel thoroughly fucks her. The lovers enjoy mutual masturbation. Stud boys Will Havoc and Wolf Hudson take turns sucking Chanel's bonus, and they drill her ass together in a wicked double anal penetration! Five well-dressed and well-hung gentlemen surround Chanel for a blowbang, and she sucks their big, meaty pricks. Each fucker bangs her meaty ass, dominates her with bare feet and cums in Chanel's open mouth.