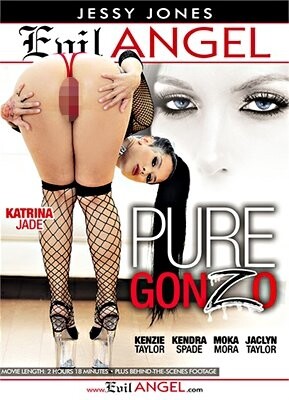 Every single young woman in this amazing gonzo has a fanny-tastically juicy ass that was ab-so-fucking made for the fine fornicators at Evil Angel — and all for us pervs!
The lucky bastard who gets to bone all of these bawdy babes is none other than our same "Pure Gonzo" director Jessy Jones, who starts off this rockin' title with a volcanic pair o' whores: namely, brunette Katrina Jade and dirty (you can say that again!) blonde Kenzie Taylor, both possessing positively plough-worthy posteriors. After the bitches lick each other's pussy and anus, they gobble on Jessy's French-Canadian bacon, delivering a freaky double-suck-off, before we get to fully appreciate Kat's perfect tits via reverse-cowgirl, with Ken delighting in sucking on those amazing headlights; then it's some luscious ass-wobbling from Ken during cowgirl, as Kat jams a dildo up Taylor's turd bin; a show-stopping segment being when Jessy's own segment is banging the ladies in tandem doggie style, what with their otherworldly butts; it's even hornier when he stacks Ken on top of Kat and goes back and forth between their poopers, yet again (hoor-ray!) in the doggie position, with Jess ultimately blowin' his load onto the sluts' seed-hungry tongues. Great whores!
Next, one of my all-time favorite Asian tramps, Filipina sweetie Kendra Spade — and her killer ass cheeks — takes on Jessy's joint with fully flying colors … and plenty o' flying liquid matter, too, with Jess fully invading her well-dampered dung ditch. By the way, Kendra's absolutely one of the best cocksuckers in the biz, going deep, loud and nasty (as in tons o' saliva!), before Jess jams his jousting stick up her twat and does her cowgirl, her butt cheeks revolving all over the place, with a dildo firmly lodged inside her anus. Missionary is next, followed by mish-anal that's pounding; then comes cowgirl anal that's off-the-scale in terms of those gelatinous ass cakes on Kenn flowing every which way, with Jess going back and forth between her crapper and cunt; spoon-anal allows us a grand view of Kenn's grand boobies; and (wow!) doggie-anal goes down, that's way hammering, with Jess, once again, getting the best outta both worlds, as he moves his over-worked worm back and forth between Kenn's stink and pink; all of this leads up to Jess blasting boy-batter up into Spade's fertile fuckhole, after which she shows off to the camera with cum oozing outta her vadge, blows him some more, and gets the prick to pop again. Awesome! Kendra is the perfect tramp! Adore her!
Doe-eyed Moka Mora just as seriously, just as salaciously gets the Jess anal treatment, along with the fuck doll's own marvelously marshmallowy butt cheeks being sleazily spotlighted. Jess goes right to doggie with Moka (who the fuck could blame him?!), letting us enjoy that superior posterior on Ms. M&M; after which she blows him; he titty-fucks her, slides it in her mish; this is followed by her riding him cowgirl, where we, once again, get to witness those mind-blowingly malleable booty cakes on Moka undulate like mad; then Jess sticks it up her sphincter via spoon, then cowgirl (more jiggly butt vibrations), doggie, with the second session of doggie-anal being far more pounding and warbly than the first attack in terms of ass-cheek gyrating (and how!); then it's mish-vadge, mish-anal (complete with gapes); more doggie-anal comes 'round, with MM's fine, round, meaty rump being all oiled up and lookin' all the more scrumptious; after this, Jess spews goo into her cunt during a probing sesh o' mish. What a cream-pie tramp! Moka rocks!
And, finally, big-bootied brunette Jaclyn Taylor gets her cunt crammed with Canadian cock in the final barnburner of a scene, with the best positions being (you guessed it!) doggie and cowgirl, as they fully highlight Jackie's amazing succulent ass cheeks, while missionary is pretty damn terrif, too, seeing as Jess really pounds her twat silly before injecting dick-snot way up into it. And while Jaclyn does have a dildo jammed up her kah-kah cave throughout most of the scene, alas, we have no anal here. Still, it's a high-energy sequence that'll surely get you off.
If you like highly bangable young babes — some of whom take it up the Hershey highway (remember that turd term?) — all of whom are lusciously loaded with bountiful butt bongos, then you're gonna love "Pure Gonzo." It's the shit!
Synopsis:
Director Jessy Jones spotlights comely babes, wet blowjobs, intense pussy pounding and hardcore anal spectacle in Pure Gonzo. Bodacious bad girl Katrina Jade joins busty Kenzie Taylor for a wild anal threesome. Jessy fucks their holes throughout a rowdy, hard-charging menage-a-trois, finally firing hot sperm into their open mouths. Jessy subjects sexy Asian Kendra Spade to a salacious ass reaming. The rude, crude lewdness includes harsh choking, rectal gaping and a messy cum facial. Flirtatious Moka Mora stretches her bunghole with a toy as Jessy's joint nails her snatch. She moans as he jackhammers her tight rear. The stud injects her gash with a hot creampie! Busty Jaclyn Taylor performs a hot tease featuring a shiny butt plug that she cleans ass-to-mouth. Jessy porks the dark-haired vixen in raunchy style: His meat and a toy fill her up for a slamming dick/dildo double penetration.