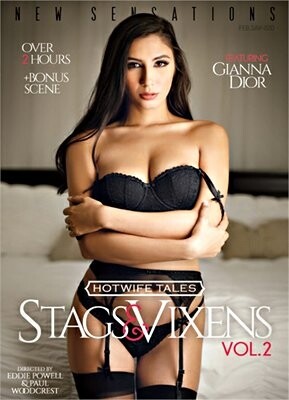 Hot-wife stories from directors Eddie Powell and Paul Woodcrest, and we're basically talking about tales wherein women's hubbies don't mind their wives getting banged by other dudes. Sounds pretty neighborly to me! And we have a quartet of truly amazing female talent here, all of whom give perfectly believable, passionate performances, with especially high points going to the lovely, lusty ladies bookending this smut anthology: namely, Gianna Dior and Alina Lopez.
Brunette Gianna Dior graces the DVD boxcover for good reason: She's totally delicious looking, all-natural and sucks and fucks with magnificent gusto; here, with James Deen portraying a sexual expert enlisted by Gianna's on-screen (but never seen) husband who thinks she comes too fast and needs to cunt-tain her cunt juices better, with nothing less than boner-bursting results. Under the I-must-be-in-control "guidance" of cunt-trol freak Deeno, Ms. Dior is made to cough on cock, while she's delightful to watch, as her sweet twat is cum-pletely dominated in the cowgirl, reverse-cowgirl, missionary and (yessir!) doggie positions. And, even after Deeno dick puts her through the suck/fuck paces, Gianna still looks absolutely priceless. Slurp!
Next, juicy Latina Luna Star gets a dick-pounding gift in the form of macho man Ramon Nomar, who's a present from her out-of-the-house-and-traveling husband; while big-bootied bitch A.J. Applegate receives a mouth-and-muff-busting massage from paid-for masseur/pervert Damon Dice. As far as Luna goes, you can't really put this olive-skinned sex goddess in a bad position, but my favorite — other than when she's hacking on hose — is cowgirl (watch those tanned butt cheeks ripple) and, of course, doggie. Same for Ms. Applegate, who has one of the most round and meaty bottoms in the biz, which dirty Damon most certainly puts to good degenerate use, while she also knows how to deepthroat like a perverted champ.
And we most certainly end with a barnburner, as young Jane Fonda (circa 1962) lookalike Alina Lopez gets the her hungry mouth and moist vagina reamed silly by Euro codger Steve Holmes, playing the "stranger" approved by Alina's fictional (again, never-seen) husband, in order to make this fetching fox see stars when she hits the sheets. Aside from having a dropdead gorgeous face, delicious all-natural boobies and one ridiculously meaty booty, Alina (quite visibly!) just loses herself when she's getting down and dirty. She's a terrific blowjob artiste, but one of the truly memorable moments here is when Holmes sits her down in a swivel chair, her succulent butt jammed out for the world to see/slam, with Stevie doggying the shit outta her, then swinging her around and having her thoroughly suck off her own cunt sauce which lubes Holmes' hose. I definitely wanna see more of beauty Lopez. She's the shit. Oh, and speaking of shit, I'd also like to see Alina do a lil' o' that ol' anal thing, as well!
Yep, from start to finish, "Stags and Vixen 2" rocks the people's cock, with nods (of the big and little heads) absolutely going to scrumptious beauties Gianna Dior and Alina Lopez. And, as you can well imagine, total tramps Luna Star and A.J. Applegate themselves provide extraordinarily slutty performances. Guaranteed to get you off.
Synopsis:
Once you become a hotwife, there's no reason to go back! Your gorgeous vixens Gianna Dior, AJ Applegate, Alina Lopez and Luna Star love to keep things fresh, new and always exciting. So they've grabbed their favorite stag on the side for that much needed TLC! Don't miss sexy, all-new tales of hotwifing!