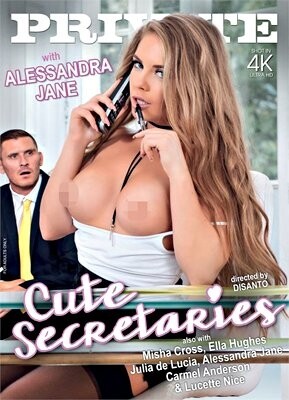 A tasty mixture of female foreign bodies — including Russian, English, Hungarian, Romanian and Polish — all portraying cute, fetching secretaries who enjoy doing far more in the office than simply take dictation.
23-year-old English fox Ella Hughes starts the balling rolling; and she absolutely has one of the juiciest asses I've ever seen, with lucky fucker Marc Rose putting that priceless pooper to good use when he slams her doggie style, first while the two are standing, then when Ella's on all fours on the office floor, with her meaty ass wobblin' all over the place. She also looks fab with that luscious ass stickin' out for the world to see during spoon; while Elle's a damn good little deepthroater; too; and it's fun seeing her get creampied after wildling riding Rose's rod during cowgirl. Yeah!
24-year-old Russian Alessandra Jane is definitely one of the most beautiful women in this porn-manteau, as Ryan Ryder potently pounds the cooing cutie with his veiny Scottish cudgel. As I say (and I mean it!), Alessandra is truly gorgeous, making it all the hornier seeing such an A-class babe blow cock like a filthy tramp, as well as spread her way-moist cunt wide open for the camera and Ryan's ram-rod, before Rye whitewashes said slit with steamin' spermatozoa.
Pert-titted, 21-year-old Hungarian Lucette Nice is a succulent little fox who gives one of the gnarliest blowjobs in the movie, while she takes the returning worm of Marc Rose up her twat and turd bin like a true champ; a true scene-stealing moment being when Loose is getting fucked via spoon and doggie. What a delicious piece of ass, that Lucette! And I positively adore her darling little, literally, upturned nose. Yum!
One of the movie's boner-bursting highlights is definitely witnessing 29-year-old Polish princess Misha Cross (one of my all-time favorite porn chick-a-dees, who's now a scrumptious blonde!) take it up the shit chute from Pablo Ferrari, with 28-year-old English wench Carmel getting her own tonsils and twat destroyed. A killer moment here is when Misha is getting her greased-up, superior posterior anal-yzed without mercy; Meesh moaning and groaning with intense ecstasy; while it's great seeing both ladies lick Cross crap offa Pab pud, as Meesh and Car are both superb deepthroaters.
And we end with a fiery cunt-clusion, indeed, as 28-year-old Romanian Julia De Lucia (reminding me of a dark-haired Mira Sorvino back in the day) gets righteously double penetrated by Ben Kelly and (that yet again returning bastardo!) Marc Rose; highlights here being Julia righteously rolfing on the boys' boners during her passionate double-suck; getting whorishly doggied in her moist twat while standing; Jule's fantastic doggie and standing DP; the boys each taking separate doggie cracks at her crapper while she sucks the other prick; and Jewel ultimately taking a pop in the face from Marc and a splooge all over her slit and shit from doggie-drillin' Ben boy.
It just doesn't get any hornier with foreign bitches than in Private's "Cute Secretaries," with high points especially going to anal-minded, torrid tramps Lucette Nice, (the ever-delicious!) Misha Cross and Julia De Lucia; grand overseas whores, all wonderfully speaking the "international" language!
Synopsis:
There is a reason office romances are forbidden, but not at Private! Forget what you know about office hot, our team of Cute Secretaries set the bar for beauty and temptation and they are ready to do what ever it takes to get a promotion. Our redhead firecracker Ella Hughes puts her legendary ass to work, showing her boss that she can handle even the biggest of tasks and the petite Misha Cross is back, showing off her hardcore talents in a DP threeway with Carmel Andersson. These seasoned veterans are joined by the not so innocent debutants Alessandra Janes and Lucette Nice, who show their boss they can run with the big dogs, putting their tight asses to work with some delicious anal play. These girls exceed your wildest office fantasies, so call in sick and watch this corporate cock-fest!