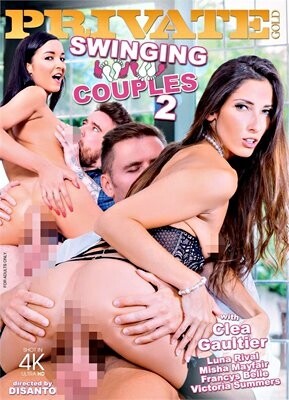 Euro and English sluts get pounded silly in this volcanic entry from Private, featuring five girls in five scenes, as opposed to your usual four boink sequences.
In scene one, one of my favorite foreign floozies, 28-year-old French fox Clea Gaultier, gets hammered by some fortuitous bastard named Marc Rose; with Clea giving her usual luxurious blowjob, while she offers not one bad position, with even missionary being awesome in that she loves getting penis-pummeled by Rose; although I have to say that doggie and cowgirl are damn good angles as well, seeing as they highlight Clea's amazing pair of brilliant ass cheeks.
Next, blue-haired (!) and luscious English whore Misha Mayfair double-sucks and then double-fucks — as in a major DP! — Alberto Blanco and Ben Kelly, with this bitch having one big, pillowy backside that you'll love to whack to, trust me, particularly during doggie and doggie DP; and check out how one guy sprays boy paste all over her eyes, while the other guy (doing her doggie) squirts his jizz across her cunt and anus. Sweet.
Beautiful 21-year-old French doll Luna Rival gets heatedly penetrated by Scottish goober Ryan Ryder, with Rye really wrecking her rectum during standing doggie; and check out those perfect titties on Luna, which you get a load of during reverse-cowgirl anal, which lasts a good long time, before Ry slimes up her cunt for a marvelously (aren't the best ones always) sloppy creampie. Romantic!
Lucky bastard Luke Hotrod hooks up with tasty 36-year-old Brazilian babe Francys Belle, who not only sucks a mean prick, but is a natural for taking it deep up the shithole, rubbing her cunt wildly as her anus is jampacked with Hotrod's rod; with cowgirl anal being just as horny; ditto for doggie anal, offering us a magnificent view of Belle's beautiful booty; leading up to Luke's depositing semen into Belle's hungry mouth, with the outrageous degenerate (love her!) sucking it all down whole, with a large, trampish grin. Marry me, Francys!
Lastly, pink-haired (!), all-around meaty Limey slut Victoria Summers gets slammed in her bathtub by Alberto Blanco, with Vicky giving her dicky quite a treat, indeed; highlights include Vick's long, deep, observant, filthy blowjob, as well as seeing her way succulent butt getting humped during doggie (two times!), and the vixen gluttonously taking a pop o' paste directly into her gob. Golden!
This Private gonzo does not disappoint, with five molten scenes starring the same amount of insatiable trollops; high points especially going to anal filth mongers Misha Mayfair, Luna Rival, and Francys Belle.
Synopsis:
Till death do us part & Well, that is certainly not the case for the cast of Private's Swinging Couples 2! A weekend away with the gorgeous Luna Rival, Francys Belle and Misha Mayfair turns hardcore as these babes share and care alike, swapping husbands as they fulfill their DP and anal fantasies. We even invited a special guest, an old face in the form of Victoria Summers, her hair has changed but the big tits, curves and cock sucking skills are still the same. All star director Disanto out does himself in this hardcore swinging bonanza, do not miss it!