Vixen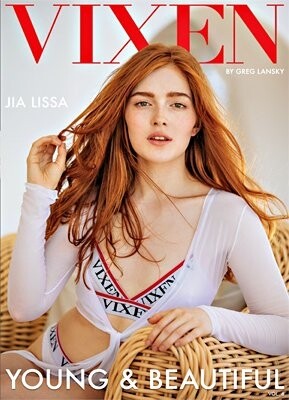 Vixen's ever-popular "Young & Beautiful" series returns, offering a glimpse of four fabulous boy/girl scenes from the members-only section of Vixen.com. Like most Vixen releases, there isn't much in terms of plot. Each scene acts as a standalone all-sex experience with just a touch of vignette setup and varying degrees of foreplay.
"Young & Beautiful 6" is a departure from the star-studded prequels, placing a greater emphasis on stunning, but lesser known talent. Sure, there are greats like Elena Koshka and another scene with Mick Blue, but the majority of the movie presents fresh faces like the insatiable Sinderalla or the swordsmanship of up-and-comer Justin Hunt.
The scenes portray relatively benign sex-acts in that classic Lansky style. Bright lighting, and glamcore hair and natural makeup stylings remain steady hallmarks of the brand. Set design is impeccably clean and upscale with an emphasis on bright colors and, in one scene, the natural beauty of scenic Mykonos.
Paige Owens plays the semi-innocent girl-next-door when she doesn't know how to react to some XXX text messages from her last hookup. She gets turned on and rubs one out to the porn Justin Hunt sent her and invites the young man over for booty-call round two.
Vixen videos are usually romantic, at least at first. Not so for the wildly horny Justin Hunt. He steps in, strips Owens of her towel and wastes little time feasting on her pussy. Quite the lusty scene, Paige returns the favor when she frantically unbuckles Hunt's belt diving in for some deep oral.
Owens has already made an impression at some of the more hardcore sites like Evil Angel and that experience shows with her gagging deepthroats and rough cowgirl bangs. She's quite the fireball, only slowing down during Hunt's second bout of oral. Even then she loses control in that pre-orgasmic stupor, face-fucking Justin as her chest begins to glow a bright pink.
Lansky's lighting is bright but subtle, with an off-angle key light that highlights Owen's toned abs and curves. Nowhere is her fitness more evident than that intense reverse missionary. Paige takes command, thrusting down on Justin's johnson and fully engaging her core. Look at that six-pack! Don't even get me started on that creampie. Superb!
Set in one of the most beautiful cities in the world, "Seduced by a Local" highlights the romance of Mykonos and the allure of vacation sex. Jia Lissa meets a dapper Christian Clay who shows her the sights. They hit it off and play out in the open.
Blue is the color of Mykonos. The water, the sky and those iconic azure rooftops are synonymous with the Greek city. Lanksy's wardrobe department nailed it when they put the redheaded Jia Lissa in that matching blue dress. Furthering the immersion is Clay's sky-blue shirt and all-white pants. The couple are a walking symbol of city.
On color, the set is astounding. Jia and Christian mate in a grand balcony overlooking the Aegean Sea at sunset. The distant mountains blend into a blazing red sky that highlights Lissa's scarlet mane.
Her sex is passionate and beautiful. Jia is all eye contact in between her gasps and smiles. More than sex and more than porn, everything that Jia Lissa does, she does it full of love and intention. Just look at the way she glides so smoothly in cowgirl — it's a masterpiece of the sexual arts.
Elena Koshka brings the star power and her usual gusto when she heads online for some rebound sex with the dapper Englishman Dean Van Damme. She shows up in a stunning red dress. Turned on by his accent, she moves right into a passionate kiss on first-sight and becomes the embodiment of lustful passion.
Despite the short introduction, Lansky and crew clearly put a lot of detail into the production. Koshka can be seen looking at photos of Van Damme, going through wardrobe changes and traversing multiple sets. It feels more like a TV or movie scene than a porno. That is, until it gets porn-y.
It's an unusual scene for the normally talkative Elena Koshka. She remains pretty quiet and submissive for the first half, returning to her vocal self well into the sex.
Sex scenes with Koshka are straightforward. Let her direct the action. Fuck her exactly how she tells you to, and reap the rewards of astounding orgasms. That's one of the things that make this beauty stand out.
You can see the difference in the scene and the very chemistry the moment she shifts the dynamic back into her comfort zone. The orgasms are hot, the sex is wild and the post-pop cumplay is off the charts.
Kayden Kross directs the final and best scene of the lot. "More Than a Thrill" pits Mick Blue with the brand new and talented Sinderella. It's a match made in heaven. Blue's experience shows not only in his passion, but in the way he takes charge guiding the newcomer's body into the perfect position for Kross' lens.
Sinderella is all joy in a most authentic performance. She's full of smiles and gasps, that is when she's not drifting into that orgasmic bliss. I can't count the number of times she tightens up and whimpers "I'm cumming." It is undeniably hot.
Like most of Kayden Kross' films, "More Than a Thrill" is plot-centric. The story centers around Mick Blue's affair with a young Sinderella. She's all about the thrill of almost being caught, and how that excitement can catalyze passion.
This girl is trouble. She shows up unannounced just as Blue's wife is heading out. I love the way he plays his total fear of being found out, and the way he combines his anger and lust at a giggling Sinderella.
The scene is filmed with a free-floating camera that makes you feel like you're a party to the action. It's exciting to see how sex moves from room to room, highlighting everything from the California hills to that opulent interior and hardwood floors. Each shot is elegantly crafted. That, combined with Sinderella's photogenic face makes each frame an elegant still photo on its own.
But the best shot is when Blue takes her around the corner, fucking against a mirror wall with an antiqued patina finish. You've got two angles of beautiful copulation blended with texture, bright lighting and a view of nature through the open windows. And the way her big hardened nipples pop and contrast in the light is just breathtaking.
Acoustically, this scene is mostly excellent. You've got the perfect balance between crisp dialogue and all those delightful sex sounds including Sinderella's bassy moans. And then there's a satisfying "thump" when she sucks Blue's cock that resonates like a cannon on my subwoofer. Do crank this one up!
But there are two flaws. If you've really cranked the volume, a cell phone can be heard in the background. It's not too distracting, but there nonetheless. And everybody's favorite: a passing airplane makes a cameo. It's not a big jet taking off, just a small commuter by the sound of it.
Those are minor complaints. "More Than a Thrill" is a truly spectacular scene. It's got story, style and Sinderella's sex is simply the stuff of legends. This is forty minutes of bliss.
"Young & Beautiful 6" lives up to the hype. As another Vixen "best of" collection, it does not disappoint. While it lacks big-name A-listers, it's wonderful to see newcomers and lesser known talent making a big impression. All of the scenes are beautifully shot and the sex is wonderful, but it is in the final scene where "Young & Beautiful 6" really shines.
Synopsis:
VIXEN.com is proud to present YOUNG AND BEAUTIFUL 6, the tantalizing next addition in our most popular series! Greg Lansky, has picked the absolute best works, showcasing the best and brightest talent the industry has to offer. Making her VIXEN debut, international beauty, Jia Lissa, adores the cover as a wanderlusting youth swept off her feet in Mykonos. Also starring Paige Owens, Elena Koshka, and Sinderella in passionate performances that will shake your very core. All wrapped in world-class production values, captivating storylines, and passionate sexual performances that define VIXEN.com, YOUNG AND BEAUTIFUL 6 is not to be missed!