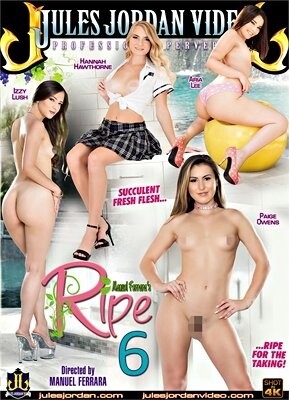 Yes, I could watch gorgeous Paige Owens and delicious Aria Lee in four complete scenes in each of their own showcase videos all friggin' day; but this Manuel Ferrara gonzo also has two other fresh, young, high humpable newbies in addition to awesome Owens and luscious Lee, making it a Jules Jordan pud-uction well worth whackin' to.
Paige Owens is a porn star you'd simply wanna immediately marry, so I don't know how Manny didn't pop her the question while he was slammin' his wrinkled and uncut French baguette in her velvety mouth and moistened muff; but I do know how easily he popped his nut with such an ultra-fine morsel of female flesh, who not only sucks dick well, but also eats man-(as in Manny)farts (yechhh and double-yechhh) with gusto, loves to kiss and have her hair pulled when getting righteously reamed, adores taking a full load o' boy batter directly into her hungry gob, and looks amazing in every possible position, even when she's getting power-pistoned by Manny. Hell, I'll watch anything with this bitch in it.
Next, big-assed brunette Izzy Lush gets the Manny treatment, with her best positions — aside from schucking down a mean cock with her cakehole — including cowgirl and doggie; watch those gelatinous ass cakes fly … on Izzy not Manny.
Aria Lee is another babe with whom, like Paige Owens, I'd easily fall in love and tie the knot, seeing as she's just so sweet-looking (I adore her always beaming, seemingly sincere smile), is cute as hell and has one killer bod; aside from the fact that she sucks and fucks like a little demoness. I love how she tries to get Ferrara's thick veiny cudgel into her mouth, as well as deep down into her throat. Gotta give the girl points for trying! She also possesses marvelously bounteous butt bongos that just won't stop shaking and quaking, particularly in during cowgirl and doggie. I even dig seeing her moan whilst getting drilled by prick during missionary. Aria also sluttily swallows Manny's man-paste, which gets her way big points in my book. Good whore, Aria!
And, lastly, we have dirty (in more ways than one!) blonde sexpot Hannah Hawthorne, who has amazing tits, sucks deeply, and looks good in both doggie and cowgirl with that juicy-as-fuck superior posterior on her. She's a keeper alright!
Nope, there ain't a bad-looking babe amongst all four dick-famished felines in "Ripe 6," with totally high points going to scrumptious porn princesses Paige Owens and Aria Lee, each of whom I'd fuck and, inevitably, marry in a heartbeat — after, that is, they thoroughly showered, brushed their teeth and used several cups of mouthwash after eatin' weasel-waggin' Manny.
Synopsis:
Pretty little Paige Owens gets a hard pounding from Manuel. Izzy Lush is dick drunk from all the fucking! Horny Hannah Hawthorne bounces on Manuel's big dick. Insatiable Aria Lee can never get enough cock!