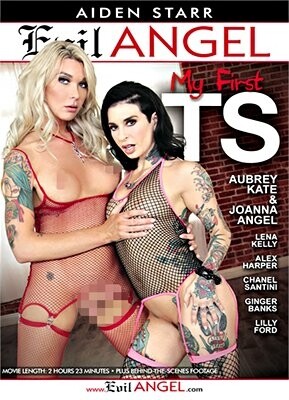 Chicks with dicks meat chicks with slits in this volcanic entry from Evil Angel, featuring Joanna Angel taking it way up the patooti from TS Aubrey Kate, as well as some other sizzling highlights 'tween horny trans performers sinking and pounding their hoses way deep inside the curious mouths and moist cunts of porn harlots.
And tatted queen Angel is up at bat first, taking on Kate, with ultra whore Jo-Jo first choking on that cock, before she feasts on Aub's anus, after which Kate crams and slams her cock doggie style up that Angelic twat, followed by Jo-Jo's vadge bobbin' on Aub via cowgirl. But(t) soon enough, we've got Angel sitting her anus reverse-cowgirl on Kate-cock. And it's not long at all before Kate is really hammering that hemorrhoid hamlet hard, with some gnarly ATMin' and deepthroatin' in close pursuit. Then Kate bangs Jo-Jo's shithole spoon style before blasting bleach into our girl's whore-gob. And I just love seeing Joanna's juicy butt cheeks jiggling during doggie and cowgirl.
Next, cute blonde Ginger Banks takes on 2018 XBIZ Trans Performer of the Year Chanel Santini, first sucking Chan's cock deep and luxuriously, before our girl Ginger's pussy is powerfully penetrated via missionary, reverse-cowgirl, cowgirl (look at those fair-skinned butt cheeks on Gindge fly!), and doggie. This decadent dick-dunking is followed by a long and hungry BJ from Gindge, leading to Chanel erupting gametes, all of which bawdy Banks eats up, lickety-split!
Third up … Alex Harper is a redheaded chick-a-dee who, after a fun bubble bath, gets her tonsils and twat blown out by Lena Kelly in another fiery episode. It's pretty nasty, too, watching a cutie like Alex rim Kelly's crapper before, that is, Harper's hammered mish style, doggie (with more ass-cheek gyrating), and reverse-cowgirl, after which we have some heavy jack-hammerin' via mish, before Kell blows gel into Harp's hole (the one, that is, immediately below her shnaz). Yeah!
Finally, chipper Lilly Ford is wildly fucked by the returning Kate, with Lil giving Aub one helluva deep suck (as in balls deep!), with plenty of wonderfully rude and crude noises, after which Aub reams Ford mish style, followed by doggie, which is another movie showstopper, what with Ford's jiggling booty vibrating every which way as she screams her way to orgasm. Then it's Ford sitting on Kate cowgirl style, moving to more mish, after which we have some amazing deepthroating (which is another movie high point, as Ford gets so damn nasty here), reverse-cowgirl and, eventually, Lil licking up every drop o' Kate's cooze. Awesome!
It's definitely fun watching these three cute babes and that one veteran vadge (as in the tried-and-true Joanna Angel) get their heads and holes fucked silly by the knockwurst attached to take-no-prisoners tran stars. Marvelously kinky fuckin' shit.
Synopsis:
Director Aiden Starr, purveyor of all things kinky, erotic and exotic, initiates exquisite porn beauties into the world of trans sex! In My First TS, uninhibited cis females dive into gender-bent adventures, losing T-girl virginity in sessions of mutual exploration and hot fucking! Elaborately inked MILF Joanna Angel busts her trans cherry in an anal date with tall, blonde Evil Angel TS contract girl Aubrey Kate. Tattooed Aubrey pumps Joanna's asshole with she-dick, and Joanna eagerly laps up comely Aubrey's cum. New on the scene, willowy blonde Ginger Banks can't wait to give glamorous T-girl Chanel Santini a blowjob. Chanel passionately fucks the pretty newcummer, who eats Chanel's hot jism. Big-assed, all-natural Alex Harper goes from a luxurious bubble bath to an exciting fuck with platinum-haired, lingerie-clad trans goddess Lena Kelly. Adorable, young blonde Lilly Ford is positively giddy as she submits to trans superstar Aubrey, who drills the tiny tart's shaved pussy and fucks her pretty face.