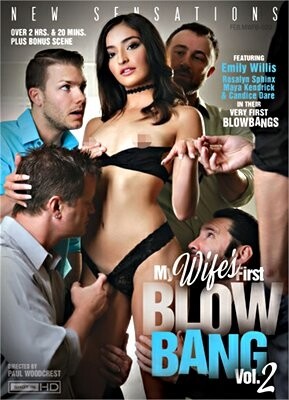 From the fine fornicators at New Sensations, this superlatively saliva-enriched second installment of "MWFB" has four different foxy young women doing individual multiple suck-offs — otherwise known as "blowbangs" — wherein the oral-minded sluts lick and (yah!) choke on the cocks of (in these carnal cases) five guys at the same time. And it's a beautiful thing!
While orally servicing her nerdy male partner, redheaded hottie Maya Kendrick winds up, per a surprise from her beau, servicing the hoses of four other very lucky gents, and it's definitely a pleasure to watch Maya in action, seeing as she rarely uses her hands (except when she's trying to keep a guy, who's waiting on the sidelines hard, good and hard; good girl, Maya!) and goes balls-deep for a good long time on separate snakes, choking on those bad-boy boners, making marvelously rude noises, and getting spittle all over the place. Check out, too, when they get Maya upside-down and she's made to blow one penis after another, with the whore creating a veritable cocoon of spit upon her own pretty face. Nice tongue action, too, as she has a cock way down her gullet. Love this dirty little tramp!
Strikingly attractive Emily Willis, the DVD cover girl for a very good reason, is a wonderfully slinky spinner who's own male partner first gets a nasty suck-off from Em, before four dudes walk into the bedroom and she goes to town with all five wrinkled saxes, for a true movie highlight, seeing as Willis is just so damn delicious-looking. Check out how she loves being almost savagely face-fucked by each guy. Wow! She sounds like a human vacuum cleaner, too, whorishly Hoovering those trouser weasels with her ever-ambitious mouth. The boys give her vibe in the vadge from time to time to get her even more aroused than the torrid trollop already is. "So fucking yummy! I wanna 'nother load o' cum!" she purrs as one guy after another blows dicksnot into her cute lil' mug at the scene's 'climax'. Lil' twat's truly amazing.
Rosalyn Sphinx is next, with her on-screen lover (played by porn's Peter Lorre, namely, Eric Masterson) getting a sweet and salacious suck-off from the tasty little pixie, before numerous slugs show up, making it a total of (you got it!) five waggin' salami's, which the randy bitch sucks everso dutifully. Like her predecessors, Rosa is highly easy on the eyes, making her gnarly blowbang all the hornier. I love, too, how this slim twaterola's eyes occasionally roll into the back of her skull when's she's deep in the moment of seriously mouth-massaging male members. Yeah!
And, finally, we get blonde fireball Candace Dare doing her own freaky dick-lickin' fest, with this juicy-assed bitch (probably my favorite of the four floozies) actually/initially getting fucked by her old man (literally and figuratively), with her bounteous butt cheeks jiggling every which way during standing doggie; after which she sucks his dick, followed by the four one-eyed rats of his motley crew of friends, which is yet another movie highlight. She goes deep and nasty with each dick, be it when she's on her knees or bent over upside-down. Definitely one of my favorite new whores — period!
Fans of cocksucking movies will adore this new series, with this second volume filled with one bawdy boner-bobbin' babe after another; extra high points definitely going to Maya, Emily and Candace. It's slime worth viewing!
Synopsis:
Check it out -- It's my wife's first blowbang! Emily Willis, Rosalyn Sphinx, Candice Dare and Maya Kendrick love dick so damn much that they needed to blow a whole gang of dudes at the same time! Don't miss these hotwive's taking on 5 cocks at once for the very first time...a very great time!