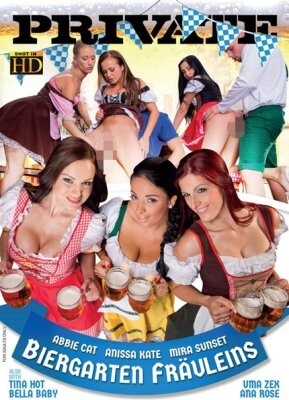 Ironically, none of the sizzling European sluts who appear in Biergarten Frauleins is of German descent. But trust me, that's a minor drawback with such wonderfully whorish women, particularly Mira Sunset, Uma Zex, and the truly amazing, Anissa Kate, as well as the decidedly dirty Tina Hot. There's also lotsa anal in this title, all from the fine pervs at Private.
First off, 19-year-old brunette Ana Rose, 29-year-old Czech chick Bella Baby and 35-year-old Slovakian blonde Uma Sex get nasty with three lucky pricks in a more private location of a beer garden; and, even though there's no ass fucking in this segment, it's fun watching juicy Uma get doggied (love watching those healthy ass cheeks on her jiggle) and suck a cock to explosion, afterwards not only sharing it with Ana, but taking some of the load Ana receives from her own beau, as well.
Next, 31-year-old French brunette beauty Anissa Kate, 29-year-old Hungarian ho' Abbie Cat and 26-year-old redheaded Hungarian hotsie-totsie Mira Sunset take on three guys; with highlights including Mira getting deeply assfucked via doggie and Anissa getting her own shit split a la spoon. Anissa's dude blows all over her amazing headlights, while the prick banging Mira's murk hole blasts dick snot into her mug; ditto for Abbie, who rides dick well, even if she doesn't take it up the shit chute.
Abbie Cat, in fact, return in scene three, taking on some fortuitous schmoe, with doggie being the best position, even though (again) there's no anal; Cat's interlewd being a precursor to the next high-voltage sequence with the outrageously scrumptious Anissa doing some oaf in a secluded alley of the beer garden, including a deep BJ, some choice reverse-cowgirl, even better squatting cowgirl — letting us fully imbibe of Kate's primo posterior — followed by standing doggie and then missionary, after which the killer vamp sucks the dickhead to climax, with the goober erupting all over Kate's first-rate jugs. Wow!
Lastly, tasty 28-year-old Hungarian Tina Hot (said that right!) takes on two lucky mofos, first double-deepthroating the pricks — and, boy, do they face-fuck her! — then getting her cunt ploughed while sucking the other dickhead, with the boys soon switching places, after which the guy with the hair shifts his shaft, during doggie, from Tina's twat to her turd bin (and it's amazing!) as she still sucks off the other dude; followed by some scalding doggie double penetration that's hard and fast and deep; a reverse-cowgirl DP with all of the same thumbs-up adjectives to describe it; with torrid Tina ultimately sucking 'em both off to a frothy finish. Good whore!
There's really not a bad scene amongst these five in-and-outings involving a host of awesome Euro babes, with extra high points going to Tina Hot, Uma Zex, Mira Sunset and the always-welcome Anissa Kate, who's most definitely one of my all-time favorite porn queens. Love her!
Synopsis:
Private's barmaids look for more tan just a tip as lucky customers are chosen to deliver their very own Bratwurst to these hungry sluts. With the hottest European stars, including Anissa Kate and Mira Sunset. Thick heavy sausages and hungry harlots come together in Private's tribute to the epic Munich beer festival. Enjoy the party!