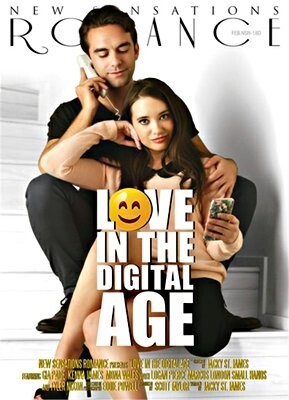 Sometimes the simple ways are best. Without social media, that is. One-on-one interaction — and that includes sucking and fucking — without technology. And that's pretty much the message from director/writer Jacky St. James in this entertaining, horny New Sensations feature, including two scenes with Gia Paige for you fans of the big-assed and nicely-breasted Miss GP.
After two social media junkies literally shut down their iPhones, Tyler Nixon and Gia Paige then figuratively get down, as mankind's been doing for centuries, even before (believe it or not) the invention of electricity. I like how she sucks cock deep, slow and attentively. Lucky bastard Tyler also gets to slam those Gia boobies with his raging hard-on. Standing doggie is amazing, with Gia's bountiful booty gigglin' all over the place. Ditto for cowgirl. Missionary allows you to see our girl's well-augmented tits wigglin' and wagglin' up, down and sideways, before Tile spews goo all over her twat and tummy.
After an engaging montage where we see idiots at a bar taking pictures of their food for posting, a bartender pouring out drinks without taking his eyes off of his phone and pervs taking photos of unsuspecting girls at said cantina, Jacky shows Kenna James and Small Hands meeting on the patio of the same joint and later hooking up at his place for some real meating — and damn arousing, too! — sans technology. And I love the way Kenna, a stone fox, sucks Small Hands gland without using her hands. One of favorite positions is spoon in that it allows us to get a good look at all of Kenna's killer bod — from face, to tits, to tush, to twat — while doggie is way, way hard. Yeah! And what a phenomenal ass on Kenna, upon which Smally (inevitably!) blows his load.
Gia and Logan Pierce actually communicate via hand-written letters before their loins get properly tangled in the flesh, with some beatworthy results. Hey, if you liked that voluptuous Paige posterior in scene one, you get another whack at it as Logan lays some Pierce pipe on this tasty piece of ass. Lots of foreplay in scene three before Paige sits her slit on Log's log, with some highly provocative (as in whacka-whacka-whacka!) cowgirl ensuing, which is the best position here, before we get spoon and mish, the latter including splatter from Pierce's pent-up penis.
Finally, we get older(-but-no-less-bolder) broad Mona Wales getting wailed on by the veteran vine attached to Marcus London. And, lemme tell ya, Mona can suck a mean prick, indeed, while Marky Mark porks Mona mama pretty damn hard in every friggin' position. Good stuff(ings) here!
New Sensations' "Love in the Digital Age" is not only loaded with four steamy boink scenes (though I wish there were four instead of three chicks featured), but it similarly has a potent message regarding the cons, not just the pros, of the internet and how it's more than okay for guys and gals to totally shut things down in order really get down. And dirty!
Synopsis:
When phone-obsessed millennials, Sara and Lizzie, challenge Gen Xer, Janine to start internet dating while they respectively give up all access to the internet, the three never could have predicted all the surprises in store for them. Unaware of how much they leaned on the comfortability of their former lives, Sara, Lizzie and Janine initially struggle to embrace a new way of thinking. But as time passes each woman discovers something new about themselves and with the help of three unexpected suitors they realize that maybe embracing the unknown is really the quickest path to their "happily ever after."