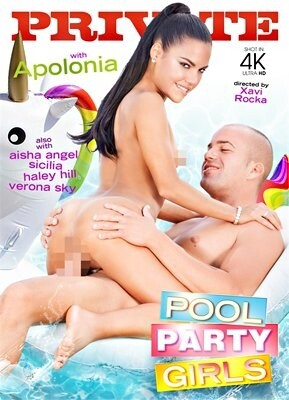 Even though there's no anal in this Private gonzo, there are still plenty of choice foreign female figures (from Russia, Serbia, Hungary and Spain) who delight in sucking and fucking to make things steamy in not four but five saucy scenes, all shot poolside.
And we begin with awesome Apolonia Lapiedra from Spain getting her perfect body slammed silly a la Potro de Bilbao, with this first sequence being a movie highlight, indeed. Wow, talk about a magnificent cocksucker … Apolonia, not Potro. The bitch chokes on Potro penis! There's also some nice overhead shots of her looking directly into the camera as she blows Bilbao. Love this broad! You're gonna love her tight little ass bouncing up and down on Potro-prick during cowgirl. Love those pert titties on her, too. We get to appreciate more of her spinner's physique during reverse-cowgirl. Ditto for spoon, which also spotlight's Apolonia's killer booty. And doggie? Out of this world. We get it for a good long time, too (yah!), until the lucky fuck inevitably blows his load all over that heavenly-sent pair o' butt cakes.
Potro returns to bang some another juicy little sweetie from Spain named Aysha for more sizzling outdoor lickin' and stickin'. Aysha gives a long and luxurious BJ. I find it cute how she gets cross-eyed while suckin' dick. Cowgirl is choice. Yes, like Apolonia, she has a succulent set o' butt bongos. Reverse-cowgirl allows us to watch Aysha's long-hanging, biggish boobies bounce and sway. Check out those majorly sized areolas, too. Damn, girl! We get more titty tustling during spoon, with Aysha looking whorishly at the camera. Doggie is particularly superlative, what with that plentiful posterior wobbling oh so arousingly, and it ain't long (understandably!) before ol' Potro deposits dick snot all over Aysha's cute lil' tummy during mish. Aysha's yet another little doll with whom it's easy to fall in love.
Next, blonde Sicilia from Hungary (not Sicily) takes on Emilio Ardana, with doggie being the best position as he slams that ham on home. Such a tight little derriere on Siss. And, while she's not one of my faves in this lot o' slots, she's still one tasty piece o' tush, ultimately jerking Emil off so that his paste goes deep into her mouth, and it does look like she swallows all o' that there gunk, whilst looking dreamily at the camera.
Dirty blonde Serbian slut Haley Hill, one of my all-time faves, gets it on with Alberto Blanco, starting off with a rousing suck-off, which is more like a serious face-fucking, leading to him eating her cunt good and proper, after which he humps her doggie while the two are standing (she also has a sweet pair o' breasts), with cowgirl not being bad at all, either; but reverse-cowgirl may be one of the best, seeing as Al baby gets to fully imbibe of Haley's heavenly twat, tits, and face; same for spoon, during which Al slaps those amazing boobs around, when, that is, he's not choking her or yanking her hair. Yep, Haley's definitely one of my favorite Euro whores. We also eventually get some traditional doggie, with Al really wailing home. Bitch loves it. Even missionary kills it with Hill. What a perfectly fuckable babe. Love those big head-givin' lips on her, too. Eventually, Al spurts his load during mish, with the stream o' spermatozoa flying her cunt all the way to her face, she's that big (again, understandably!) of a turn-on to this lucky bastard. One beautiful and bawdy bitch.
And we end with brunette Russian Verona Sky gettin' porked by the dark-meated Jesus Reyes, partially inside a pool, with Vera sucking that black rod good and slow, before JR eats her cunt as she's bent over, after which he humps her silly during some energized doggie (she's also got a nice set of blinkers on her, with ever-erect nipples it seems); with mish giving us (yet again) a fantastic view of Vera's choice body; ditto for reverse-cowgirl, with the bitch jerking JR off to eruption, the paste dripping down onto her ready tongue.
If you like gorgeous young foreign women who are truly trashy, then "Pool Party Girls" is your ticket to whack heaven. Recommended.
Synopsis:
The scorching heat wave is about to get a whole lot hotter as Private throw the sexiest bash of the summer! We gave exclusive invites to our team of tight teens Apolonia, Sicily, Hayley Hill, Verona Sky and Aysha, all of which show up in their bikinis ready to get nice and wet. New cummer Aysha steals the show with her fine curves and big round natural tits, there is no doubt that this babe is here to stay! Celebrate the end of the summer with the sexiest Pool Party in history, these teens go wild for cock, cum and all things fun!