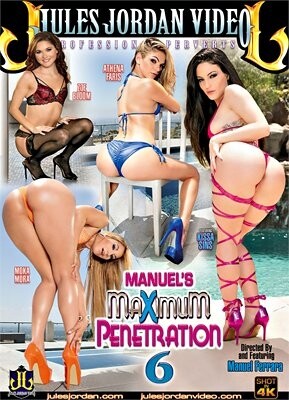 Manuel definitely has his hands full with this foursome o' freaky foxes, with not a bad bitch in the house.
Athena Faris is a terrific start for this equally terrific gonzo, with her meaty ass being immediately displayed (during glam footage) in all of its gelatinous glory, before Manny takes a crack at it, as well as her mouth, for some scorching moments of tonsil and twat tearing. I like the fact, too, that all of these babes are 100 percent natural. There's not a bad position with Fair, by the way, though I do have a weakness for her during reverse-cowgirl (giving us a magnificent view of her amazing bod), as well as cowgirl and doggie (wherein we're treated to a nice view of her tasty tukus), though I do similarly enjoy how her little titties jiggle during missionary. I even like her cute button-ish nose.
Older Kissa Sins looks excellent, as Manny takes cunt-rol of the ever-compliant slut; our girl giving a deep and gnarly blowjob (including eating his — whew! — French farts!), with doggie and cowgirl truly showcasing Kissa's marvelously big and succulent butt cheeks.
Moka Mora (catchy name) has another outstanding pooper (and I, like many horndogs out there, like her unique facial good looks, including those big, moon-like eyeballs), with this top piece of ass also not putting in a lousy position, with hard-on blasting moments including — after a fine bit of fellatio (as in dick suckin'!) — cowgirl (check out those cheeks a jigglin'!), reverse-cowgirl (lovely set of jugs on this sweetie, which have a fun bounce to 'em during this stance, which is also shot from Manny's perv-spective, giving us more undulating butt bongo action), and, of course, doggie (she's most certain got a killer pair of ass muffins!).
And we end of a very positive note with the end (and what an end!), face, and all-around choice bod of little Zoe Bloom, perhaps the true classic beauty of this lot of delicious dolls. Reverse-cowgirl gives us a truly fine angle of Zoe's truly fine figure (I even dig those little boobies!), while her ass rocks during cowgirl, as well as during a second round of reverse-cowgirl (shot, once again, from Ferrara's P.O.V.), and, natch, doggie, with our girl frequently mouth-massaging Manny's uncut baguette throughout. Love this sweet-and-dirty little chickadee!
The ladies truly rock the people's cock in this sixth volume of "Max Penny," in which you especially don't wanna miss Athena, Moka and Zoe.
Synopsis:
Manuel definitely has his hands full with this foursome o' freaky foxes, with not a bad bitch in the house.