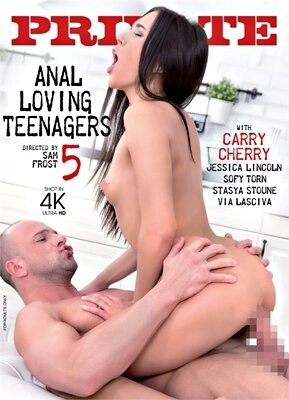 It's Russian rectal raunch from the folks at Private, with all of our five (yes, five, not a paltry four) Moscow maidens doing the nasty up the pink, then stink. And quite well, too! With high points going to the lascivious ladies bookending the gonzo: namely, the gorgeous Sofy Torn (22) and the older but no less bolder Carry Cherry (34).
Sofy Torn (who reminds me of very fuckable news commentator Jessica Tarlov) is a passionate natural beauty who deeply gets it in the mouth, cunt and crapper from a very lucky, older bald dude named Airx (who also butt bangs three other ladies in the movie). Our fair-skinned lovely (Sofy, not Airx) goes deep when it comes to cocksucking, which is much appreciated, while also looking as if she truly digs everything going on. First, Airx humps her vadge spoon style, then doggie vadge (she's got a perfectly juicy, but not overly so, butt), then sticks it in her fart factory spoon style, followed by reverse-cowgirl and then a spurt in the face.
Next, our (resident) baldie, Airx, perfectly pooper-porks very delicious 24-year-old brunette Jessica Lincoln. Lusty Lincoln gives a loving, at times balls-deep (good girl!) suck-off, followed by her cunt being well-eaten, taking it up the twaterola via missionary and spoon, before Jess gets it up the shitter via doggie (a scene highlight), with reverse-cowgirl and doggie anal (the latter being yet another scene high point) close behind her behind.
Tasty 25-year-old dirty (said that right!) blonde Via Lasciva (another winner name) hornily takes on a guy (with hair!) named Arty. And our man from Moscow (yes, even the males are Russian, including Airx) starts off with a good face-fucking of va-va-voom Via, followed by some twat-tastin', vadge a la mish (open your eyes when you're getting fucked, VV baby!), cowgirl and doggie (some nice pump action here), before Arty sticks it up her farty, then does the same reverse-cowgirl (meaty butt on VV!), and doggie (bitch can take it way deep up that there dung ditch!), with our lady finally opening up her glazzies when getting a steady stream o' sperm across her kissable (after the shower, that is) mug. VV even squirts a tad after her heavy hosing. Creative little tart.
Airx returns (surprise) to bang brown-haired 27-year-old fuck doll Stasya Stoune with some arousing results. After a brief BJ, Stass gets the oral Airx treatment, takes it missionary vadge, sucks a bit more, does some cowgirl cunt action (showing off her luscious ass), then spoon, followed by (yes!) spoon a la crapholeo (for a good long time, too!), proceeded by doggie, spoon and mish a la fudge factory.
Lastly, we're treated — and the ubiquitous Airx is, as(s) well — to scrumptious (and, at least briefly, bespectacled) cougar Carry Cherry (she's on the DVD box cover for a reason), one scorching slut, indeed. Looking far younger than 34, Care gives a superb oral favor, with plenty of eye contact. Then our slinky Russian firecracker (with ever-erect nipples) gets her slit slurped by Airx, after which she takes his Russian rocket mish vadge (quite a juicy ass on Care), cowgirl (she knows how to bounce on boner), then it's missionary anal (the whore loves it!), followed by spoon and standing doggie anal (with great shots of Care's booty in both of the latter), before she takes her splatter, and trampishly (yeah!) consumes the gunk. Wonderful nympho!
If you like killer foreign female figures taking it up the wazoo, then you're gonna fall in love with "Anal Loving Teenagers 5," and you're gonna especially fall (after first rising to the occasion!) for Sofy Torn and Carry Cherry — and, hell, I'll even throw both Via Lasciva and Jessica Lincoln in their for good horny measure! These Russian, cock-crazed anal princesses rule!
Synopsis:
The red army of Russian Teens are invading the sets of Private yet again! Sofy Torn, Jessica Lincoln, Lasciva, Stasya Stoune and debutant Carry Cherrie star in the 5th installment of Anal Loving Teenagers and they are ready to make history. There is nothing like healthy competition, and when you throw a couple of big juice cocks into the mix you better believe these cock hungry girls will go all in to ensure they are crowned anal queen. It will be a tough one to call, these girls are incredibly talented and are fully committed to the art of hardcore anal. We will leave it up to you to decide, turn up, tune in and cast your vote!