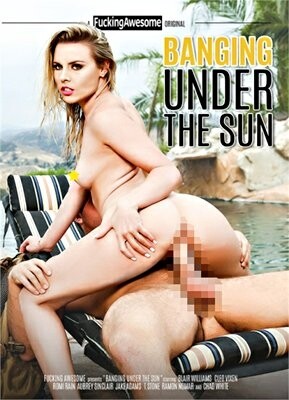 I usually don't like outdoor-sex movies, seeing as they're typically shot in rough terrain, with the performers having to, quite uncomfortably/unrealistically, screw on rocks, pavement, hillsides, making penetration not too deep and camera angles kinda, well, lousy, seeing as, well, it's hard to fuck well under such primitive (in the wrong sense of the word) conditions. So it's a vicious cycle. But in "Banging Under the Sun," our spermformers are porking on mattresses, sleeping bags and poolside sofa-chairs, making their humpin' duties a bit more comfy and, in turn, better shot. By the way, all four of the featured bitches in this FuckingAwesome.com pud-uction look terrif and really do get into the porking pro-seedings, especially slut extraordinaire Romi Rain.
We start out with Blair Williams who looks amazing — while sucking and fucking just as impressively — as she lets some lucky fuck (a good foot shorter than Blair) boink her on a mattress in some seemingly (but far from semen-ly) deserted trailer park. I like Blair's big all-naturals, while her cushy ass is a wet dream cum true; not a bad cocksuckette, either, when she's not using too much wrist (dig her intense eye contact), and she's particularly fun to view in the doggie (whadda pair of butt pillows!) and missionary (I love seeing her face contort into a ball of painful pleasure) positions.
Randy campers Cleo Vixen and T. Stone (along with his man-bun) thankfully don't ultimately fuck on a rock but get down on a cushy sleeping bag, with high points going to Cleo for not only her sweet looks but her relatively raunchy sucking/fucking. Dig, by the way, how Cleo whorishly rubs her cunt against Stone's bone (as Stone is on the bottom), before having him suck her sopping twat dry, with Cleo's best positions being spoon (showing off Cleo's tasty bod), cowgirl (highlighting her jelloey pooper), and doggie (refer back to cowgirl).
But a real high point in "Banging Under the Sun" is when the always-delicious, ever-trampish Romi Rain gets her holes (except for her crapper) slammed silly by the ever-freaky Ramon Nomar. They, actually, fuck, at one point, next to a truck (in the middle of the vehicle being washed in front of a semi-isolated house), which isn't too conducive to comfy, solid penetration, but then they move into the open wagon of the truck, which has mattresses laid down for our degenerates. And, no, there isn't a bad position with Romi. You name it — cowgirl, reverse-cowgirl, missionary, spoon, doggie — they all rock the people's cock. And she sucks slug like there's no tomorrow, deep and loud and fluid-drenched. Although, gotta admit, cowgirl is a Romi favorite of mine, as her killer ass cheeks are just flowing every fucking which way. Love that slut! I like it, too, when genius Ramon pours soapy water all over delectable Romi during doggie, making her luscious body shine with whorish scrumptiousness. I was a bit surprised, however, that this anal-minded slut didn't take a trip down the Hershey highway (Romi, not Ramon). Oh well. Next slime, Romi…
Finally, Aubrey Sinclair is a cutie who gets seriously boned at poolside by her returning veteran-beau, played by the very fortuitous Chad White, with Sinclair looking positively exquisite from head to toe, and performing just as marvelously. The director really found a picturesque pool against which to shoot this scene, with our pervs porking each other on a (again, thankfully) comfortable-looking sofa-chair, with Sinclair (on the DVD's cover for a good reason) totally going to town during cowgirl (twice! — with some nice squatting action); she's also not a bad little dick-licker (at times, sucking to the base of her boy's bat), and is similarly a vision to behold during reverse-cowgirl (such a juicy little bod!), with doggie (like cowgirl) truly showing off Aub's awards-worthy pooper, as White fingers her undoubtedly itchin', surely hungry anus.
For couples and pervs alike, "Banging Under the Sun" is recommended viewing, cunt-taining nothing too extreme but, nonetheless, loaded with way slam-worthy babes, who quite obviously enjoy their work.
Synopsis:
California girls' sun-kissed skin is so warm and their cherry-flavored lips so juicy they make those big-dicked hunks melt instantly. Banged under the sun, how hard will they cum?