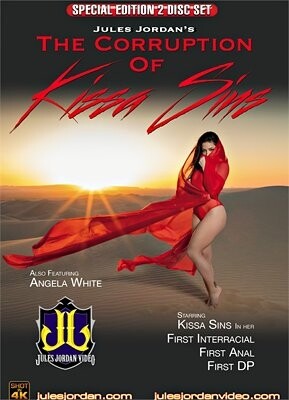 It's so nice seeing 31-year-old Southern California native Kissa Sins sucking and getting screwed by guys beyond Johnny Sins, which is X-actly what you get in this two-disc, Jules Jordan-directed gonzo (with the second DVD also containing behind-the-scenes footage, cumshot recaps and a photo gallery), which even features Kissa's first interracial (with big-gland man Mandingo), as well as her first anal-sex scene with a guy other than Johnny, and her first DP (though Johnny does have to get a few pumps in there — and her quivering anus — and I don't blame him!) Anyhow, let's fuckin' dig in!...
After a glam scene in the middle of the desert which is picturesque, we're treated to some good old-fashioned licking and sticking, as Austrian pud Mick Blue heatedly slams Kissa in a soapy, foam-filled Jacuzzi. Now, whether you're a fan of Kissa or not, you have to admit that she's got one amazing pair o' butt cheeks, beautifully highlighted here with sudsy water. She's also a pretty darn good blowjobber, and even better when Mick face-fucks her. Kissa's ass looks terrific in the cowgirl, reverse-cowgirl and doggie positions, until Blue finally blows his McDick after a repeated sesh o' doggie. So, is this scene also a first in that McDick is the first Austrian Kissa's fucked? Hmmm… Anyhow, on to even more sizzlin' Sins stuffings…
Luscious Aussie Angela White next joins Kissa for a horny bit o' girl-girl pussy and anus sucking — and some big-tit worshipping (care of Angela's major all-naturals), before Russian rodster Markus Dupree sticks it (for the — ta-dum! — first time, other than with Johnny) up her crapper during missionary, with some superb ATOGM ensuing. Angela never holds back, man! I even love how White literally smothers Kissa with her huge hooters. Angela then gets the cornhole treatment from Marky-Mark, with Kissa delivering some of her own fine ATOGM moments. It's a marvelously wet, messy scene, with loads of squirting (from the ladies, not just, ultimately, Little Marco), tons of wonderfully arousing positions, sundry gapes and much female-to-female rimming care of wanton White and salacious Sins.
Our next scene has Kissa getting her tonsils and twat blown out by Xander Corvus (sporting a pineapple-lookin' haircut), with some good salami slammin', before (finally!) disc two gives us Kissa's premiere double penetration drillin' and black-on-white porking with scaldingly raunchy results. Looking amazing wearing black fishnets, with a space cut out for her scrumptious ass, Kissa does plenty of spreading, stretching and smiling for the camera before our returning Euro gents Mick and Markus (again, sounding like the animated animal stars of a cartoon) ravage rectum and cock-cram cakehole, as well as cunt, with our degenerate dicks giving us, not only some fun double-blowjobbin', but standing, doggie, spoon and reverse-cowgirl DPs, as well, though not necessarily in that order. Doggie DP with Kissa is definitely a movie highlight, with pa-lenty o' romantic gapes for ya throughout the entire filthy fucking scene.
Even though the movie ends with hubby John boy delivering a fiery ass-fucking to his better half, the penultimate scene is a first (on-camera, at least), with Kissa getting it from a black dick, and it's most certainly trial by fire, as Sins lets the behemoth attached to Mandingo rip open her mouth and muff in one incredible sequence. Actually, it's a wee bit fantastic seeing Kissa try to get all o' that monstrous one-eyed ebony slug into her gob. Wow! And it's just as entertaining viewing our man Manny dunking his gargantuan dark dick all the way into Kissa cunt during missionary, spoon, cowgirl, reverse-cowgirl and (mama!) doggie; with Kissa oh so dutifully — and quite frequently! — licking her own tasty cunt juices offa that big, thick, black cue stick. Whew!
Again, whether you're a fan of Kissa Sins or not, you definitely don't wanna miss this delightfully decadent destruction of all of Mrs. Sins' holes (except her ears and eye sockets, which director Jordan will surely get to in Vol. 2) by many male (and very-fucking-lucky, at that!) strangers.
Synopsis:
Kissa Sins in her FIRST INTERRACIAL, ANAL, and DP scenes! Kissa takes it hard from Mick Blue in a bathtub pounding to remember. Angela White teams up with Kissa for an oil explosion fuckfest! Xander gives Kissa that good dick and makes her cum over and over. Mick & Markus double-dick Kissa for her FIRST DP! Kissa takes the Mandingo challenge for her FIRST IR! Johnny opens Kissa's ass for her FIRST ANAL!