Rocco Siffredi Hard Academy Part 4 . . . Goes Live
Evil Angel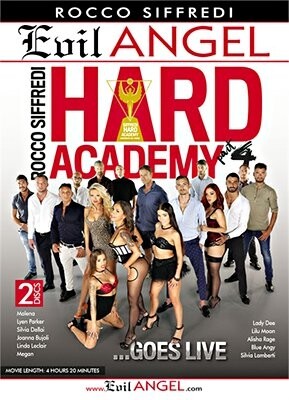 Okay, so this fourth volume of Rocco's "Hard Academy" was broadcast live to a world audience o' pervs. Great. But yours truly? Hey, I didn't see it live. So, with this amazing DVD, I'm getting the next best fucking thing! That is, over the course of two discs, you get three mammoth scenes of ultra-decadence filmed with foxy foreign female figures, expertly shot somewhere in Europe. In fact, the third scene — and, to me, the best of the lot — has its own disc. But, aside from young babes, sizzling cougars and delicious MILFs from Poland, Romania, Hungary, Russia, Czech Republic and Italy, "HA4" gives you orgies, blowbangs, anal, double penetration, girl-girl, ATOGMs and cum baths aplenty! It's Evil Angel a la Europe/a la Rocco/a la nastiness which you do not wanna miss!
Scene one itself is pretty much a double penetration showcase, as downright sizzling blonde Polish porn slut Joanna Bujoli (but I've no age on this extraordinary tramp, who's obviously a wee bit older than many of the young fillies featured), Hungarian hottie Lyen Parker (26, along with her marvelously big ass) and tattooed choice Czech chick Silvia Dellai (25), each suck numerous cocks and get double-pronged by an equal number of wildly horny gents (I've no idea who most some of these puds in Rocco's porn academy are, but they sure know how to handle major Euro pussy and ass in front of the camera!). Each woman is totally ravenous for dickmeat and, basically, gets sloppily gangbanged in all of her holes.
The highlights in scene two are seeing tasty Serbian sweetie Alisha Rage (25) get greasily cornholed by BBC, tattooed Romanian dragoness Megan Inky (34) getting DPd/gangbanged (check out how red her right ass cheek gets after one Euro fucker slaps the hell out of it!), and cute brunette Czech Lady Dee (21, and taking on cock after cock in her mouth 'n' muff). Primo whackin' for ya!
But it's scene three (on disc two, and, again, filling the entirety of disc two!) which is what I call scorched-earth porn, pretty much leaving no hole unplugged and getting everything so damn slick and slimy, the crew probably had to wear galoshes while filming this amazing orgy/gangbang, with Italian super slut Malena (35) and the returning Joanna Bujoli taking most of the dicks any which way they can; while it's also a total turn-on seeing incredibly figured Hungarian MILF Blue Angy (47) get her fair fill o' boy beef in cakehole and cunt.
Malena, of course, does everything imaginable, from sucking truckloads of boner, to doing DP after DP (her doggie double stuffings are particularly off the scale), eating man-ass, chomping down on pussy, performing ATMs and ATOGMs, and devouring a bucket's worth o' sperm. This hellacious ho's one of my all-time favorite porn stars. And the fiery bitch shows ab-so-fucking-lutely no signs o' slowing down at age 35. Also, I gotta give due credit to blonde Joanna Bujoli, who sucks and fucks a fair amount of penis herself, while also doing numerous DPs. And, once again, I wish there were more footage of 47-year-old Hungarian pepper pot Blue Angy, whose body is out of this world for her age, and who, quite obviously, is in some kind o' smut heaven when getting seriously snaked by two guys at a time!
Nope, there isn't a bad babe or a bad scene in this entire epic gonzo from the still-powerful purveyors of fantastic filth, Evil Angel, with eXXXtra high points going to the always-outrageous Malena (love you, bitch!) and the underrated Joanna Bujoli. Trust me, "HA4" will make you blow yer wad slime and slime again!
Synopsis:
In Rocco Siffredi Hard Academy Part 4 ...Goes Live, the Italian legend gives aspiring studs a shot at XXX fame, filming them in outrageous, double penetration orgies with extreme Euro-sluts. This time, Rocco's porn boot camp comes with a unique twist: Action is broadcast live on the web for a worldwide audience! The resulting marathon features long group-fuck sessions flavored with fun, reality TV-style interviews and wacky outtakes. Joanna Bujoli, Silvia Dellai and Lyen Parker school 16 of Rocco's recruits in a decadent melee of harsh, throat-pounding fellatio that climaxes with the hot instructors orally swapping semen. The second scene matches 13 dicks with four more dirty "drill sergeants": Alisha Rage takes a heated, interracial anal fuck; exotic Lady Dee does a blistering threesome and then shares a cum kiss with athletic beauty Lilu Moon; and Rocco's trainees treat busty, tattooed Megan to extreme, double-anal drilling! Joanna joins luscious Malena, Linda Leclair, Blue Angy and redheaded MILF Silvia Lamberti in a kinky lesbian show, and then 20 novice fuckers jump in for a blistering, no-holes-barred orgy. Whimpering girls squirt soaking, orgasmic ejaculations! They give nasty, ass-to-mouth blowjobs, rim bungholes and enjoy messy cum facials galore.