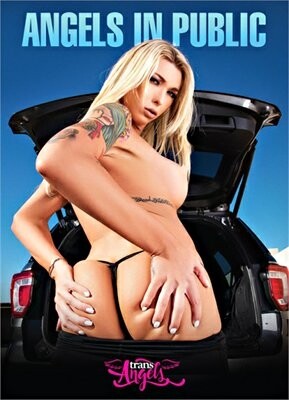 Aubrey Kate, sleek and alluring as ever in skintight lycra, struts up to Damien Stone, whose SUV is non-operational. She decides to stretch out her limbs and the musclebound hunk can barely contain his urges as he helps himself to her. The pair generate combustible erotic heat; Stone, especially, seems particularly turned-on as they kiss and proceed to lovemaking, culminating in a facial, in the back of Stone's SUV parked in an empty lot.
Elsewhere, TS Foxxy suns and strokes herself, in a teal bikini, before strolling into a luxurious adult movie theatre, wearing only lingerie, heels and a black trenchcoat, and soon finds herself drawing affable hunk Rick Fantana into her web. Foxxy utterly dominates Fantana, who eagerly submits. Her infamously aggressive nature is on full display as she rams Fantana, in numerous positions, with obvious kinky pleasure.
D. Arclyte has a standing appointment to spy on curvy Bianka Nascimento as she peels off her white one-piece, oils up her luscious body and suns herself poolside. She soon invites Arclyte to join her for a poolside romp. Nascimento dominates the easygoing hunk; even as she gets rammed with his cock and creampied, her sexual brio is apparent.
Domino Presley hasn't quite shared everything with her lover, Gabriel Dalessandro. When he drops to his knees, ring in hand, she lifts her skirt to share her secret. However, Dalessandro has no compunctions about going down on her right there in the restaurant and then bending over the table, and then stretching back on a daybed, to allow her to sweatily plow his ass. (Arclyte has an amusing cameo.)
Tech credits are strong, particularly lighting and editing, as well as wardrobe, hair and makeup. Kate and Foxxy are the MVPs, in my view.
Synopsis:
Hot trannies taking it well! Out in public and ready to go!