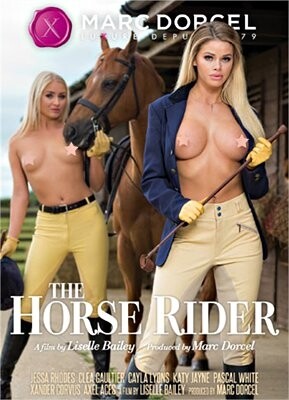 From Marc Dorcel Pud-uctions, this Euro feature is not so much about the featured ladies riding horses as it is about them riding the horse cocks; those large appendages, that is, attached to the males prancing about in this rather arousing tale of, well, rather arousing female tails.
A bit of a soap opera, "The Horse Rider" involves poor little rich girl Jessa Rhodes, who has a passion for horses, and whose father, mother and stepmother are all dead, with her father leaving behind a near-bankrupt business and her family's large estate seeming to slowly slip out of her hands; with the only solace being some sexual encounters the bitch has on site; and we start things off with a bang, as Jessa's stepsister, played by sexy-as-fuck French brunette Clea Gaultier, hornily takes on one lucky boner; with the slut soon taking on another prick. As Clea's sucking off the first guy, another fella in the room begins filming the action, with the smut instantly fed onto a wide screen right there in the living room. Clea's quite the spinner, really workin' that twat of hers, with the best positions definitely being cowgirl and reverse-cowgirl, as the randy bitch really knows how to grind that cunt o' hers. She's also excellent at sucking dick, going right to the base, slow and easy, ultimately using her tongue and wrist to get the slob off.
And right after Clea laps up this guy's gunk, she's off blowin' the guy who was handling the camera, with the other just-fucked guy now operating the lens; all of it simply showing what a true slut (yes!) Clea is, as she sucks the lucky prick off to climax, letting the load o' jizz just cascade outta her mouth. Whadda whore!
And as the guys who are thinking about buying Jessa's mansion are sleeping over, lots of erotic shenanigans take place, including horny Xander Corvus, one of the potential buyers, porking blonde laborer/Czech babe Cayla Lyons in the estate's horse stable. He starts off by worshiping the slut's anus as she's standing bent over. She then sucks his raging hard-on, followed by some standing doggie, a lil' reverse-cowgirl, missionary, spoon (which really shows off Cayla's cute keister), more standing doggie, before Xander yanks off his raincoat and coats that killer ass with man-murk.
Trying to blow off some steam, stressed-out Jessa sucks and fucks some Euro lunk-head in her boudoir, in one of the movie's better scenes, simply because Jessa, like Clea, is so damn fucking fuckable in her own way. And it's really the scene which many viewers/spewers and fans o' Rhodes have been waiting for. Jessa has a truly phenomenal bod, along with a potential porn queen's perfectly pouty (a good thing) young face. Missionary with this fine-ass cunt is just as good as doggie (even standing), or cowgirl (which is awesome, watching those ass cheeks undulate), or reverse cowgirl (wherein we get a good view of Jessa's unique-looking augmented tits), or spoon (which further shows off her superlative ass). She's a keeper, alright.
Next, we have a fairly heated foursome between two gents, sizzling Clea, and her blonde party-girlfriend Katy Jayne, at an indoor poolside, which suddenly (abruptly) is transferred to the estate's kitchen (go figure). The lads take turns with the bitches, both of whom rock. It's fun watching both sluts get doggied, face-to-face, while it's even nicer seeing Clea take it up the shit chute during reverse-cowgirl. At one point, as she's getting doggied, slutty Clea is blowing the other guy, with Katy soon doing the exact same thing; before, that is, Clea mysteriously disappears, leaving Katy to get a cum bath all across her big hangin' boobs from the brace o' big hangin' pricks.
We finally get our Americans to fuck in the cunt-cluding scene, as Xander slams it to the ever-fetching Jessa; the two pervs passionately getting down in the great outdoors. After a slippery fingerfuck and a little cockfondling, Xander does awesome Rhodes doggie style, after which she rides him cowgirl (one of the best positions for Jessa), then reverse-cowgirl, and spoon, before the fortuitous bastard blasts joint juice across her tanned belly. Whew! Must be love.
While there's no really crazy sex here, "The Horse Rider" is, for that very reason, an apt choice for couples, with extra high points going to Clea and, of course, Jessa.
Synopsis:
Jessa lives only for one thing: her passion for horses. At the death of her father, she inherited his equestrian estate... but also all of his debts. Her half-sister Clea, is escaping reality between lust and depravity, so Jessa can count only on Charles, his father's faithful friend. According to his advice, she must resolve to sell her property to Alexander, a young American billionaire she hates at first glance. But appearances can be misleading... between the unrestrained sexuality of Clea and the perversions of Alexander and her friends, does Jessa risk losing herself in a liberating quest of pleasures? By transgressing morality in the most enjoyable way in the arms of Charles, she will realize that she denies herself by refusing to yield to the sexual pulses that draw her irrevocably towards Alexander.