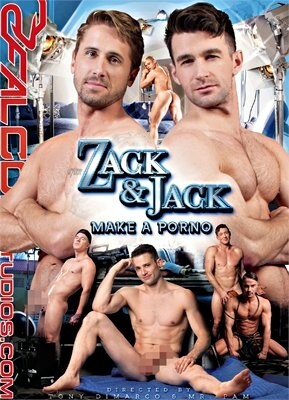 A formidable cast of A-list hunks, toplined by Woody Fox and Wesley Woods, the latter an XBIZ Awards nominee for Gay Performer of the Year, spoof the 2008 romantic comedy written and directed by Kevin Smith and starring Seth Rogen and Elizabeth Banks. Jack (Woods) quits his job the same day his roommate Zack (Fox) is laid off. Facing dire financial straits, they elect to shoot a gay porn film. Erotic hijinks ensue. Both leading men appear twice. JJ Knight is the temperamental lead of their blue movie that Woods is asked to fluff to get him ready for the cameras, but he understandably gets carried away with the task. Knight is suave and low-key sexy, as ever, and his thick cock is mesmerizing. He and Woods share an intense, deeply appealing chemistry; both men are always dialed-in to their onscreen partners. Elsewhere, firecracker Alam Wernik blows Woods in his car in a parking lot and allows his beautiful, smooth bubble butt to be rimmed for a terrific oral encounter. Fox, a ripped, gorgeous Aussie, has the pleasure of fucking Wernik. The latter is one of adult's most popular young studs of the moment; he leapt from OnlyFans stardom into an exclusive contract with Falcon and it's easy to see why. He's built for fucking and seems to exude pheromones that drive his topmen crazy with lust. Fox, already an intense performer, grunts with startled surprise as he eats out and then eagerly butt-slams the young blond stud. Skyy Knox, lean and ripped like a gymnast, is comforted by his producer. He and Fox share a sensual makeout session and proceed through oral and rimming like they really mean it. The sight of Fox pounding away furiously and happily all over a couch is one of the film's highlights. Knox, a true power bottom, takes every inch and more and opens wide for his topman's cumshot. Elsewhere, performer Pierce Paris reconnects with a former fuck buddy, a crewmember played by Quin Quire, who plays close attention to his brawny, ruggedly handsome pal. They share a friendly chemistry as they kiss, maintain body contact and use their tongues to assist in deepthroating, among other grace notes. They fuck in a production van that seems built for the purpose. Production credits, including well-lit sets and sharp, attentive editing help establish and maintain the connection between the men in all five scenes. Wernik, Fox and Woods (as usual) are among the MVPs in one of Falcon's stronger efforts of recent vintage.
Synopsis:
When Jack (Wesley Woods) quits his job on the same day his roommate Zack (Woody Fox) gets laid off, the two realize they need to make some quick cash. After pondering nearly impossible ideas for new careers, they mutually decide to make a gay porn. From the creative and collaborative minds of award-winning directors Tony Dimarco and mr. Pam, comes Zack & Jack Make a Porno. With Zack as the producer and Jack as the director, they set out on the challenge to find the hottest and most hung studs to star in their debut dirty flick. When Zack & Jack Make a Porno, it's not certain if they'll ever finish. But one thing is for sure - no one is leaving this set without getting their fair share of dick!

When JJ Knight shows up on set to shoot the debut scene, he needs a moment to get his cock hard. Jack steps in to lend a helping hand, but JJ needs more than just a warm palm. With the crew on break, Zack finds himself alone on set with the infamous Alam Wernik. Alam's tight body and perfectly smooth hole is the only invitation that Zack needs to fuck his leading man up the ass. When Jack and Alam drive to get some food, Alam decides to make his own meal out of Jack's meaty cock. The two take turns blowing each other in a fast food parking lot until both studs and the inside of the car are covered in cum. Pierce Paris and Quin Quire slip away from the rest of the cast and crew to find a secluded storage area. Quin gets his ass stretched to the limits with Pierce's monster cock before Quin takes the stud's thick load in his open mouth. When exotic French model Skyy Knox leaves the set over a talent dispute, Zack is quick to console him. The comfort soon turns to lust as Skyy's towel hits the floor. The two studs fuck hard on the couch until both of them explode, leaving Skyy covered from head to cock with jizz.