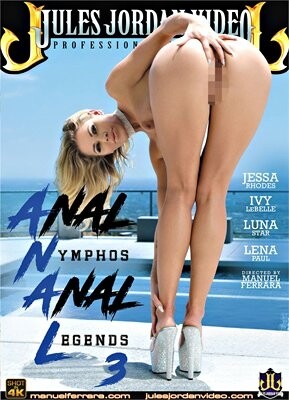 Manuel Ferrara gets to penetrate his Parisian pud deep into the poop pits of four different tramps from Porn Valley, with all o' the dames performing X-pertly. These young ladies are definitely superlative anal nymphos!
Jessa Rhodes looks better and better each time I see her — and wank to her! — and I'm glad that she's finally taking it up the ol' patooti, performing here with flying colors (and I'm not talking about Manuel's copious stream of spermatozoa at the sizzling scene's cunt-clusion). After some glam footage and shots of Jessa playing with herself and jamming dildos up her slit and shit, Ferrara appears with a real spear and begins attacking her tonsils, twat and rear with same. And what a fanny-tastic rear Jessa possesses! She's an obedient cocksucker, goin' deep and nasty, even eating (or at least sniffin') some Ferrara farts (now that's way nass-tay). Rhodes first takes it up the crapper during spoon, followed by reverse-cowgirl, doggie (va-va-voom!), cowgirl (hot stuff!) and reverse-cowgirl anal. And her tits look great, too. Love ya', Jess!
It's good to see that Lena Paul is also taking the poop chute plunge these days, and she, like Jessa, performs magnificently here. By the way, aside from those killer big all-natural boobies, Lena also has an ass to kill for, with Manny using both of Paul's assets oh so well. Lena's a good cocksucker, but she's an even better fucker, really riding Manny meat with gusto during cowgirl vadge. He finally sticks it up Paul's poop pit during spoon and fucks her titties somewhere down the Lena line. Doggie anal is amazing, with Lena really cooing. Cowgirl anal gives us just as grand a view of Paul's priceless pooper, while we get to see those brilliant boobies bounce all over the fuckin' place during reverse-cowgirl anal, while they also magically gyrate during mish anal. Lena's definitely the shit.
Next, Latina lust bunny Luna Star really burns up the sheets (or sofa, if ya wanna get technical) with Manny, happily letting him rip her rear (and throat and cunt). As you can expect, cowgirl and doggie really show off Star's star ass cheeks. And, though Luna's scene seems a bit short, I like how she winks her rosebudding anus at us during Manny's missionary adventure up her ever-pliant fudge factory.
We end with the end of Ivy Lebelle, who gives a nice, deep BJ, and takes it deep up the dung ditch … and honey hole, with her own best positions being doggie (love those gapes) and cowgirl, as both positions show off Ivy's choice butt bongos. I also like how she cleans off her shit from Manny meat after reverse-cowgirl anal. Good bitch!
If these girls keep taking it up the ass for years to cum, yes, they may, indeed, become "anal legends"; in the meantime, they're ab-so-fucking-lutely "anal nymphs" loving every inch o' that baguette up their bung-holeos. Ya dung good, ladies!
Synopsis:
Ivy Lebelle is an insatiable anal queen. Jessa Rhodes proves why she's an ANAL LEGEND! Lena Paul gapes her ass for Manuel's huge cock. Luna Star toys her pussy while Manuel fucks her ass.