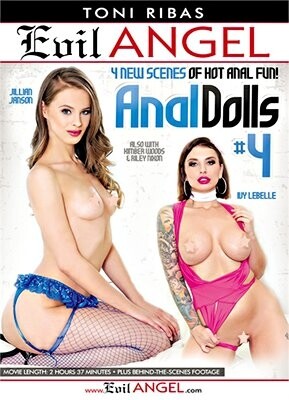 Babes in Pornland get their anuses madly blown out by director/performer Ribas and two other hired glands (Toni gets awesome Jillian Janson and meaty Kimber Woods to himself; while Bill Bailey gets buxom/luscious Riley Nixon, with Jesse Jones ultimately teaming up with voluptuous/oh-so-slutty — hell, all these insatiable bitches are wonderfully slutty! — Ivy Lebelle.)
We start off with, who I think is the best piece of ass in the movie, Jillian Janson, always putting in a good scene, loving nothing better than taking it up the ass and gives an awesome BJ. Indeed, in the oral department, Jill's one of the best, really choking, gagging and nearly rolfing on that Ribas rod. Doggie is amazing with Jill, particularly when her fine white ass is all oiled up, slick and shiny. The other positions rock, as well. I just wish Toni spent a little time up Janson's twat; never a good thing to let a tasty hole like the vadge go to waste.
Next, Ribas spends some slime time with Kimber Woods, who's a pretty good cock-socket, both orally and anally, with Toni finally devoting some pummel moments to her pussy, which you can tell she totally digs — in addition to getting her shitter obliterated. And it's definitely a choice moment seeing Ribas move from turdhole to cunt, and back and forth, during spoon and missionary. Again, Woods loves it. For the record, Kimber might have a big ass — doggie with her is way, way horny and she's got one incredibly tight-looking butthole — but her body is absolutely taut, which you can especially appreciate during spoon, mish and reverse-cowgirl. She doesn't mind her ATMs, either. Good whore!
Riley Nixon most definitely has the biggest all-natural boobies in the movie, and lucky Bill Bailey gets to fuck 'em, as well as her mouth, cunt and crapper, with Riley looking particularly juicy in all respects. I even dig her shaved head, though I don't care much for the weird fuzzy pink balls she's wearin' on her noggin. Whatever. She's still a winner. And Bailey is smart enough not to neglect the tramp's twat, either, which he sinks his sinker into from time to time. Reverse-cowgirl anal is fun, especially when Riley pulls her legs together, with the steamy position soon morphing into spoon anal, then doggie anal. Cowgirl anal is equally wank-worthy. I also like how Riley's boobies go bouncy-bouncy during numerous positions. And we finally gets some gapes here. In fact, Nixon is superb at dilating the ol' dung ditch. Whew! You can almost smell the vapors! And, like Kimber, she likes her diet o' ATMs. Way to go, Rile!
Ivy Lebelle might have augmented tits, but they look good; better still, she sucks cock like a demoness, and loves taking it in both the slit and shit from pudster Jesse Jones. Next to Jillian, Ivy gives one of the meanest blowjobs in the gonzo; sometimes going real slow and luxurious with her head-bobbing antics. For the raunch record, her butt looks positively stupend-ass bent over, and even better when Jones' sausage is slamming it in cunt or crapper. And, yes, Ivy does not shy away from ass-to-mouth occurrences. Cowgirl gives us another super view of her super pooper as it rides cock via either twat or turd-bin; ditto for spoon.
Each of the sphincter sluts in "Anal Dolls 4" do not disappoint, with high perv points especially going to Jillian and Ivy.
Synopsis:
Director/stud Toni Ribas' Anal Dolls #4 features natural beauties and exotic, curvy tramps that get off best with thick, throbbing cocks stuffing their assholes. In each scene, a shameless butt slut stretches her sphincter with toys and buries a boner up the bunghole; the first three girls go straight to anal. Slim, blue-eyed blonde Jillian Janson takes a dick/toy double penetration, with Toni's boner plowing her ass and a pink popsicle vibrator buzzing her bald pussy. Toni manhandles hot, dirty-talking Kimber Woods, gripping her ponytails for a face fuck. Humping on cock, her big butt fills the screen; she sucks dick ass-to-mouth and says, "Fuck, my ass tastes so fucking good." Kimber swallows thick jets of jism. Pretty-faced Riley Nixon's spectacular curves (natural jugs, big, fleshy rear) and shaved head thrill well-hung Bill Bailey. She squeals joyfully as choking sodomy increases the diameter of her winking, gaping anus. Heavily tattooed, big-assed Ivy Lebelle farts and her asshole gapes. Jessy Jones alternates plugging her cunt and rectum, making her thick cheeks quake. Jism coats her tongue and spackles her eyelash.