The Art of Anal Sex, Vol. 8
Tushy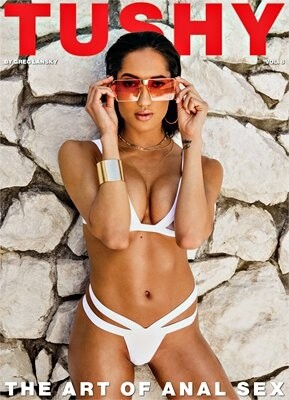 Yep, we love it when such delicious bitches as these ones take it up the ass. And there are some doozies in "The Art of Anal Sex 8," making it hard for me to pick which one of these four fetching young ladies is the nastiest of the lot, although I think Euro babe Anissa Kate takes the cake. But(t) fuck it, let's take a lecherously leisurely look at all of 'em, because they're all the shit.
Slinky, exotic-looking Chloe Amour plays a totally slutty real estate agent who'll do whatever it takes to close a deal, including whorishly opening her mouth, cunt and crapper as wide as they can humanly go, in this specific case for a rich Russian client in the form of (the ubiquitous) Markus Dupree. Wow! Check out how much saliva Chloe produces when the Dupe master seriously face-fucks her. Then, after slamming Chloe's cunt reverse-cowgirl style, Marky Mark slips it into Chloe's cute lil' anus, providing some charming gapes, as she trampishly spreads her brown pussy lips. She loves eating her own ass from his dick, too! Yeah! Amour next gets Marky meat up the shitter during standing reverse-cowgirl, then doggie (the latter being a movie highlight, with plenty — and I mean plenty! — o' gape-a-roos!), followed by mish (with lots o' much-appreciated eye contact, as well as a wee bit o' wee a la squirting), then a good old-fashioned anal cream pie. Whew!
I've never seen a woman fill a pair of leather pants (or whatever the fuck they're made of) better than the always amazing Gina Valentina — and it's even better when she takes them duds off to get fucked in the cunt and ass, with Austrian pump-machine Mick Blue doing the pumpin'. Valentina plays a clothes designer, tailor, something along those fucking lines, who gets it on with one of her clients (sound familiar?), in this case McDick, and it's yet another barnburner of a scene. After a deep mouthfucking, Gina gets it doggie in the vadge (such an incredible pooper!), then mish, then cowgirl (stop grab-assing those butt cakes — I wanna see those works of tart art!), before Blue sticks it in Gina's culo. Some nice anal squatting action here, as Valentina takes it way up the rear. And, no, she doesn't mind ATMs at all. Next, it's reverse-cowgirl, doggie, then mish anal (with loads o' gapes), followed by a face full o' Blue goo. Love ya', Gina! You're the best!
After seeing her on-screen sis get spanked by a private tutor, in the form of (the similarly ubiquitous) Jean Val Jean, Hime Marie (there's a name for ya!) wants the same kinky treatment, only she also gets her tonsils, twat and tukus blasted out in yet another scorcher of a sphincter-splitting sequence. After a nice and gnarly face-fuck, Hime sits her slit, then her shit reverse-cowgirl style on that wrinkled baguette; followed by doggie anal (Val Jean is, in fact, a grab-asser of the worst kind), and mish anal (in which Jean occasionally goes back and forth between cunt and crapper, which rocks), before Hime has Jean gel all over her cute lil' mug. Love it!
And what an ending (in more ways than one!), as we have relatively older (at 31) but no less bolder French/Italian/Spanish/Algerian ultra-babe Anissa Kate getting down and dirty with her business partner, Mick Blue (whom she's inherited from a divorce settlement), making for one nuclear ending to this already-volcanic fucking porn-manteau. I can, actually, listen to Anissa speak French all day, and she does a lot of that, before and during her cunt and culo fucking from Blue balls. But Mick first gives Kate a proper throat plunging with his Austrian worm, followed by some reverse-cowgirl vadge, then anal (doesn't Anissa have a perfect pair of big ol' titties?!), doggie anal (what a great pair of ass cheeks on her, too!), cowgirl butt-fucking (love watching those greasy butt bongos on Anissa's bouncing on boner!), a lovely ATM, some choice mish up the mud pit, lots o' fine-ass gapes, and a healthy dollop of McMurk all over Anissa's gorgeous face. I wanna see more of Kate! She never disappoints!
It definitely doesn't get any more apocalyptically fiery than "The Art of Anal Sex 8," with high points going to all four anal sluts, but X-tra high ones going to the incomparable Anissa Kate. Just can't get enough of this all-around filthy, head-to-toe beauty. Kate kills it!
Synopsis:
TUSHY.com is back with the eighth edition of its seminal series, The Art Of Anal Sex! Director Greg Lansky's unrivaled eye for beauty is in full display. Capturing authentic, passionate performances of real models who love anal sex. Chloe Amour is back, reprising her role as an ambitious real-estate agent with a penchant for mixing work and pleasure. Also featuring staggering performances by Gina Valentina, Hime Marie (exclusive first anal), and Anissa Kate. Come for the star-studded roster, and stay for TUSHY.com's unrivaled aesthetics and memorable storylines. The Art Of Anal Sex Vol. 8 is a must for connoisseurs and new fans alike!