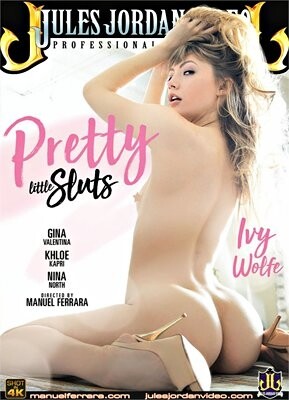 This gonzo title stars four young babes — with high points, indeed, going to ultra-foxes Ivy Wolfe and Gina Valentina — getting their tonsils, twats and (in the case of darling Gina) turd bins blasted way open. Cunt-sequently, "Pretty Little Sluts" is an all-around wanking winner.
We start off with blonde sweetie Khloe Kapri putting in a good blowjob (lotsa spit) and whose best position is absolutely doggie, with Manny sticking digits up her anus to make things even more arousing. And it works!
Ivy Wolfe, one of my favorite newer porn starlets, is up next, and she's a revelation, as always. Not only is Wolfe positively gorgeous, but she has nice little titties, a marvelous spinner's body and one killer pair of ass cheeks. Manny takes full advantage of all of these amazing physical attributes (and I don't blame the very lucky bastard!). Wolfe gives a fine deepthroat of a BJ and is totally incredible in the cowgirl and doggie positions, with that ridiculously fine ass of hers looking abso-fucking-lutely perfect. Can't wait to see more of this all-around tasty nymph. Sllll-urp!!!
Gina Valentina is another one of my favorite XXX chickadees, and she, like Ivy, totally excels (as usual) in her scene, even taking it up the fuckin' dumpster (thank you, Gina baby!). Valentina gives a crazed BJ with lotsa spit, before doing some memorable spoon and doggie, which she repeats, as well as cowgirl, with Manny meat up her crapper. We get some wonderfully romantic gapes during doggie, too! Like Wolfe, Gina's loaded with cuteness, charisma and carnality. I wanna see more of this delectable — and dirty! — damsel, as well!
Lastly, we have Nina North, another exotic-looking pixie like Gina, with the biggest pair o' boobies in the movie (100-percent natural!) and she sucks one mean prick; her tits are big enough to fuck, by the way, and those bodacious ta-tas are particularly enjoyable to watch in the spoon, reverse-cowgirl and missionary positions, while her juicy ass is magnificently spotlighted during cowgirl and doggie. Nina's definitely slots o' fun!
Definitely check out the aptly titled "Pretty Little Sluts," most especially drop-dead gorgeous and hypnotically sexy Ivy Wolfe and Gina Valentina. Love 'em!
Synopsis:
Khloe Kapri waits all day for daddy to get home so she can service his big cock. Ivy Wolfe is the prettiest little slut there is! Gina Valentina is a high class whore that knows how to please. Nina North distracts her boyfriend from his work so he can tend to her needs.