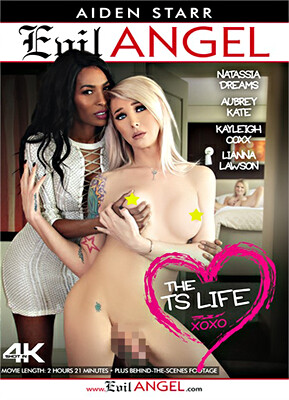 TS superstar Aubrey Kate finds out she's being stood up by girlfriend Natassia Dreams. But director Aiden Starr presents her with Lianna Lawson instead. They get a room and fall into bed. Lianna has alabaster skin while Aubrey is well tanned. Nice contrast. Lianna rides Aubrey's dick in her ass, her long white cock standing straight up. Post-ejaculation, a sweet goodnight kiss.
Aubrey works out with boyfriends Dante Colle and Michael DelRay. She does some double dick sucking, and they take turns on hers. Michael fucks Aubrey as she fucks Dante, and director Starr gets nice big closeups of the action. Aubrey gets a double facial
Aubrey dreams of dick when she wakes up next to Kayleigh Cox. Fortunately, Kayleigh has one of her own. She eagerly sucks on Aubrey and Aubrey returns the favor, sliding her cock into Kayleigh's asshole and gaping it. Then Kayleigh fucks Aubrey, including pilediver position. These girls really like each other.
But girlfriend Natassia catches them at it. Aubrey tells her she's sorry, but Natassia scolds and spanks her. She makes Aubrey kneel and suck the heels of her stilettos, and then move on to her black dick. She fucks her on her back, then in doggie and finally comes in Aubrey's mouth — which makes her so happy.
Synopsis:
In The TS Life, director Aiden Starr grants viewers an exclusive look into the wild dating world of trans megastar Aubrey Kate. Four scenes chronicle the stunning, ultra-femme blonde in kinky anal affairs with glamorous T-girls, as well as an intense threesome with two studs. When Aubrey's girlfriend ditches her at a porn convention, the bodacious beauty seeks cheating vengeance. She escorts fair-skinned TS Lianna Lawson to her room for a decadent fling. Lianna jerks off as Aubrey furiously fucks her asshole, and both babes ejaculate to sperm-swapping ecstasy. Cheerleader Aubrey practices her routine with Dante Colle and Michael Del Ray, and afterwards the trio shares an epic, three-cock three-way. A sandwich-style pounding features Aubrey in the middle, drilling Dante's ass while Michael sodomizes Aubrey's! Aubrey treats fit blonde Kayleigh Coxx to a frisky morning delight. Kayleigh sucks Aubrey's stiff she-prick ass-to-mouth and exhibits her graphically gaping anus. Aubrey's girlfriend, ebony T-babe Natassia, is furious when she catches Aubrey cheating. In a fit of rage, Natassia pummels Aubrey's butthole!