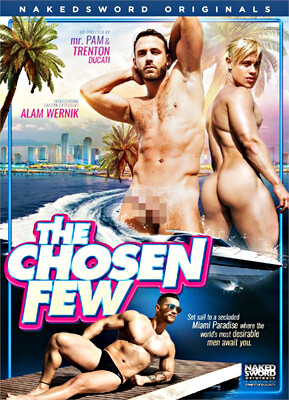 Logan Moore is the dreamboat owner of a private Miami estate populated only by gorgeous dudes. His houseboy, Alam Wermick, is supposed to be off-limits, but the younger stud proves himself too sexually available to resist. Gorgeous Wermick jumps from red-hot OnlyFans stardom to this NakedSword Originals feature co-directed by Trenton Ducati and two-time XBIZ Awards winner for Gay Director of the Year, mr. Pam.
Wermick is blonde with a lickable bod — he should never wear clothes, ever — red lips and a bubble butt that irresistibly draws in the men like a moth to flame. Wermick virtually quivers with sexual anticipation; he and handsomely scruffy Dane Colle exchange wet, slurpy poolside blowjobs and, later, he leads musclebod Arad Winwin in a chase around a boat, which leads to an aggressive ass-pounding inside the boat with the marina fully visible through the windows. Watch Wermick's eager excitement as Winwin is about to dump a load onto his tongue (and the latter looks fucking incredible bulging out of a small black Speedo).
Wermick anchors a third vignette, a threesome with Logan Moore — coolly handsome — and Danny Gunn, lean and heavily inked. Wermick's submissive side is clearly evident as Moore, who takes his time and savors both gorgeous pups, smoothly dominates him and Gunn. Wermick remains engaged throughout, moaning happily and maintaining eye contact.
Elsewhere, Colle and Moore both return for what is supposed to be a grudge-fuck — Colle's punishment for hooking up with Wermick — but they both appear to be having a lot of fun together. Michael Del Ray and Jacob Peterson (blonde, furry chest, dreamy) share a friendly chemistry and Del Ray pounds away furiously as if he'd been waiting for this opportunity for a long time.
Synopsis:
Every gay man in South Beach wants to part of The Chosen Few, an exclusive group of the world's hottest men, hand-selected by Logan Moore to live at his private island estate. Stories of their lavish lifestyle and endless hours of sexual debauchery tempt Danny Gunn and Michael DelRay onto Logan's boat, headed to paradise. Logan welcomes them to his home, where there is only one rule: no one touches his personal houseboy, Alam Wernik. Everyone tries to play by the rules except for one person: Alam.

The chiseled young horndog can't keep his clothes on or his mouth off of every rock-hard cock in sight. From the muscle-bound security (Arad WinWin) to the horse-hung houseguests (Dante Colle and Jacob Peterson) there's trouble at every turn. Will Michael and Danny be able to resist temptation, or will they give in, and lose their spot among The Chosen Few?