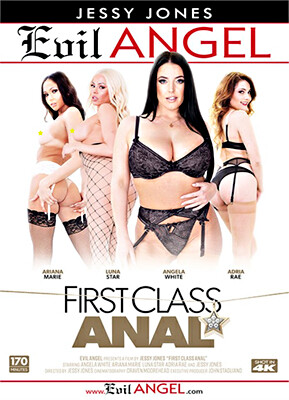 Lucky French-Canadian prick-wielder Jessy Jones gets to screw the cakeholes, cunts and crappers of four true babes.
You really can't ask for a better booty-fucking start than with Aussie butt-slut Angela White, whom Jessy, quite happily (no shit, Sherlock!), fucks the livin' shit outta. Angela, of course, is one stellar boner-choker, really scarfing hard. And check out how her big and bountiful boobies bounce all over the friggin' place — just like her equally luscious ass cheeks! — when her slit or shit is humped in any which way. I like how Jess goes back and forth between her cunt and anus during spoon — as well as mish and doggie. Nasty! Nice gapes there, Angie baby, while our girl's talent at ATMs is quite impressive. And check out how she laps up all o' that there still-steaming sperm after Jess blows his wad upon a see-through glass table top.
Next, we have one of the most beautiful, exotic-looking young ladies in XXX getting her fill o' Jess, none other than the drop-dead gorgeous — and dirty! — Ariana Marie. She's so perfect-looking, I'm surprised Jess doesn't bust his nut right when she starts sucking him off. Marie's cunt and crapper crammings here are definitely a movie highlight. Don't you just love her sleepy slut's eyes? Can't get enough of this sex-drunk sweetie, who always has a fantastic attitude when getting porked in any hole, in any position. For the raunch record, spoon anal is out of this world with Marie; just seeing that flawless ass on her bent over as her sphincter gets stretched to the max is incredible stuff. Such a darling, smooth-looking cunt on her, too. Doggie anal is just as mesmerizing to witness. Ariana just doesn't put in a bad position. Jess ultimately does blast French-Canadian boy batter all over her vadge and anus. I just never get enough o' this chick. Love her!
Adria Rae herself is a pretty thing who's a pleasure to watch getting rectum-ravaged a la JJ. I like how she gets plenty o' spit all over that snake o' Jessie's. I similarly dig how she's always smiling and oh so chipper throughout her merciless slit-'n'-shit invasion. The garter belts on the ladies also magnificently augment their already killer ass cheeks, as is the case here with very fetching Adria. Cowgirl anal with Rae is particularly satisfying, while mish and spoon anal really get her turd tunnel loose 'n' lovely. Adria's also a pro at licking her own crud offa Jessie's soiled joint, while she also, at some particularly perverted point, eats some o' Jessie's farts (so I guess that kinda makes up for the lack o' doggie anal here).
And you can never go wrong with a scrumptious bitch like Luna Star, who looks especially delicious here wearing black fishnets as her succulent rump gets destroyed. Jones doggies Luna as she's juttin' out her delectable derriere on the edge of a swivel chair. The ho even squirts while her ass is heatedly hammered. We get a nice view of her dark meaty muff while Jess penetrates her during mish anal. Luna, by the way, really knows how to shake that moneymaker during cowgirl, vadge and anal. Such a firecracker of a slut! She also can't wait to spread eagle during mish, during which her poo-poo is further pummeled and obliterated, while Jess delights in goin' back and forth 'tween twat and turd bin here. Doggie anal is nothing less than murkily magical. Star and her starfish are stars! And don't miss her voraciously licking up Jess jizz — and her own spray! — upon the top of yet another (undoubtedly the same!) see-through glass table.
"First Class Anal" features first-class ass whores, with high points definitely going to incomparably beauty/booty queen Ariana Marie; though Star, Rae and White ain't too fuckin' far behind with their own bawdy behinds and brilliance.
Synopsis:
Super-hung young stud Jessy Jones makes his Evil Angel directorial debut with the A-list buttfuck scenes of First Class Anal. His vivid camera work captures top XXX starlets in the graphic acts that truly turn them on, and he skips the bullshit that sends fans to the fast-forward button. Superstar Angela White shows off her bald twat, winking butthole and the naturally huge fun bags she can suck. She blows Jessy; drool flowing into her cleavage lubes a titty fuck. Jessy's thick boner alternates porking bunghole and cunt. Dirty-talking Angela makes Jessy cum twice! Petite, young Ariana Marie masturbates with manicured fingers as she's sodomized. She sucks cock ass-to-mouth and Jessy tongues her winking, gaping bunghole. He creams her mouth, pussy and asshole. All-natural redhead Adria Rae slobbers worshiping Jessy's joint. She squeals through acrobatic pussy plowing and anal reaming; she stuffs her face up his ass for a rim job. Jessy tears through flashy blonde Latina Luna Star's fishnets to get at her big boobs and deep ass crack. Frenzied buttfucking and choking make her pussy squirt repeatedly. He jerks jism all over Luna and a clear glass table; she floods the tabletop with juicy squirt and slurps up the whole mess!