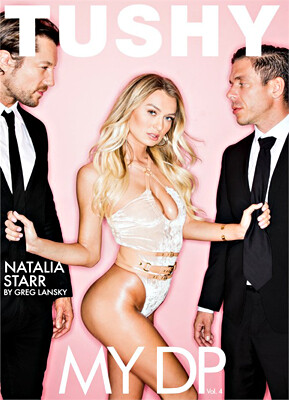 It's one in the pink and one in the stink (in other words, a DP, or double penetration) for each of these four foxy ladies, and you're gonna absolutely love these four filthy forays into the annals of double schtuping.
Polish starlet Natalia Starr starts things off getting seriously double drilled, playing a cheating housewife, whose husband, Jean Val Jean, catches her in the act and decides to share Starr with her secret lover, MickBlue, with horny results. First, the lads spank the hell out of Starr's star ass cheeks, after which she double sucks their raging hard-ons, with a high point being her deep face-fucking by both sticks. I love how she grinds her hips during reverse-cowgirl with Jean-joint.
It's then cowgirl for McDick, which quickly shifts to reverse-cowgirl anal, a lovely ATM, reverse-cowgirl anal with Jean, ensuing butthole gapes, back to McDick in the same position, missionary anal with both puds pulling a train on Nat's puckered starfish (dig how her scrumptious body gets all sweaty by this point) and for a good long time, then it's finally a doggie DP — with Jean Val Jean and McDick doing their usual grab-assing and, in turn, criminally covering Ms. Starr's fine-ass wares — with both boys taking a crack at her crack, followed by reverse-cowgirl DP, a joyous ATM, back to RCG DP, and (spurt! spurt! spurt! times two) our foreign pricks blowing dick snot all over the bitch's mug. Yeah!
Janice Griffith has a fantasy about having "two hot guys at the same time," with Jean Val Jean at least making half of that wish cum true by having her get hornily double-porked by two guys — Jean and the returning Mick Blue — with slutty, slinky Janice being the hot commodity here. We start off with some cunt-sucking, followed by a BJ times two, with Janice really going deep (as in, to the base of each bone), as well as getting face-fucked by each pudinsky, with plenty of over-flowing saliva and lotsa much-appreciated eye cunt-tact; with all that good stuffing followed by cowgirl vadge while she sucks a dick, with both bros switching positions; reverse-cowgirl anal times two; ATMin'; doggie DP times two; ditto for reverse-cowgirl double penny; and a standing DP, before (spllllllllllllllatttttt!) Griffith's pretty face gets cum-cocooned by our duo o' dicks.
Next, it's svelte Haley Reed repeating the same DP fantasy as we viewed in the previous scene, and with the same DP drillers, even — Val Jean and McDick — spermforming our double-dunking doo-doo-duties; Reed doing a magnificent job as a tasty slab o' sandwich meat. After an amazing slow, deep, passionate double dose o' dick-sucking, Haley offers up some cowgirl (such an awesome pair o' butt cheeks on this fresh piece of ass!), followed by reverse-cowgirl anal, highly attractive gaping, a romantic ATM, more RCG anal and butthole dilation, a lil' bit o' doggie mixed in with some asshole-on-dick cleaning; after which the boys pull an anal train on Hail during mish, with some back-and-forth/cunt-to-crapper (nasty!) hole plunging (I love how Haley's heinie twitches uncontrollably!); and (finally!) we're treated to a Haley doggie DP (which is truly amazing when these ass-grabbers keep their paws to themselves), with the pricks switching positions, and plenty of shithole gapes erupting; then it's an RCG DP, with Haley ultimately cleaning off vadge and vapor stains off both dicks, and putting both soiled swords simultaneously into her gob (yeah!); followed by more RCG DPing and then (blatt! blatt! blatt!) an eruption of semen upon her pretty mug. Haley's a rockin' tramp!
Then, Avi Love has apparently started her own clothing business, but the main thing to witness here is sexy Avi getting heatedly boned simultane-ass-ly by Blue and (finally, another pud!) Markus Dupree. By the way, Ms. Love is most definitely a fine cock-suckette, letting the lads truly ravage her tonsils, with Avi producing tons o' saliva and gnarly sounds; after which she's doggied vaginally while standing, with both dicks taking turns; then we get some doggie while she's bent over, followed by always-worth-viewing cowgirl (with Avi always having a boner in her cake hole, unless she's getting double-plugged), reverse-cowgirl anal, augmented by some nice gaping; back to RCG anal during which we get a butthole train; a missionary anal train; some squirting (from Avi, not our resident cocks); a doggie DP; a lil' double-anal lovin'; RCG DPin'; some laudable ATMin'; back to an RCG DP; and, finally, our girl getting her puss splattered with penis plaster. Like Haley, Avi's a passionate, filthy fucking pixie!
"My DP 4" does not disappoint, with this impressive quartet of some of the very best-looking bitches in XXX getting their twats and turdholes simultaneously/totally destroyed. It's a beautiful thing!
Synopsis:
From the award-winning studio of TUSHY.com and Director of the Year, Greg Lansky, comes MY DP VOL.4! TUSHY.com continues its mission to capture standard making double-penetration scenes featuring the world's most passionate performers. Cover-model, Natalia Starr, is having her cake and eating it, too. She kicks off this integral collection as an unabashed gold digger hooking up with both her ex-husband and boyfriend. Also featuring performances by Janice Griffith, Haley Reed, and Avi Love in the tightest DP scenes ever to be produced. Beautiful cinematography, captivating stories, with stunning models in exclusive performances, MY DP VOL. 4 is a collection that will leave you beyond satisfied.