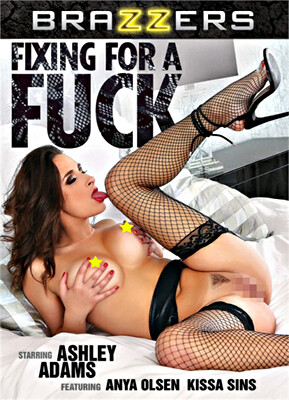 In a pair of cunt-tinuing stories — starring Ashley Adams as a horny chick who has nasty sex with guys care of an internet site called ZZ Swipes and Anya Olsen portraying a casual burglar who winds up getting her tonsils, cunt and anus burglarized themselves — Ashley and Anya star in a total of three episodes each. And while Anya is definitely my favorite of these two sluts, Ash does possess one killer body, and she can be just as fabulously filthy as Ms. Olsen.
Each of Ashley's scenes, just like those featuring Anya, progressively builds in terms of nastiness. Of Italian, Greek and Irish descent, 21-year-old Florida native Ash has an amazing pair of big, all-natural headlights (one of the best pairs in Smutland, I seriously think) and quite the voluptuous butt. And the best thing about her hook-up with Xander Corvus (through ZZ Swipes) is Adams' amazing blowjob X-pertise, really hacking on that cock, clearly in-dick-cating that she's semenly capable of taking that raging hard-on way down into her stomach (if Xander's shlong were, in fact, that freakishly long).
In scene two, Ash gets her ash, er, ass fucked by Brit nutter Danny D., with our Brit really going deep into that dung ditch. And check out how Danny boy pops during mish, with his tox(ic) trajectory actually reaching from Adams' cunt to her forehead, eyes and mouth. Whadda shot! And in Ashley's third even more scalding scene, she's DP'd by Michael Vegas and the returning Xander, with the lusty lads really turning Ash into one helluva human double-salami sandwich. Yeowza!
Next we come to this DVD's true climax (figurative and literal, if you make it past the Adams DP), with those three scenes featuring the fan-fucking-tastic Anya Olsen (the best of the three Anya sequences included in the Special Features section, though it fits in with the ongoing storyline). After very craftily breaking into the digs of Kissa and Johnny Sins, Anya is caught in the act by Kissa herself who, on her own, ravishes the fertile cunt of the ever-fetching Olsen. There's, actually, an abrupt cut from Kissa sitting on Anya's face to Olsen sucking Kissa's cunt missionary style, but since the latter position is so totally boner-inducing, as Olsen sticks her lips, tongue, even her nose deep inside that Kissa own sopping slit, this glitch is fully forgivable. Anya, by the way, applies the same ravenous approach with Kissa's crapper. And when Johnny arrives (it's, actually, another scene), he, Kissa and Anya enjoy a steamy ménage a trois, a highlight of which is when he stacks their ass cheeks on top of one another and fucks 'em silly via doggy.
And, lastly, Anya sneakily slides into the home of some body builder, in the form of (if you can believe) Markus Dupree, with Marky Mark boring his Leningrad love-stick way up Anya anus; not even for a moment bothering with her cunt. This episode does, indeed, prove what an awesome deepthroater Anya is, taking that weapon balls-deep down her gullet. The same applies to Olsen's anal whorishness, with Markus cornholing the marvelously insatiable tramp in every conceivable position; even stepping one of his bare feet upon the scrumptiously submissive slut's face during a few guerilla (or is it gorilla?) positions. She doesn't mind ATMs, either! Grand whore!
Overall, Adams rocks with her tasty bod and filthy antics, while the delicious-looking, charismatic, dirty-as-hell Anya really turns my train around in this one.
Synopsis:
Ashley and Anya star in a total of three episodes each. Ash does possess one killer body, and she can be just as fabulously filthy as Ms. Olsen.