Vixen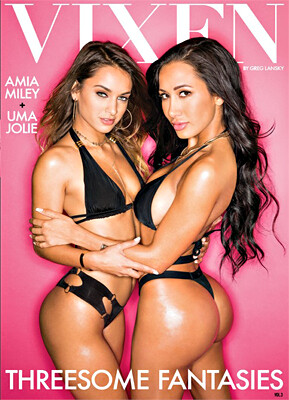 In this lucky third volume of "Threesome Fantasies," there are many high points, meaning many horny moments. Actually, of the four scenes — featuring a total of eight tasty young tarts, with pairs of 'em engaging in threesomes with extremely fortuitous male fuckers — there ain't a bad tryst; although my favorite erotic episodes are those ones starring the incomparable (love ya, bitch!) Uma Jolie and the always welcome (umphh!) Anya Olsen.
The other two scenes kick ass, too. To start this porn-manteau off, we have two fine pairs o' butt cheeks — those attached to Keisha Grey and Eva Lovia — getting their cunts seriously humped by Frenchie Jean Val Jean, playing Eva's on-screen boyfriend who gets a treat when he comes home, by cumming with not only his choice girlfriend but her foxy friend Keisha. All the positions with these ultra-juicy ladies rock, and we get to see both of 'em doing cowgirl, doggie and missionary, with plenty of arousing female-to-female anus licking and deep cocksucking a la PTOGM (that's pussy to other girl's mouth, particularly during missionary).
Another of the pair o' second-best scenes features the lovely behinds of Natalia Starr and Jill Cassidy, portraying college tramps who fuck their teacher's assistant, Americano Xander Corvus, to get passing grades. Sluts! I love 'em. The best position here is when Xander gets both big-assed babes bent over next to one another, going from one awesome booty to the other. Don't miss it.
But I really went whacko over the sequence starring Uma Jolie and Amia Miley, both playing two Machiavellian babes sucking and fucking a director — the returning (he's always returning!) Jean Val Jean — in order to land the starring role on a reality show, with positively volcanic results. One of the best parts about this scene is that both ladies are in extreme cum-petition (yes, they harbor ill feelings towards one another), trying to out-suck/out-fuck the other slut, so there's some nice sensuous tension here, if not outright conflict. Call it a battle of clits, if not wits. Another good thing is that (the very smart) Uma keeps the always-ass-grabbing Jean Val Jean's paws out of the way while he's doing Amia in both the doggie and cowgirl positions, i.e. she herself spreads Amia's delicious olive-skinned pillows.
I also love how Uma occasionally, quite wickedly reminds Amia, "If you want that part, you better take that big cock all the way up your pussy" while Miley is getting reared by Val Jean. Additionally, it's great how both Uma (the initiator of all things decadent here) and Val Jean smack Miley hard on her left butt cheek over and over again (why they chose the left as opposed to the right butt bongo beats the shit outta me). I wish we could have seen Uma in the doggie and cowgirl positions, as well, but director Lansky, to obviously mix things up a bit, displays her delectably sleek body in reverse-cowgirl and missionary positions, the latter enriched with plenty of hypnotic eye contact from the ever-magnetic Jolie. And dig the way Uma keeps her eyes wide open when Val Jean spurts cum from her chin straight up between her eyes and to the top of her forehead, while Amia shuts her eyes tightly when he blows batter upon her own kisser. Hmmm… The true whore/winner need not stand up. Congrats, Uma baby (another one of my future ex-wives)!
The other killer scene has Austrian pudinsky Mick Blue playing (yet again) a photographer who gets down and dirty with his ass-istant, the scrumptious Anya Olsen, and her new discovery, delightfully svelte brunette Evelyn Claire. Like Uma, Anya's the one calling the shots here, from BJ beginning to (blatt! blatt! blatt!) blast-off ending. And like Uma, Anya just doesn't lend a bad position. I love how she grinds down on/back upon Mick's prick during reverse-cowgirl, cowgirl, doggie and missionary (yes, we get a total of four positions — with each lady! — in this super salacious scene). Also like Jolie, Ms. Olsen's got a perfect ass. And, like awesome Uma, amazing Anya sucks a mean prick, deep down, loud and nasty. She similarly eats female asshole with equal gusto, and I don't blame her, with such a sweet-looking shitter attached to fair-skinned and pretty Evelyn, who eats her fair share of coquette crapper herself. Yeah!
Wow! Talk about a fantastic grouping o' fresh, fetching foxes all tangled up in pairs with one another as they get seriously skewered by foreign and domestic slugs; and especially keep yer eyes (and trouser weasels!) out for the always provocative (and beatworthy) Uma Jolie and Anya Olsen. These fine whores score!
Synopsis:
VIXEN.com, and award-winning, visionary director, Greg Lansky, proudly present the third edition of Threesome Fantasies! You asked, we answered! The seminal series is back, continuing to showcase the art of threesomes featuring the most beautiful women in the world. Cover girls and Vixen Angels, Uma Jolie and Amia Miley, play rival social media starlets looking for their next big break. Also featuring the dream pairings and perfect performances of Natalia Starr & Jill Kassidy; Eva Lovia & Keisha Grey; and Anya Olsen & Evelyn Claire. Expect the unexpected, and count on VIXEN.com's masterful direction, sensual storylines, and elegant locations. Threesome Fantasies Vol. 3 is the next step in threesome perfection!