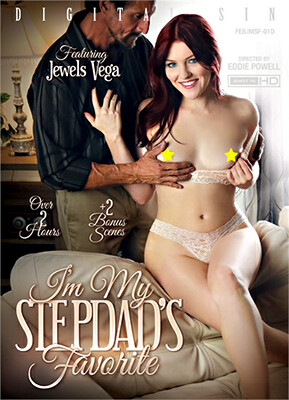 Four horny cuties get royally humped by bent step-papas, with high points going to Kenzie Reeves and Skylar Snow (who bookend the movie) in this zesty title from director Paul Woodcrest and Digital Sin.
After catching his stepdaughter, ultra-cute spinner Kenzie Reeves, masturbating in her bedroom, Roman Nomar slaps his prick against her soaking twat and buries that raging hard-on into her deep and gluttonous gob — yes, she's a 21st Century cock-suckette (can you hear Jim Morrison singin' it?). Oh yeah! And dig Ken's perfectly puffy pussy.
Umphh! The mish posish gives us a delicious view of Ken's scrumptious tight little bod, as does reverse-cowgirl, while standing mish is shot from below to highlight Reeves' heavenly butt cakes. Doggie with Kenz is, of course, one of the movie's high points; such a tight tukus (and she doesn't mind Roman's belly slappin' up against it, neither — what a gal!).
Actually, cowgirl might be the best stance of the lot, seeing as (and I do hand it to Ro-No here) our stud has the presence of prick not to manhandle those fine ass cheeks, but instead let us viewers thoroughly imbibe of their all-natural splendor.
Next up is fellow Spaniard Toni Ribas, as he roughly hooks up (for a second time, it would seem-en) with his own tasty little twat of a stepdaughter, in the form of slutty, slinky Anastasia Rose. After having Rose choke on his hose, Ribas ravages her cunt mish style, grabbing savagely at her breasts (the heated bitch loves it!). I dig when she rides Toni's rat cowgirl style, letting her butt cakes wibble and wobble, while Ribas occasionally pulls 'em apart to fully expose her twitchin' anus. Doggie is pretty gosh darn good, too, with Ribas yanking at Rose's hair as he wails away. Ribas literally chokes Rose a little during spoon, cunt-stantly trying to make her squirt, before blowing off some steam (in the form of cream) upon her tits. But it's ultimately dick sucking at which Anastasia really X-cels, going to the bone every friggin' time. Good whore!
In a similar stepdad/daughter scenario, Tommy Gunn becomes fully aware of the masturbatory X-cercises practiced by his own on-screen faux-mily, in the form of very fetching redhead Jewels Vega, eventually cunt-fronting her with it and grabbin' some quality slime with this easily aroused young hussy. Gunn is, actually, a good actor, giving the scenario the touch of reality it needs to make his seduction of Jewels believable and, in turn, all the more erotic. Jewels gives a solid BJ, but catch her doing cowgirl (she really gets a good rhythm goin' riding Tommy's torpedo), while her juicy ass and hangin' all-natural tits are fantastically spotlighted during doggie; though missionary and spoon are great in that we get a terrific view of Jewel's all-around killer tummy and (a further view of those tantalizing) titties, with the latter magically gyrating in these far-from-static positions.
And lastly, curvy Puerto Rican Skylar Snow is precisely what her on-screen stepfreak of a father Steve Holmes desires, as he pounds Snow's tonsils and twat silly. It's the stepdaughter who does the seduction here, and she's such a delightfully voluptuous thing! I mean, check Snow out when she's bent over and gagging on Steve-stick. Whoa! What a pair of butt cakes on this petite morsel! Snow also doesn't mind eating Stevie boy's farts (dayim, girl). Additionally, Sky has a choice pair o' hooters. And I like the fact that she keeps her glasses on during her tryst with twisted Stevie. She rides cock well during cowgirl (her bountiful butt bongos a-flowin'), ditto for reverse-cowgirl (which is shot from Stevie's perv-spective); while you're gonna love her incredibly succulent butt get pummeled from behind during doggie. And watch how Snow's own pair o' bodacious boobs bounce during reverse-cowgirl. Wow! And for the pop shot, Stevie baby does a fine job, indeed, o' fully frosting Snow's specs.
The sex in "I'm My Dad's Favorite" is absolutely dynamic and totally worth a wank; with all four young floozies showing what good up-and-cumming lil' sluts they are; my faves definitely being classically foxy spinner Kenzie and (on the opposite end of the XXX spectrum) off-kilter, carnally charming, delectably juicy Skylar.
Synopsis:
In this tale of seduction, passions will fly, rules will be broken and anything becomes possible! Jewels Vega, Skylar Snow, Kenzie Reeves and Anastasia Rose are definitely the hottest, naughty little stepdaughters we've met yet! Find out why they're daddy's favorite!