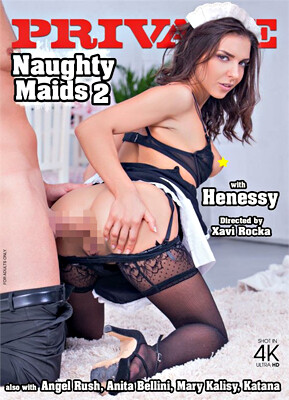 It's one of the great fantasies to bang your foxy-looking maid; if, that is, you can afford to have one, and she's, of course, willing to let you slam her. Well, each of the five (that's right, five!) fetching, fine-ass female foreign bodies are more than happy to get plugged in the mouth and pussy, as well as (in two separate carnal cases) deep in the culo, during the marvelously coarse course of this fast-moving Private hybrid gonzo.
After BBC-wielding Jesus Reyes catches his slinky, fair-skinned spinner of a servant, in the form of 20-year-old Russian sweetie Angel Rush, masturbating on his sofa, he takes advantage of the situation, with the momentarily embarrassed bitch loving every minute/inch of her spontaneous black-pipe laying. Not only does Angel suck cock oh so swell (several times during her drilling), but she looks terrific in any position, with my faves being doggie (Reyes really humps her good!) and cowgirl, both lending us a superb view of Angel's equally superb round little ass. And, after Jesus blows bro' batter all over Rush's cunt during missionary, I love how she sucks his prick and coos. Charming.
Another even juicier Russian maid is up next, namely, 27-year-old Mary Kalisy, getting seriously skewered by some lucky bastard named Emilio Ardana. I'm not sure if horny Emilio (or Leo) is fantasizing while half-asleep about 'probing' Mary or not, but the point is, the highly fortuitous prick gets to, actually, stick prick in Mary's velvety mouth and vadge. Kalisy's an even better cocksucker than Angel, going way down on that long stick o' beef. Again, doggie is the best position, because it gives us such a grand perv-spective of perhaps one of the best asses in the movie (and I'm not talking about Emilio's hairy butt, either!). Mary likes getting her succulent patty cakes spanked, too. She's also a much more animated Russian, so her cowgirl stance is far bouncier, making for an X-ceptionally rousing round o' raunch, while reverse-cowgirl shows off Kalisy's deliciously slender body — and meaty cunt!
In scene three we have yet another randy Russian, this time 28-year-old DVD cover slut Hennessy, who really whores herself — and her twitching anus — out to her on-screen employer, Alberto Blanco, while he's reading the morning paper, with volcanic results. Hennessy is also quite the grand cock-suckette, goin' to the base o' bone, while kinkily slapping Al's raging hard-on against her face and great tits. During doggie, Al continuously fingers Henn's heinie — sometimes with four digits! — while occasionally smacking those tasty cheeks. But our boy doesn't bust butthole quite yet; that posterior pummeling is initiated during reverse-cowgirl, with Henn riding Al's lil' pal to the base. And Blanco really pounds her good! Henn doesn't mind ATMin' it, either! Spoon anal is way up that crapper and scalding, with Henn offering up gape-a-roos, while cowgirl anal ain't too shabby, neither, with Al yanking out his beef-a-rooni at one point and blasting joy juice all over Henn's shitter, after which she sucks his soiled slug clean, then scoops out the semen from her crapper and eats up all o' that liquid love. Great tramp!
23-year-old Kitano is an exotic-looking Eurasian of Japanese, Chinese and Spanish roots, who lets bald Potro De Bilbao bury his Barcelona bone in her cake-hole, then her snake-hole, with aroused Kitano being very compliant, indeed. She sucks dick in a more traditional manner, not so loud and violent but, rather, more sweet, slow, and passionate. Doggie shows off Kitty's highly amazing butt cheeks, while she gets a good rhythm goin' when bouncing on boy beef during reverse-cowgirl, at one point shot from baldie's pov, giving us yet another much appreciated shot of Katana's killer cheeks. I also like how she regularly spits on cock during her BJs. Love this sweetie!
And lastly 23-year-old Hungarian honey Anita Bellini takes the returning Albert Blanco's ardent love muscle up her shit chute, with deliriously devastating/dirty results. Anita's yet another overseas babe with a perfect bod and a fantastically filthy attitude, shamelessly caught masturbating by her on-screen boss, Alberto, which quickly shifts into sex, first with Al fucking Anita's mouth, then having her bend over a table and worshiping the moaning slut's anus, before he (strangely) disappears for a few seconds, only to return to drill her pussy, before they retire to the carpet (!), where he spoons her twat, then her turd tunnel, followed by a gnarly round of reverse-cowgirl rectal reaming, lending us a perfect view of Anita's perfect little tits; proceeded by some cowgirl anal, including a few joyous gapes; and finally (yes!) doggie anal, with some choice shots of Anita's shiny (from oil and/or sweat) ass cheeks and dilating poop pit, with Bellini finally giving Al an ATM, before she sucks him off to climax, with the dude blasting bro' bleach all over the tantalizing/giggling tart's nose, mouth and chin. Anita's yet another keeper!
Yep, there ain't a bad slut/scene in this X-cellent Private title, with five (not four!) erotic episodes boasting five (not four!) freaky foreign floozies. Definitely worth a look. And a wank. Eat your heart out, Ah-nold!
Synopsis:
Private s Pussy Mansion requires a hell of a lot of cleaning, what with all the hardcore antics that take place there! Of course, we have a team of slutty servants to clean up all the cum, but they often end up making even more of a mess. The sensual oriental Katana stars alongside the experienced Anita Bellini and the gorgeous Alina Henessy in Naughty Maids 2. These girls do nothing but follow orders and they teach new cummers Angel Rush and Kalisy a thing or two on how to please their masters; suck, gargle, spit! Whether it is interracial sessions or hardcore anal slammings, no job is too dirty for these nymphos. You can t afford to miss it!