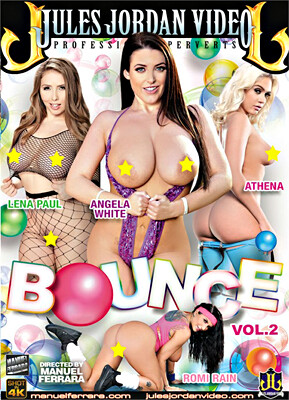 Boobs bounce. Buns bounce. Bitches bounce. And all for your boner — and the uncut French cock attached to Manuel Ferrara, since he slays all four o' these fun-filled (soon-to-be-cum-filled) floozies to bounce on his member. And from Romi, to Angela (who takes it up the Aussie oz-hole!), to Athena and Lena, the sluts will get yer nuts off — just like they did Manny's.
After peeping tom Manuel watches a bunch o' hot babes exercising/jazzercising/whatever-sizing with their hangin' hooters hangin' out (while he devours a slice o' pizza), he brings rockin' Romi Rain into his abode to worship his knob, with some va-va-voom results. And, hey, I could watch Romi dancing naked in slo-mo for hours, that's how delectable this little fuck-me fire hydrant is. Ferrara first starts off by sucking Rain's slit, after which she deepthroats his uncut centipede, followed by Rain ridin' cowgirl style, before he slips it in spoon, bangs her doggie (lotsa bun bouncin' here!), lets her ride him reverse-cowgirl (with more butt cheek jigglin'), smothers his face with cunt, at which point we've got more rockin' (big league!) doggie action, and, finally, a huge wad o' paste splattered onto Rain's pretty lil' mug.
Next up for some bouncin' bawdiness is none other than Aussie slut (love ya!) Angela White, who also offers her dung ditch for some smokin' salami slammin'. Angela gives an amazing deepthroat, even going for some man-ass (yechhh!) eating, before she get her sweet vadge doggie drilled. Lots of great Angela positions follow, including those with anal (she just adores getting her crapper crammed fulla cockmeat!), with doggie definitely being one of the positions where her ever-juicy ass jiggles like fucking mad (gapes, too!), while cowgirl anal is certainly worth a spew view or two. Also, don't miss her sucking (along with Manuel) her own swingin' all-natural tits (yes, that's how big those suckers are!).
Then we have luscious peroxide-blonde cutie Athena Palomino, who is absolutely gorgeous, with Athena giving a passionate performance, indeed. Oral-wise, it's best when Manuel face-fucks her, as she goes down deeper on his dunk-or-die dick. Cowgirl is awesome, as we witness Athena's naturally gyrating butt cakes goin' wild. She gets better at cocksucking as the scene progresses (good whore!), and it gets rather scorching during doggie, as Athena's ultra-fine ass is up in the air and getting pounded silly. Her perfect 100-percent real tits are a joy to watch in all of their bouncy glory, as well.
Lastly, we have large mammaried, round-rumped Lena Paul who really turns Manny's train around. She totally possesses a terrific pair o' ta-ta's, as well as a succulent ass, which winds up smothering freaky Ferrara's face, as does Paul's ample bosom, which our French fiend humps (several times, even!). Lena ain't a bad cocksucker and she even eats man farts (phew!). I love how she bends all the way over, her face smashed against the mattress, ass way up in the air during doggie. Cowgirl gives us a lot of posterior spring action (with that stance later repeated and involving some amazing squatting sex-ercising), ditto for her boobies, which especially shake, rattle and roll during reverse-cowgirl. And you gotta love how Paul takes Manuel's copious cum coating oh so bravely in the kisser. Right on, Lena baby!
From salacious start to frothy finish, these bootyful babes bounce their boobs 'n' buns off like there's no tomorrow, while simultanee-ass-ly letting Ferrara penetrate their twats and tonsils to a raw red. Worth checking out!
Synopsis:
Boobs bounce. Buns bounce. Bitches bounce. And all for your boner — and the uncut French cock attached to Manuel Ferrara.