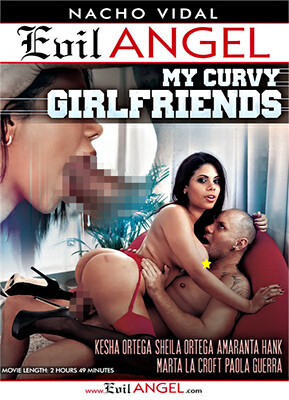 If you like women built like brick houses (as in, curvy in all the right places, with big, juicy asses and, in some cases, hangin' hooters), then you're gonna love the latest from that madcap Spaniard Nacho Vidal, the lucky pudinsky who gets to pork five different luscious Latinas (as in, three Venezuelans, a Colombian and a fellow Spaniard), with high points going to Venezuelan vixen Paola Guerra and Colombian coquette Amaranta Hank.
Supposedly, Kesha (29) and Sheila Ortega (24) are sisters (they do look quite similar), with each Venezuelan hottie offering something worth whackin' to. Kesha has that large ass that's so marvelously highlighted when Notch is getting humped by her in both the cowgirl and reverse-cowgirl styles, with the latter position (throughout the whole movie, actually) shot, at times, from Vidal's perv-spective, giving us plenty of booty jiggling action. And Sheila is by far the best cocksucker in the entire movie, going deep, getting oodles upon oodles of spit on that over-worked Spanish sword, and, at times, gagging on same.
Marta La Croft (28) is, once again, from Spain, highly thick (a good thing!), quite the moaner, and, yes, she's absolutely worth checking out; but it's Paola and Amaranta whom you wanna save yer wad for. Paolo, amazingly, is the oldest chica of the lot, at a whopping 30 years of age, though she looks like she's 24, and is incredible to watch shaking her own gelatinous (another good thing!) butt during doggie, cowgirl, and reverse-cowgirl. She's also just a true beauty. Yer definitely one fortuitous fucker, Notch.
But, even sexier, is 25-year-old, ultra-luscious Amaranta Hank, who sucks a mean penis and just cannot give the camera a bad position; in turn, there's an obvious reason why Notch saved this sizzling slut for last. I even like it when she pulls her legs up (and almost behind her noggin') to let Vidal feast upon her undoubtedly sopping cunt. Doggie, cowgirl and reverse-cowgirl really show off Amaranta's amazing pair of meaty, oh so tasty butt cheeks. And she also has a truly unique face (as in fucking-A gorgeous!), complete with huge, liquid eyes that are almost constantly fixed upon Vidal; in other words, lots of always welcome eye cunt-tact during Amaranta's slam session. I wanna see everything this bitch has starred in! Love her! And that includes her punkette haircut and wonderfully sloppy (yet another good thing!) boobies.
"My Curvy Girlfriends" is a perfect example of a great movie from the fine porn purveyors over at Evil Angel, complete with plenty of tantalizing foreign tarts, all adorned with large, succulent asses — especially Paola and (mama!) Amaranta.
Synopsis:
Famed Spanish ladies' man Nacho Vidal has his choice of the world's most stunning women. In My Curvy Girlfriends, he introduces us to his latest harem, a series of incredibly busty and voluptuous Latinas down for serious screwing, sucking and titty fucking with Nacho's gigantic cock. Generously proportioned Venezuelan beauty Kesha Ortega wraps her full, cocksucking lips around Nacho's fat prick. The big-assed knockout takes a passionate fuck ride. Comely Paola Guerra loves gagging on Nacho's massive meat. He bangs the freckled slut, and her big, pale butt quivers in response. Nacho's thick monster dick stretches Spanish stunner Marta La Croft's pussy. The longhaired bombshell squeezes him in her deep cleavage; Nacho spurts jism on Marta's soft belly. Kesha's sister, Sheila Ortega, grinds on Nacho's throbbing tool, and he sprays her big, meaty rump with cum. A refined and naturally voluptuous Colombian temptress with short hair, Amaranta Hank uses her perfect boobs and juicy pussy to service Nacho's boner. He ejaculates on her ample ass.