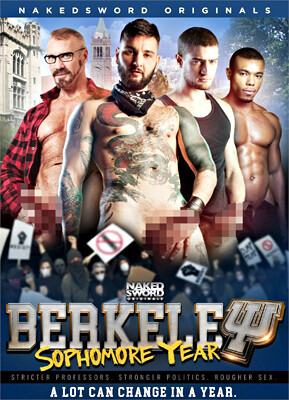 Helmer mr. Pam, a two-time winner of the XBIZ Award for Gay Director of the Year, returns with a crackling, well-crafted sequel to one of her best films. As in the original "Berkeley," she successfully spins current headlines into sexplay that feels genuine and draws terrific performances from a mix of veteran studs and promising newcomers.
Timothy Drake, adorably boyish, awaits the arrival of college recruiter Wesley Woods. Drake resembles Colton Grey (who cameos here) with his smooth and trim physique, body ink and kinky-angel good looks. He's a real sparkplug and an excellent match for Woods, one of the best all-around performers in the industry. They share a slow-burning chemistry as Drake sucks down Woods' cock, maintaining eye contact, and gasps with pleasure as Woods fucks him with passionate intensity.
Leo Forte, a frequent collaborator behind the scenes with mr. Pam, plays the head of the campus student conservatives club, while Timarrie Baker is the counterpart for the campus progressives. They share a terrific, teasing chemistry (only Forte could spit the epithet "globalist!" at a costar and make it sexy) that leads into a real scorcher of a fuck session. They make out and trade heavily spit-soaked blowjobs before Forte is given a hard plow by Baker; although he's the bottom, Forte is in charge as drives himself back onto Baker's erection with an almost angry insistence.
Justin Brody and Teddy Bryce are student protestors who dive into each other's arms after an afternoon of violent on-campus clashes. Brody is a tatted, handsome jock-type with arresting blue eyes, while Bryce is bearded and scruffy and heavily inked. They share a friendly, passionate chemistry that feels authentic. Although Brody is the topman, it's Bryce who is in control as he rides his buddy's cock. Another solid pairing for fans of sexplay where the bottom takes charge.
Professor Dallas Steele, spectacularly fit, stops off in a restroom for a wank and is cruised by pup David Emblem, lithe and lightly furred with a mustache on his upper lip. Emblem dives onto the topman's oversized boner and then has his bubble butt carefully prepped for a passionate deep-plunge. The older/younger dynamic really crackles here.
Synopsis:
A lot can change in a year! Since the release of our smash hit Berkeley the world has turned upside down. The campus is plagued by protests and unrest that reflect the challenging social climate of today's politics. Campus Alumni recruiter Wesley Woods finds out how far potential Freshman Timothy Drake is willing to go for his admissions. World's collide while preparing for a campus rally when Berkeley's Republican Club President (Leo Forte) butts heads with Democratic Club president (Timarrie Baker). Their heated debate about free speech fuels a hot fuck between ex-boyfriends. Meanwhile two hardcore black-clad ANTIFA protestors (Justin Brody and Teddy Bryce) enjoy a post-protest fuck-fest fueled by a violent political clash on campus. Back on campus hung professor Dallas Steele fucks horny student David Emblem in the infamous psych-building gay cruising bathroom, only to be shocked when the boy says "See 'ya in class, professor!" Will it be a masturbatory memory or a #MeToo moment? Find out in Berkeley: Sophomore Year.