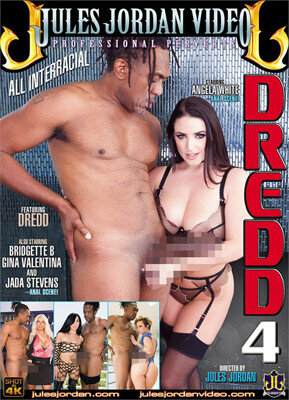 Humongously hosed black brothah Dredd (who also sports a head o' dreadlocks, hence his nom de smut) stretches the cunts and (at least in the cases of Angela White and Jada Stevens) crappers of four highly humpable ho's, with highest points definitely going to Angela, Gina and Jada.
Aussie Angela White lives for sex and I've never really seen her put in a bad scene, considering also how it's mandatory that her asshole simply must be exploded in each and every performance she gives (yah!), and boy does it get blasted out by Dredd in this here little segment, involving Dredd's far-from-little segment. After trying her damndest to get that Dredd dick (the size of an arm) into her cake hole, Angela lets the lucky bastard fuck her over-sized, all-natural titties, followed by some anus worship on Dredd's behalf, cowgirl vadge, some anus worshipping on Angela's behalf (yechhh!), doggie vadge (check out those marvelously hangin' hooters … on Angela, not Dredd), reverse-cowgirl vadge which morphs to anal, soon morphing to spoon anal, then another far-from-shy ATM, doggie anal (a movie highlight, for sure, what with Angie's fucking-A juicy buttocks), missionary-A, more ATMin', some black-ball suckin', then a slick-titty fucking leading to Dredd's eruption all over those bodacious ta-ta's. Way ta go, Angie!
Gina Valentina, wearing one of the sexiest black fishnet outfits ever, possesses one of the best bodies/sweetest faces in porn, and they're both put to X-cellent use in her temperature-rising tryst with the Dredd-ed one-eyed dragon. After a neat outdoor BJ, with plenty o' spittle, Gina moves indoors with Dredd, who does the same with Gina, with true highlights including some standing doggie (what a perfect pair o' butt cheeks on Gina!), more deepthroating, cowgirl (including some squattin', with Valentina really workin' that fresh cunt), more gnarly dick-suckin', reverse-cowgirl that's pretty damn penetrative (love those tasty thigh-high black boots on Gina, too!), spoon slammin', more doggie (another showstopper, but this time with one side o' Gina's face flat upon a bed mattress, her ass high up in the air), further black frankfurter sucking, leading to a (spa-LATT!) pop o' Dredd juice across Gina's left eye. Here's lookin' at ya, bitch! Love ya, Geen!
And while Bridgette B. puts in a sloppily (definitely a good thing!) slutty performance, your pud-blood will boil over when you witness the incredibly curvy Jada Stevens gettin' her shitter intensely plugged by the Dredd beast. Jada's ass just keeps getting better and better-looking. Hell, so does Jada in general! And, damn, I could watch this voluptuous vixen walk around naked in high heels all day, before, of course, eventually wanting to bang the livin' hell outta her, which is precisely what the fortuitous Dredd man does. Memorable moments include Jada trying to fit that black behemoth inside her mouth, standing doggie (Stevens has got a super moist cunt on her!), evolving into standard doggie, missionary anal (allowing us a grand view of Jada's incredible body), a lovely ATM, cowgirl ass-fucking (deep and nasty), another romantic ATM, more cowgirl butt-bangin' (this time with more o' Jada's fine ass cheeks gyrating about like crazy), cowgirl vadge, reverse-cowgirl vadge, with Dredd-dick shifting into Jada's shithole, doggie anal, another tender ass-to-mouthin' and Dredd, supposedly, poppin' off in Jada's mouth (but you don't fully see the cum blast), and gluttonous Stevens chuggin' those Dredd leavins. Jada — you rock, ya delish bitch, ya!
These four floozies know how to fuck, suck and allow themselves to get seriously pumped (be it the slit and/or shit) by hugely hung Dredd, with director Jules Jordan delivering some truly fiery interracial fornication. Cheers, Jules!
Synopsis:
Angela White takes that huge BBC in her backdoor! Gina Valentina is split in two by Dredd's massive cock Booty Queen Jada Stevens is back for more BBC in her legendary ass! Jules' new assistant Bridgette B gets a special bonus for all her hard work.