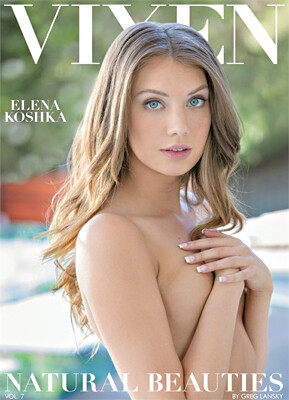 They're definitely natural beauties, and you'd wanna fuck each of 'em all night long, seven days a week. Make that all morning long, too! And that's precisely the kind of honest passion director Greg Lansky captures with these photogenic sluts in his lucky seventh volume of his hit slit series.
Ivy Wolfe, in all of her 10-rated glory, plays a nymphomaniac (porn imitating life, perhaps?), who sets her sights (at least for one afternoon) on an old (figuratively and literally) beau in the form of highly fortuitous Austrian pudster Mick Blue, with Ivy putting in one of the movie's very best, most intense sequences. She really plays the part of a sex-crazed whore to perfection, sucking cock to the bone like it's filled with some kinda life-giving force; rolling her eyes into the back of her skull and gutturally groaning with ultra whorishness during what looks like multiple orgasms; appearing as if she's ready to collapse from the incredible energy she's exuding/the potent pleasure she's absorbing while getting porked in each and every position, all of which are incredible, be it standing doggie, reverse cowgirl, cowgirl, doggie (with her deliciously pert nipples standing at attention). This babe rules! Gorgeous and trampish, she's a performer of whom I absolutely wanna see more!
Next, wholesome-looking and rather pretty Scarlett Sage wants her bald stepdad, played by Sean Lawless, to bang her silly, which he more than willingly does — and we don't blame the bastard! Scarlett sucks cock well, but is a grand submissive, really letting Lawless be kinda, well, lawless in his domination of her tasty body, with doggie being a high point, as he yanks her hair and slams his skinny puppy into her no doubt soaking twaterola. I also like how he grabs her ankles during missionary, just jammin' that man-meat into her honey hole, over and over again.
In her own vice vignette, drop-dead beautiful Elena Koshka always gets what she wants, and that includes her sister's boyfriend, Jean Val Jean, with everyone ultimately getting their way here — that is, Val Jean is lucky enough to get to fuck this ultra-babe, while Elena, being the spoiled brat that she is, gets her brains hammered out by the guy of her choice and we get to witness the torrid tryst in all of its horniness, including a few hellacious face-fucking sessions with plenty of spittle and marvelously offensive gagging sounds as Elena swallows that knob to the bone; her big juicy booty energetically bounding on Parisian pud during cowgirl; some rousing reverse cowgirl action showing off Koshka's scrumptious figure, ditto with missionary; and let's not forget a terrific session of doggy where we get to view that luscious, big, thoroughly jiggly Koshka ass getting seriously hammered.
Arya Fae, another way porkable babe, gladly lets her best friend's ex-boyfriend, played by nice guy Chad White, bang her brains out, and it's a pleasure to view, indeed. She's a good cock-gagger (love her eye contact whilst shucking one-eyed slug), and I like how she crazily rub-rub-rubs her clit during missionary, while she grinds her choice butt cheeks well during both cowgirl and doggie, the latter position lasting a good long time and totally being a movie highlight, accented with some savage hair-pulling towards the end, and climaxing with Arya taking a big pop o' plaster right into the right eye! And with pleasure, too! Damn! Arya is the shit! Like Ivy, I wanna see more of this blisteringly bodacious, bawdy babe.
Filled with wildly pretty, marvelously fuckable vixens, "Natural Beauties 7" is another fist-pumping winner from director Greg Lansky, with high points going to bookending babes Ivy Wolfe and Arya Faye.
Synopsis:
VIXEN.com is proud to present the next installment of its seminal series, Natural Beauties Vol. 7! Greg Lansky, stops at nothing to bring you the absolute best performances from an all-star lineup of natural beauties. Stunning cover model Elena Koshka plays a spoiled teen stopping at nothing to hook up with her sister's boyfriend. Also starring Ivy Wolfe, Scarlett Sage, and Arya Fae in absolutely scorching performances of their own. With VIXEN.com's signature production value and sensual storylines in full display, Natural Beauties Vol. 7 is a collection not to be missed!