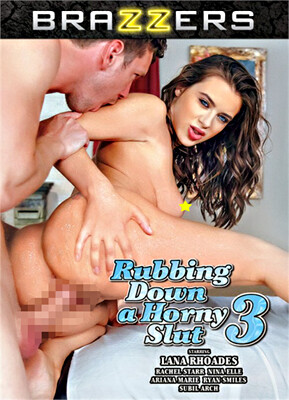 Salacious stories, care of the pervs over at Brazzers, wherein slutty babes get oily rubdowns from horny slobs with fairly arousing results.
And we start things off with cock-rockin' Rachel Starr — who still looks pretty damn good after all these years — as she gets heatedly porked by some fella. Our two degenerates play vice cops in the middle of busting a whorehouse, but get way too excited before the warrant arrives, with baldie's oil massaging of Starr leading to a dick banging o' said sexy bitch. Starr, with an incredible sun tan, looks fantastic in the spoon position, and check out how she works that cock with her shaking butt cheeks during doggie; definitely a movie highlight. Love to watch her amazing abs during missionary, too.
In story number two, the cocksman gives a slick massage, then a heavenly humping to the ever-luscious Lana Rhoades. It's pure magic, by the way, witnessing Rhoades stick her sweet, sweet ass way up in the air as Dupree rubs oil deep into it, before burying his bone into her twat missionary style (she likes to kiss!), with her delicious tits (yeowza!) gyrating like mad. Standing doggie is deep, with some hair yanking, and more tit swirling, before we switch to more customary doggie, as the gent really drives it home. Lana's a pretty darn good dick inhaler, too. And you don't wanna miss her riding rod cowgirl, with her legs actually doing an honest-to-goodness split while he sinks down into a chair; ditto during reverse-cowgirl, though the latter is way better, as it's shot from the man's POV, so as to give us some nice butt jiggling — from Lana, not him. When he returns to doggie, being the hopeless romantic that he is, the guy actually steps on Lana's head. Gotta love it.
Another unnamed/unknown baldie gives a wet-down rubdown to MILF Nina Elle, which is definitely worth catching, seeing as Elle is just always such a randy tramp, with this sleazy scene being no X-ception. Nina's augmented tits are big enough to fuck, which is precisely what this lucky bastard does. Missionary gives us a fine view of her fine, in-shape abdomen. And doggie is superb, with Elle's little, well-oiled butt cakes whirling all over the place (baldie being smart enough to keep his paws off those all-natural works of tart art). I also dig how she spits on dick and makes loud, wet, gluttonous noises while greedily sucking on it. Yeah!
In the fourth story, a lucky prick gets to lather up (in more ways than one) the truly tantalizing Ariana Marie, playing a masseuse who tries to chill her uptight client by getting naked with him, rubbing oil all over her choice body, and getting down and dirty with the boner. Marie is definitely one of the most gorgeous girls in porn today, so it's no wonder her scene is an absolute stand-out. She gets a lotta spit on dick, going deep with her gob, before he goes deep with his tongue inside her scrumptious slit and steamy sphincter. Ariana's amazing body is brilliantly highlighted during missionary (the oil helps quite a bit!) while the fella pounds her good during doggie — I like the rubbing of her quivering anus during cowgirl like it's a genie's lamp or somethin' — while reverse-cowgirl gives us a wondrous view of her awards-worthy, all-natch, greased-up boobies. Ariana rules!
And the piece (of ass) de resistance is the big, juicy booty (damn, girl!) on Ryan Smiles, as this superior slut gets way hammered by yet another anonymous baldie. Ryan has a great '70s look to her, complete with an all-around soft-and-round-in-all-the-right-places figure, surgically unaltered, and that includes one zipper-bursting set o' large and sloppy tits. Hell, just check out how her rump ripples during doggie, as does her marvelously floppy tits. She also gives the nastiest BJ in the entire movie, as if really wanting to top all o' the other featured floozies. Cowgirl is just as blindingly batter-bursting as doggie — look at those bad boys fly! The open-ass underpants she's wearing work wonders, too, for the all-around sizzling sequence. Even missionary gives us a phenomenal view of that ever-undulating booty on Smiles. She's got a pretty cute face, too, which gets well-frosted with man murk soon enough. Awesome!
Except for the opening scene with the economy-sized vice squad, the stories in "Rubbing Down a Horny Slut 3" are fairly minimal, but the scorching salami sinkings into dunk-worthy dolls (younger and older) are maximal, with big points going to … actually, all five of the featured fuckworthy femmes excel (you even get a bonus-busting scene with the sultry Subil Arch), though my perv's taste does lean towards the bounteous butts of Rachel Starr and Ryan Smiles. Rub them bitches down!
Synopsis:
Salacious stories, care of the pervs over at Brazzers, wherein slutty babes get oily rubdowns from horny slobs with fairly arousing results.