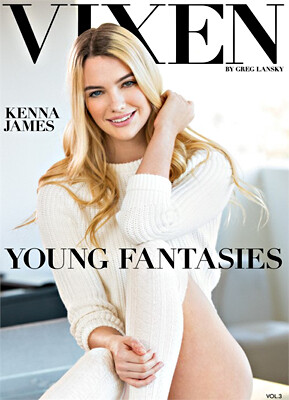 While there isn't a bad scene amongst the four slut stories in this Greg Lansky/Vixen.com/Jules Jordan Video release, high points especially go to stunning DVD cover model Kenna James and German-born fox Chloe Scott.
That's not to say that Jaye Summers and Charity Crawford don't put in passionate performances, as the babes most certainly do! 22-year-old Jaye plays a horny chick who seduces her parent's rent-a-chef, in the form of Jean Val Jean. And if it weren't for Val Jean's constant grab-assing and obscuring of Summers' choice butt cheeks, each position would be topnotch.
But, still, I found myself totally mesmerized (as did my dick!) with missionary a la Summers, as her tanned, tight little bod is so beautifully displayed in this particular stance. In terms of 19-year-old Charity Crawford, she plays a model who wants to push the envelope of success by whoring herself out to a famous photographer, played by Austrian hose man Mick Blue, with Crawford's magnificently tight little ass shining during doggie, while her entire amazingly sleek and sexy figure is beautifully displayed during reverse cowgirl.
As you can guess, 23-year-old Hoosier Kenna James is on the cover of this DVD for a reason; not only for her wildly gorgeous looks, but (natch!) her skill at handling cock with both mouth and muff (though, as yet, not simultaneously). Here she plays (yet another!) up-and-cumming model, who sluts out to the editor-in-chief of a snooty L.A. fashion magazine, played by (yet again!) Mick Blue. There isn't a bad position with Kenna, but my faves include doggie and cowgirl, which both perfectly display her equally perfect (as in way juicy!) butt cheeks. Additionally, I love the slight sheen (either oil or sweat) on her rump and thighs during her heated humping, which fuckin'-A works! And check out how this doll's eyes ever so hornily roll into the back of her skull as she's getting seriously skewered by McDick.
And, lastly, we come to 19-year-old German-born Chloe Scott, who trampishly takes on an ex-boyfriend, 2017 XBIZ Male Performer of the Year Xander Corvus (behind her current beau's back) with molten results. I love how Chloe just jams that thick dick o' Xander's down her mouth any chance she gets. Corvus is also a smart enough performer that he never obscures the view of her choice butt cheeks with his hands; with those same intensely fuckable butt muffins looking outstanding, as they jiggle away, in the cowgirl, doggie and (also shot as doggie) reverse-cowgirl positions. And don't miss how she scoops Xander's toxic toothpaste outta her twat and devours it after he deposits the gunk during a rousing round o' reverse cowgirl. Yeowza!
Absolutely do not miss this lucky third installment of "Young Fantasies" for all four featured fab floozies, and, in particular (just can't keep a good slut down!), Kenna and Chloe. Finger-lickin' good bitches!
Synopsis:
VIXEN.com and Director Greg Lansky, are proud to present Young Fantasies Vol. 3. The popular series is back, celebrating youth and beauty in a collection like no other. Stunning cover-girl Kenna James stars as an ambitious fashion model willing to do whatever it takes to get ahead. Also starring Charity Crawford, Jaye Summers, and Chloe Scott in erotically captivating scenes of their own. All wrapped in the high-end production value, breathtaking settings, and captivating storylines VIXEN.com is known for, Young Fantasies Vol. 3 is NOT to be missed!