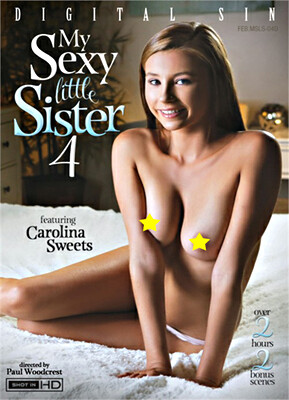 Director Paul Woodcrest presents a delicious quartet of fresh, easily excitable (in the good sense of the word) pussy in this X-cellent Digital Sin flick of four stories, each basically involving the, well, "involvement" — on a deeply intimate level — of "sexy little (step)sister(s)" with their, quite understandably, horny as hell stepbros.
20-year-old blonde pixie Chloe Cherry starts off the pro-seedings, as she and her step-dude, played by the ever-wondrous James Deen, get down and dirty in a flash. Seems the two pervs have been boinking each other for quite a while behind their parent's backs — and loving every decadent minute of their sleaziness! Cherry is a great cock-choker, while I especially liked her in the doggie and cowgirl positions, as her bountiful butt cheeks roll and ripple with magical animation. Tasty!
The next scene features luscious Avery Stone (about whom I know very little in terms o' personal stats — other than the bitch with superb all-natural tits, amazing ass cheeks and pretty face is incredibly slammable); her scene with Tyler Nixon, playing the stepbrother who has the hots for sis (whom he doesn't, however, want to look too whorish in front of his friends, but has no problem whatsoever, using her as a total fucking slut in private), totally rocks.
Boy, can Avery fuck! Wow! Every single position with this scorching tramp is choice, particularly (as you'd X-pect with such a killer ass) doggie and cowgirl, while she sucks a mean, deep, saliva-drenched prick. Great scene. Great trollop! Love ya, Av!
Another rewind-worthy scene is with DVD cover girl Carolina Sweets, who's definitely one scrumptious, passionate lil' firecracker during her heated tryst with her own on-screen step-sibling, Damon Dice, who really drills the sweetie. Carolina is just so marvelously into her scene with Damon, really rising to the occasion in terms of simply clicking with the big lug, including plenty of submissive compliance during Dice's powerful penile thrusts into Carolina's mouth and vaginal, while she's also quite the delightful kisser. A fine little floozie, indeed!
And, lastly, we have Kendra Lynn, who totally gets into her scene with on-screen stepbro Lucas Frost, with Lynn positively dying to get her tonsils and twat humped silly by this dude. I like how the sex takes flight after Lynn models some of her scanty clothing for her somewhat nervous and uncomfortable "brother," who's quickly (and gladly!) seduced by Lynn. Like Avery, she ab-so-fucking-lutely knows how to work that moneymaker of hers. Keep it up, girl!
A sincere congrats to Herr Director Woodcrest, who's really put together one wanking winner of a group o' randy young bitches, all of whom rise to the naughty occasion; with, again, and extra kudos going to the truly amazing Avery Stone, who fucks like a fiend.
Synopsis:
Check out my sexy little sister! Carolina Sweets, Avery Stone, Chloe Cherry and Kendra Lynn have it bad for their stepbrothers and the timing is just right for a sweet taboo encounter! Don't miss these irresistible hotties because they're totally in the mood for getting screwed!