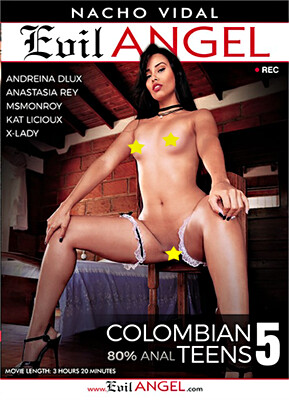 "Colombian Teens 5" stars 18-year-old Kat Licioux, Andreina Dlux, Anastasia Rey, and X-Lady, including three anal scenes and lotsa POV gonzo action that rocks the people's cocks.
We start off with an X-plosion, indeed, with the truly gorgeous — and nasty! — Andreina Dlux, along with her picture-perfect face and wildly juicy, round pooper. By the way, Andreina's the only girl in "Colombian Teens 5" who is not Colombian. She's, in fact, Venezuelan. No matter. And check out her phenomenal posterior! Nacho wastes no time, by the way, burying his bone into her doggie style while she's sitting the wrong way (butt the right way!) in a chair. I love her maid's outfit, which she slowly sheds, oh so sexily. Her wondrous little tits deliciously cunt-trast with her bountiful butt cheeks. And check out how she gets spit all over Vidal's prick during her initial sucking session, before riding her vadge on him cowgirl style. She likes to kiss, too! Doggie is amazing, though it's shot via a tripod and not a roving cameraman, which would have been preferred with such a first-rate female fanny. Spoon vadge is terrific, quickly shifting into spoon anal; though Nacho's prick keeps slippin' out o' that shitter for some reason, but he does finally settle into her sphincter.
Cowgirl vadge is truly amazing, too, with Andreina knowing how to rock her rump right. Yeowza! Look at those paddy cakes fly! A movie highlight. For the record, I could watch this beauty Andreina suck cock for hours. Vidal cums pretty fast while doing her doggie, and we only see the action from the side, while she's on her stomach. The camera's also not too close. Still, Andreina is so gorgeous, that it's a scene you gotta catch; though I'd like to see her in more titles (preferably with, as I said before, a roving cameraman in addition to the lucky bastard banging her).
Anastasia Rey is the first Colombian to get it from Nacho, and she gets it up the ass, as well. She's a beauty in her own way, really loving that Spanish sword with her lips and tongue. Nacho's prick is not so long that it's a chore for these whores to deepthroat, but it's still nice to see 'em do it, and Anastasia is super at it. Nice tits and ass, too. I love Rey's intensity as her puffy pussy is penetrated missionary style, followed by her dunghole getting duly drilled. Spoon anal is fun to watch, with a few sweet gapes. There's also reverse-cowgirl and doggie anal, followed by cowgirl vadge, which shows off Rey's, literally, rockin' butt cakes. Reverse-cowgirl vadge is shot as cowgirl so it's a joy to behold, with Ana's ass cakes continuing to rock and roll all over the place.
Redheaded Ms. Monroy is next, and she has one helluva chunky (a good thing!) booty, with Nacho really utilizing it to the max (sans anal), while she's a fantastic cocksucker; hell, just look at those full, head-givin' lips! Umphh! I like her smallish titties, too. And Monroy has such passionate expressions when she's getting fingered or straight-out fucked. Doggie is awesome. Whoa! Look at those big butt bongos bouncy-bouncin'! Cowgirl is equally awesome, though a bit short; spoon is way steamier, with Rey actually shivering from the potent pounding she receives; then we get a bit more doggie, with Notch spraying his Spanish seed all over those succulent cakes, and Rey slowly scooping up the sperm with her fingers and cunt-suming it. Yes!
X-Lady might be 34 but she looks 18, and it's marvelous seeing this Colombian non-teen getting her cunt and culo destroyed by Nacho's nob. Aside from a beautiful butt, X-Lady has similarly beautiful breasts, while giving a beautiful BJ that's deep, nasty and passionate. Reverse cowgirl gives us a thumbs-up view of her tits, while Nacho does a good job o' filming her jiggling butt cakes during this same scene. I also love the mug on this vixen. So sexy! Look at those choice lips. Cowgirl is well shot, giving us a fine view of that fine fanny on X-Lady, and she knows how to shake those cans o' paint, lemme tell ya. Doggie is definitely worth waiting for, with some far-out overhead shots of that far-out X-Lady backside. And it's a treat finally seeing Notch penetrate her keister during spoon, then mish, which gives us marvy view of X-Lady's delightfully liquid eyes; while doggie anal gives us a killer gape of her crud cave. Love this bitch! Next to Andreina, she's my fave here.
And we end with the end attached to highly tattooed teen Kat Licioux, who's also worth the wait, even if she doesn't get her doo-doo doggied. Reverse-cowgirl POV style allows us a terrif view of her superior posterior, but doggie's not too bad, neither, with Kat delivering one incredible cunt gap. Wow! You can actually hear the ocean during that gape-a-roo!
All five of these bitches are 100 percent awesome; especially anal beauties Andreina and X-Lady.
Synopsis:
Porn madman Nacho Vidal loves exposing fresh, unknown beauties from exotic corners of the world. In Colombian Teens 5, the legendary stud's intimate, POV-style camera captures lusty Latina divas in passionate, one-on-one encounters with the director himself. Stunning chica Andreina Dlux teases in sexy maid's attire. She shares sloppy kisses with super-hung Nacho, shivers in orgasm as his driving dick pounds her tight rectum, and savors his thick shaft ass-to-mouth. Athletic Anastasia Rey whimpers through serious backdoor banging, till Nacho grabs her hair and cums on her face. Buxom, tattooed Msmonroy wears a revealing bikini. Nacho fucks her throat and plows her pussy to quivering climax; beautiful Msmonroy tastes his sperm from her plump rump. X-Lady is a tan, butt-blessed lover of sodomy. Nacho thoroughly throttles her holes, and the curvy vixen flaunts her gaping asshole. In sheer lingerie, breathtaking Kat Licious strokes, sucks and worships Nacho's prick. Climaxing a heated pussy plowing, Nacho spurts hot spunk on her bald twat.