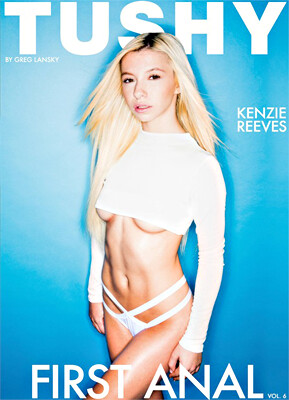 All four of these foxes get fucked in the fudge factory for the first time, with no less than scorching results.
And you can't get a better start in a Greg Lansky-directed anal porn flick than with 4' 10" 20-year-old Kenzie Reeves taking it up the shitter for the first time (on-camera, at least). Here she plays a naughty babysitter who lets her employer Jean Val Jean seduce her. She's an outstanding cocksucker, letting him fuck her mouth silly, complete with lotsa choking noises and saliva just dripping offa his raging hard-on. The petite bitch loves it! He next fucks her doggie while both perverted parties are standing, followed by his sucking her cunt nearly dry, then slamming it mish/pretzel style on a high chair and nearly breaking the damn furniture.
Val Jean next plugs her poop chute with his love stick in the same mish posish, jamming it in and out … in and out. What a tight little anus on Kenzie! Reverse-cowgirl anal is next, with a few tender gapes, followed by a wild ATM, complete with our short deviant eating man farts, just before he doggies her doo-doo, with some more lovely gapers. Cowgirl anal rocks, and it would kick ass even moreso if our Frenchman would get his grubby paws outta the way so we can fully enjoy that fine fanny on Kenzie. Another deep ATM is followed by jackhammer anal a la mish, reverse-cowgirl anal while he hoists the lil' tramp off the ground, and, finally, a big splat o' Marseilles muck all over the babe's cute-as-hell mug. Yeah!
Next, Whitney Wright, in an equally simple scenario, gets slammed in the "sphinct" by her own Euro boss, in the form of Austrian gent Mick Blue. The big-eyed, large-bootied brunette first lets Austro-man fuck her mouth, big time, before she rides her vadge on McDick cowgirl style, then it's reverse-cowgirl anal, ATMs, doggie anal (fairly hands-free), some gapes, missionary up the patooti, and Mick blowin' dick snot on Wright's chin. Choice.
Mick returns, this time to hammer the hemorrhoid hamlet of the very tasty Jade Nile, who's married to Blue's on-screen bro, or should I say on-screen cuckold? Actually, we soon find out that the perverted pair o' cheaters has been pulling the wool over Jade's hubby's eyes for a while. Scumbags. You gotta love 'em. It makes for some heated dung-ditch decadence, too. I like Jade's semi-big boobies, which have a nice slink to 'em. She's an apt cocksuckette, perhaps, however, using a bit too much hand on the gland. The posish morphs into cowgirl anal with Mick not letting up with the paws covering the ass, and Jade does cheat a wee-wee bit on the first ATM.
Next it's reverse-cowgirl anal, with some dung-hole dilations (as in gapes). But Nile does not (hoor-ray!) cheat on the next ATM. Good girl. Doggie anal is fantastic, even with the grab-assing; Jade's butt is so damn perfect. And there are some truly poetic gape-a-roos during doggie, as well. We next have missionary anal, which is augmented with Jade's sleepy, sex-drugged eyes. "Do you like the way my asshole gapes for you," she coos. Bitch! Love her.
Finally, brunette Haven Rae lets another fella, Manuel Ferrara, bust her booty. Storywise, the little slut is working off a debt to her boss, Manny, by sucking and fucking him — and, yes, letting him blow out her bunghole. Haven first enjoys having her fine fanny spanked. And we like seeing it get spanked, too, Haven. I also like how Manny boy face-fucks Nile before she rides the horndog cowgirl with her cunt. At least Manny's not too grab-assy. Next, it's reverse-cowgirl anal (looks fantastic, especially with the bitch groaning, "Fuck my tight little ass!"), some ATMin', spoon anal (which also looks superb), throat-fucking, mish anal with dainty doo-doo ditch dilations, then (POW!) pop goes the weasel into her puss. Sadly, there's no doggie anal. Still, quite an all-around fiery pork session.
Yep, there's not a bad buttfuck in the house with this quartet of freshly shit-packed babe-a-roos. Definitely worth catching.
Synopsis:
TUSHY.com is proud to present the next installment of its cornerstone series, First Anal Vol. 6. Directed and curated by Greg Lansky, this essential collection showcases the first anal experiences of the world's most beautiful women. Covergirl Kenzie Reeves stars in an exclusive anal performance as a curious house sitter who gets some long sought after anal domination. Also featuring Jade Nile, Haven Rae, and Whitney Wright in unforgettable debut anal performances of their own. With beautiful cinematography, captivating stories, and stunning models in exclusive performances - First Anal Vol. 6 is a collection that will leave you beyond satisfied.