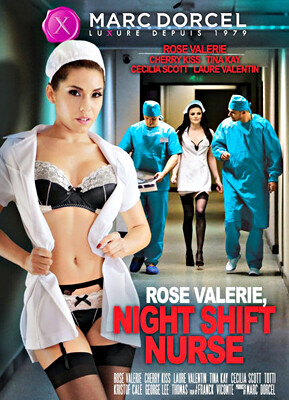 Nurse Rose Valerie gets right into it, hungrily blowing hospital orderly Kristof Cale after she tears off his scrubs. Fellow nurse Tina Kay watches with interest then joins in. Rose takes it in the ass, in reverse, and the dick goes from her ass into her mouth. Though Rose's name is in the title, this is her only scene. But it's a good one.
Cherry Kiss does a quickie blowjob with Ridge and then moves on to Thomas, who licks her pussy. She parks her butthole on his dick and pumps him mercilessly in reverse cowgirl. Heavy duty anal ensues.
Cecilia Scott, a beautiful blonde, takes care of patient Totti, letting him massage her pussy and lick her tits and even kiss her. He fucks her in several positions and dumps his cum in her mouth. Laure Valentin, a tall brunette, is treated to champagne by orderly Cale. They get all romantic in a doctor's office. Kristof fucks her on a desk with one of her long legs on his shoulder.
Tina Kay returns to seduce three guys awaiting emergency treatment. She puts a few bandages on their wounds and then gives them her body, a real cure-all. The climax is a nifty double penetration. Then, with a dick in her mouth Tina goes airtight. She smiles as they all jerk off in her mouth.
Synopsis:
Are all nurses naked under their white blouses? What really happens in the locker rooms during night shifts? Do you have to with the Chief Doctor to get a bonus? That's exactly what Rose will discover in this very special hospital. Newly graduated from her nursing school, Rose will quickly learn that all the "one says" about nurses are much closer to the truth than she could have imagined. The hospital manager demands that all nurses wear high heels and sexy lingerie underneath their blouse. Here, doctors and patients know that these sexy nurses will do anything to do their daily tasks and above all, cater for all their needs, even the most perverse ones.