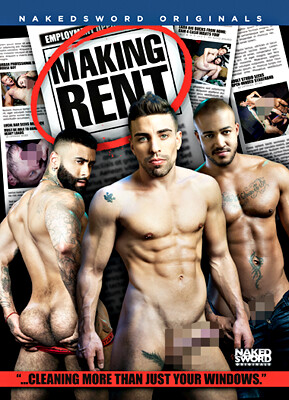 Hunky dudes demonstrate what they're willing to do for cold, hard cash in this four-pack of vignettes co-directed for NakedSword Originals by Leo Forte and mr. Pam, two-time XBIZ Awards winner for Gay Director of the Year. All four scenes showcase physical opposites and dominant power bottoms with Teddy Bryce, Colton Grey and Rikk York earning MVP honors.
Brian Bonds, a handsome, lightly scruffy jock type, hires houseboy Teddy Bryce for his cleaning services. But Bonds wants more personalized attention and Bryce needs the money so he services his client in the kitchen. Bryce is Bonds' physical opposite, dark-haired, bearded and heavily inked with an open, friendly vibe that belies a seriously intense sexual mojo. He slurpily sucks Bonds right down to the root and although he bottoms, it's clear who is in charge as he spits and growls and takes full sexual command. A strong pairing.
Elsewhere, Jackson Fillmore and Ashley Ryder set about earning the rent with a webcam show. Fillmore is dreamily handsome with long, dark, curly locks while Ryder is preppy-cute and blue-eyed with a tight bod and a kinky angel vibe. They are both all-business as they tumble between the sheets, utilizing cock rings and butt plugs, and playing to the camera.
Rikk York, tall and dark and furry, shows up for a production assistant gig and volunteers his way into a threesome with Jason Vario and Pierce Paris. These three guys couldn't be more different in looks — from blonde and chiseled to burly, bald and inked — and they go about their business with precision. Paris demonstrates commendable deepthroat skills and has his ass pounded aggressively; York, whose low-key erotic mojo is quite appealing, also takes his turn receiving cock and is rewarded with a wet facial for his efforts.
Elsewhere, beautiful Colton Grey — trim and decoratively inked with huge, sparkling blue eyes — offers wayward hustler Josh Milk a gig cleaning in his bar, but they quickly abandon their duties. Both men are similarly lean and muscled with an equally intense vibe as they flip-fuck; Grey, however, is a dominant bottom, like castmate Bryce, and he forces Milk, a very willing topman, to keep up.
Synopsis:
You live in one of the most expensive cities in the world, you're broke and rent is due. So what's a handsome, well built bro with a huge cock, hungry hole and no money supposed to do? You need to get out there and start Making Rent! At first glance these jobs seem pretty much like a no-brainer. Cleaning houses, working as a grip on set at the Nob Hill Theatre, or being a bar back at the Powerhouse seems like an honest way to make a living. But when the opportunity comes to make even more money in exchange for sucking dick and fucking ass, who is going to say no? Not these guys! They will do whatever it takes when it comes to Making Rent.