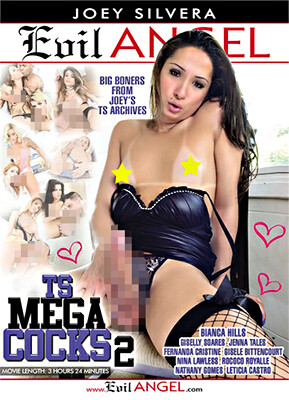 This title features exactly what it promises: Tgirls and mega cocks. Lots of mega cocks. Nothing else really matters in this DVD — even the language the performers are speaking. Who needs talk when there's so much action?
The title opens with Giselly Soares lying down on the bed, her soft, round ass exposed above two pink bow tattoos lined up perfectly on each thigh. She spreads herself and rolls over to reveal a thick cock peeking out of her blue lace panties. She pulls it out, covering it modestly with her short skirt as she plays with her nipples. Alex Victor leans over to suck her dick, licking the sides of it and going down hard on the entire shaft. He eats her tiny asshole, fingering it as she jerks off with finely manicured hands. He sticks all of his fingers inside of her ass as he plays with her boner, Soares laughing and squirming all the way. After some facefucking, Soares jerks off and comes as Victor eats her rosebud of an ass out.
The next scene opens right onto a cock hanging out from under a striped tutu. As it gets hard the camera pans up to Fernanda Cristine and blonde Gisele Bittencourt playing with themselves, touching their bouncing breasts and stroking their hard dicks. The two wave their swords around, moving their hands fast and staring straight into the camera. Tony Lee shows up to suck some dick and the two girls kiss and play with one another as Lee deepthroats Bittencourt's mega cock. He does the same favor for Cristine before the girls move to play with one another. Cristine eventually fucks Bittencourt in the ass while Bittencourt sucks Lee's dick, all three of them moaning and grinding against one another. The three roll around before Bittencourt, impaled on Lee's hard cock, comes all over the screen. Lee and Cristine jerk off onto Bittencourt's face simultaneously, giving her a chance to show the camera her cum-eating skills.
The screen cuts to Bianca Hills, who walks down the street in fishnets and a leatherette dress so short that her ass can be seen in the shot — something the camera angle makes clear. She makes her way up the stairs in high heels and into the room where Victor sits. The two speak in Portuguese, arguing until the anger turns into sex. Victor gets down onto Hills' dick after surveying the goods through a glass tabletop. She grabs his face and makes him suck on her giant cock, barely letting him stop to play with her tits before forcing him back on. He gives careful attention to her balls and then pulls her dress down to reveal her tight body. He dives into her ass face first and then with his dick. Hills jerks herself off as he fucks her, looking sensuously into the camera as her hand begins to move faster and faster. Finally, she comes, strings of jizz dripping down onto the floor. They don't stop, though, Victor grabbing Hills by the neck and fucking her hard. Hill pulls Victor by the dick and makes him come hard — right onto her face.
Next up is Jenna Tales, who has an appropriate name for someone whose scene starts out with a straight shot of balls. Her shining tits hang over the edge of a gold skirt and she smiles into the camera, showing off. It's clear her cock is huge when it slips out from under her skirt, and Gabriel takes the hint, jumping right onto it with his wet mouth. Tales' sizable prick goes deep into his mouth, deep enough to make him choke. Tales moves to suck his dick dutifully, cupping his balls and putting them into her mouth. She lowers herself onto Gabriel and into his tight, waiting ass doggy style as he jerks himself off. They fuck and then Gabriel goes down onto her cock as Tales tells the camera her husband is not home. Gabriel slips into Tales' asshole, fucking her so hard that the tassel around her neck bounces against her breasts. Eventually he pulls out and Tales strokes her dick until she comes all over his face. He comes hard onto her tits and Tales licks him clean.
The next scene opens with redheaded bio girl Rococo Royalle touching Nina Lawless' throbbing cock, kissing her and cupping her breasts. Royalle rubs Lawless' dick against her, gyrating and grasping Lawless' hips. Royalle slips down to Lawless' cock, licking up and down her shaft and then sliding over Lawless' swollen head. She deepthroats, spitting messily on Lawless' dick before flipping over and offering her pussy and ass to Lawless' mouth. Lawless eats her hairy cunt out and then puts her big cock inside of Royalle, grasping for ass she thrusts in and out of the tight pussy. Royalle jumps onto Lawless' lap, Lawless maneuvering her red twat onto the giant cock. Dirty girl Lawless licks Royalle's hairy armpit as she squirms and moans, bringing out a toy to play with her clit. She gasps as Lawless fucks her and moves the toy around her clit, coming hard. She moves the toy to Lawless' balls, maneuvering it around her shaft and taint. Royalle sucks Lawless' cock until Lawless comes all over her tight stomach — right into her belly button.
A muscular Nathany Gomes opens up the next scene, pulling off her bikini to reveal tan-lined breasts that she rubs together. Victor enters to play with her clothed ass and spread it wide to show the camera. He licks into her denim panties, trying to get at her cock. It's not difficult to do, of course, as Gomes pulls her uncut dick out for Victor to put in his mouth. He undresses her and tries his best to get his mouth on her cock as Gomes enthusiastically shoves it in. She takes out a big dildo and licks it with her pierced tongue, Victor rubbing her ass with lube to get her ready. He assfucks her with the dildo while she pulls herself off. Once the dildo is out, he slips a hand into her asshole and makes her lick the toy. She jerks off and comes hard onto her tattooed torso.
In the last scene, Leticia Castro and Victor lie down on the bed, Victor rubbing Castro's cock through black lace panties. He pulls out Castro's girthy staff, caressing it softly with his hands. Castro moves to suck on Victor's dick as she strokes her own cock, her high-heeled boots hanging off of the bed. Victor dives into Castro's asshole with his face while jerking her off with her dick pointed behind her. He fingers her asshole and slips off his clothes, the camera showing come dripping from Castro's cock. He thrusts inside of her, pounding against her ass and slipping his whole dick into her tight little hole before slamming it deep. They roll around, fucking, before separating to jerk themselves off. Victor points his dick at her round tits, angling it towards the collar that Castro wears around her neck. She puts herself back onto his dick, rubbing her own cock hard until she comes onto the camera lens and floor. Victor finishes up by coming on Castro's hard tits, and the scene fades to black.
Synopsis:
Joey Silvera, the pioneering auteur of transsexual porn, collects seven impressively endowed recent scenes in TS Mega Cocks 2. Pale, sexy Brazilian Giselly Soares reveals her plump ass and the throbbing boner protruding from her lacy panties; boyfriend Alex Victor deep-throats until Giselly's glistening she-dick erupts. Smoking seductively on the streets of Sao Paulo, T-tramps Fernanda Cristine and blonde Gisele Bittencourt hook up with muscular Tony Lee for a gender-bent threesome. Ultra-femme Bianca Hills' heels, fishnets and black mini-dress nearly reveal her secrets. She dominates Alex, spewing angry Portuguese, pinching his nose and driving his head down on her boner. Bianca stays diamond-hard as Alex porks her ass, and she deep-throats. Busty, glam blonde Cuban-American Jenna Tales trades deep sodomy with pool boy Gabriel. She busts a nut in his face, and his cum sprays her giant boobs. Redheaded bio girl Rococo Royalle sucks and fucks TS temptress Nina Lawless' big she-cock. In a teeny bikini, tattooed Nathany Gomes flexes her muscular biceps and shows off tan-lined tits. Alex rims and buttfucks her. He worships glamorous Brazilian T-girl Leticia Castro, bangs her butthole and spunks her titties.