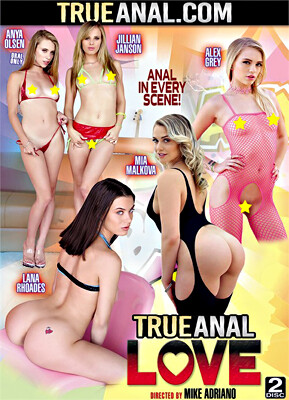 A delightfully dirty double-disc set, with some of porn's best-looking babes getting truly screwed in the scadoo-doo by performer/director Adriano.
Disc one starts with Czech-Slovenian hottie Lana Rhoades getting royally rear-reamed. But not before her tonsils are toasted by Mikey meat, with Lana goin' deep, loud and (a good thing) sloppy, including lotsa rude noises and slurpy spit. She even eats Adriano farts. Courageous whore. First is mish anal (Mikey doesn't even start with her cunt, which I'd take any day/hour/minute of the week). Gapes ensue. She soon rosebuds her rectum, then it's cowgirl anal, with Lana bearing her rear down on Adriano's rod. He then dons some gloves himself, with doggie anal next on the menu. What a killer ass on this wench; so round and meaty. Lana likes to wink that hammered heinie, too!
Reverse-cowgirl is shot from Adriano's perspective, making it look more like doggie, which is always a good thing; spoon anal is amazing, giving us a further view of Rhoades' rockin' rump and an equally choice shot of her succulent cunt, of which Adriano starts to finally take advantage, with Mikey ultimately cumming in her anus, then making her push the gunk into a martini glass and having her drink said sperm, which she gladly does. Great whore.
Disc two is just as fiery, beginning with sweetie Alex Grey getting it up the patooti. A slender thing with a juicy butt, Grey looks all the more intense wearing an outrageously sexy pink fishnet body stocking with chunks cut out so that her cunt might better air, and her butt better protrude, with Mikey man taking full advantage of the slug space, lemme tell ya. After Adriano worships her anus, he sticks a dildo up said shitter to produce some tasty gapes, after which he doggie anal-yzes her, producing more terrific butthole dilation, soon shoving his sword up her shithole cowgirl style, then mish anal, with plenty more doo-doo ditch dilation, followed by spoon anal (which looks amazing), producing more gapes, a much-appreciated ATM, more deepthroating/ball-sucking, a return to doggie anal, more ATMin', a wee bit o' man-ass eatin' (yeuchh!), and, finally, our boy letting loose onto her ravenous tongue. You go, Alex, ya super slut ya.
And we end on an apocalyptic note, as Jillian Janson takes it up the turd tunnel, with Anya Olsen providing plenty of wild oral action — and Jill herself adding a fair amount of oral favors. Adriano first has both Jill and Anya, side by side, bent over on a couch and goes back and forth eating their anuses, before Jill sits her shit on his stick cowgirl style; Anya providing plenty of deepthroat ATOGMs and testicle-sucking. Jill soon wants to taste her own ass a la deepthroat, with plenty of stringers (being produced by both foxy ladies). Doggie anal is next (for a good, long, dirty time, too), followed by more ATOGMs a la Olsen, girl-anus eating care of awesome Anya, some joyful Jill gapes during more doggie anal, mish anal, more Jill-anus eating from Anya, reverse-cowgirl anal, spoon anal (one of my faves here, with Jill's ass looking rectally resplendent), more ATOGMs (good girl, Anya!), both ladies getting a strange fluid pumped up their poopers then squirting the same liquid glop out, Jill squirting girlie juicy into a glass, Jill getting her pooper jackhammered, many more ATOGMs (very good whore, Anya!), and finally Mikey, seemingly cumming onto Anya's gob, with Olsen sharing the mysterious muck with fellow tramp Jill. Such amazing trollops!
Whether it's true anal love or true anal lust, all I know is that these sphincter sluts dig their dirty work, with compliments going to all four fanny-tastic butt-fuck bitches, and a definite nod to Anya Olsen's superlative skills processes. Cunt-grats, ladies!
Synopsis:
A delightfully dirty double-disc set, with some of porn's best-looking babes getting truly screwed in the scadoo-doo by performer/director Adriano.