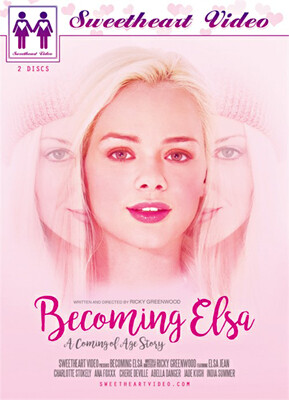 Mile High Media's "Becoming Elsa" is anything but afraid of story. The frame of the narrative is simple — a character coming of age — but writer and director Ricky Greenwood swiftly turns the traditional tale on its head with a reluctant protagonist facing a mounting world of temptation.
Elsa Jean stars as a nineteen-year-old girl making her way into California to go to a UCLA. She sits in the back of a black coupe that's making its way up a winding hill, flush with golden hour light. Greenwood certainly loves a long shot and is a master of establishing the right amount of anticipation for the ensuing action, which ramps up quickly and builds towards an explosive, albeit neatly bookended, conclusion.
"I hope everything will change in the city of angels," a nervous Jean coos as the car passes by rolling grasses and empty hillside land.
Once the car pulls up to the house the driver helps Jean take her boxes, filled with stuffed animals, fake flowers and other childhood paraphernalia, to the door.
India DeVille, her red hair shadowed by the doorframe, greets Jean and immediately picks up her anxious vibe. "Don't worry, everything's gonna be okay." Summer speaks assuredly, exhibiting honed acting skills with naturally paced dialogue.
Summer shows Jean around the house, introducing her to a lounging Jade Kush and Abella Danger before explaining the house rules. "There are no boys allowed here," Summer softly explains to Jean, whose platinum blonde hair lies straight against her patchwork denim vest. "This is your space and yours only. Don't have anyone spend the night; if you have friends over, just make sure they're gone by 9 p.m."
Jean overhears Danger making fun of her and decides to leave the house for a walk down the bucolic Angelino road. "I still feel lonely," she says. "Maybe — maybe I'm just boring."
At night, she sits on the couch with Summer (while wearing an incredible Bob Ross penis painting sweatshirt, shout out to whoever made that) while Danger and Kush dress up and go out.
Eventually Summer consoles Jean, who wishes she were going out or that someone at least "understood" her. Summer sits on the bed and tells Jean she should loosen up, assuaging her woe with stories of the past.
"Don't make the same mistakes I made," Summer says before telling Jean to just go and make friends.
Jean tosses and turns in bed trying to ignore the sounds of heavy, giggle-laden adventures coming from next door. When Jean goes to see what the commotion is about, she finds Summer sitting on the floor with Kush and Danger. Though Danger couldn't be less interested in having Jean participate, Summer convinces her to come and play truth or dare.
The questions quickly turn to sex and Jean recoils before having to answer a truth for Kush. She admits it: she's a virgin.
Danger doesn't need much prodding to show off, and when she's asked to dance she makes sure to give Kush a real show, shoving her bare chest into the other girl's willing face.
Once the commotion is over, a still-topless Danger dares Summer to kiss Jean, whose big, shy eyes gleam in the soft light. Their lips meet twice as Danger and Kush start to kiss in the background and Summer and Jean show themselves out.
"I hope you at least had fun," Summer tells Jean once they're gone. "I'm glad that you joined us."
The camera cuts back to the girls in the bedroom, who are sharing passionate kisses. Danger licks and smooches her way around Kush's soft neck and chest. She takes charge and pushes Kush down, sliding her way between the raven-haired beauty's legs and down her body. She pulls Kush's grey panties aside, spreading her thighs and slipping a hand onto Kush's waiting lips. Danger pushes on Kush's swollen clit and moves down to lick and bite her thighs and feet before slipping her tongue into Kush's pussy while grabbing her tits. Kush moans and gyrates as Danger messily moves her face around Kush's dripping twat, moving up to kiss her and give her a taste of her own juices.
After a round of kissing they trade spots, with Kush licking Danger up and down as Danger fingers her clit and moans. The two roll around, pussies getting eaten and fingered, asses being kissed. Danger rides Kush's face, the perfect angle to see Kush's manicured bush and Danger's renowned ass. The two come in spectacular fashion, ending the scene with yet another passionate kiss.
The next scene opens with Jean in a bathtub, clearly contemplative about what has happened. She looks at her naked body in the mirror, the camera panning down on her tight breasts and hand-grabbing-sized ass.
"I wish I was older than I am," she says as she squeezes and inspects her ass. "I'm just so lonely."
The feature shifts to Summer, who is looking at another body entirely. Cherie Summer has come over and the two are in bed, kissing. Summer tells DeVille about Jean and her worries but DeVille quickly consoles her with more kisses. Jean listens through the wall as an excitable Charlotte Stokely comes up behind her.
"Are they fucking?" She giggles and makes an air-humping motion. "I never miss it." She sits on Jean's bed and tells her about DeVille and Summer's rendezvous. They lay back on Jean's bed and listen to the older women kiss as the camera moves to DeVille grinding against Summer, poised just between her legs and moving against her crotch.
Jean undoes her jeans as Stokely begins to gyrate and touch herself. The scene cuts between this action — the girls slowly rubbing themselves as they strip off their clothes — and that of the MILFs, where DeVille grinds hard against Summer's leg and foot. Tongues make their way onto clits and action ensues in both settings, Stokely and Jean both fingering their wet pussies at the sounds and thoughts of the two older women fucking one another and sitting on each others' faces. Finally the work is done, and Jean and DeVille roll over exhausted.
"I didn't wanna let her go," Jean narrates, "but she was not there in the morning."
The hangout break doesn't last long, of course — not with Stokely's nosey character. Stokely effectively makes Jean miss school, and the two meet up outdoors, trying to decide what to do.
"Plans? I don't have any plans," Stokely says. "But I do have a date. I have to do some 'homework' with a friend. Come with me!"
Doing homework doesn't last long. Stokely quickly turns her attention to doing something else entirely: taking care of the stunning Ana Foxxx. Jean watches as Stokely moves from reading to Foxxx — their hands overlapping on the book's binding — to studying her directly, stroking her soft skin with supple hands. They kiss and look over at an entranced Jean, who can't look away.
They decide to put on a show for her, rubbing one another and undressing. Foxxx tenderly kisses Stokely's chest and stomach, Stokely pulling off her bra and giggling as Foxxx takes a taste. Down to their skivvies and then some, the two lick and kiss one another's pussies, Foxxx lowering her dripping muff onto Stokely's face before shaking her round ass onto the blonde's tongue.
Stokely pushes Foxxx down so she can get a better angle to finger her while stroking her soft cunt with a flicking tongue. Foxxx lies back in pleasure, holding her knees spread so that Stokely can get far into her pussy. The two kiss playfully and grind against one another before Foxxx makes Stokely giggle with pleasure while riding her mouth and coming hard onto her tongue.
As they wind back up, Jean decides that she wants to have an experience herself instead of simply being a bedside voyeur. She leaves the room for her own, heading over to the window to find a nude Summer spread out by the pool. Jean slips her hand down her torn jeans, watching Summer run her fingers down her thighs. Jean rubs her clit behind her lace underwear, picturing Summer's perfectly pink pussy. Stokely, ever the intruder, makes her way into Jean's open room and catches her in the act.
"So when are you going to make a move on her?" half-jokes Stokely.
"I'm not like you. I don't know how to express myself," says Jean.
Despite her words, she somehow musters the courage from somewhere to enter Summer's room. Summer is parked on the bed rubbing lotion on her legs. She offers to put some on Jean and runs her soft hands up and down Jean's petite thighs and calves. And finally, Jean does it: she leans in and kisses the MILF.
"Sorry," she says, surprised at herself. Summer tells her not to be before the two kiss again.
And just hazard a guess as to who shows up: it's no one other than the blonde Stokely, excited to see that Jean and Summer are finally releasing their sexual tension. The three women rub and kiss one another, the two blondes perfectly framing Summer's red hair. She dives straight in, kissing Jean's nipples as Stokely licks and rubs with her tight, thong-clad ass. Shirts come off and Summer, clearly excited to be fulfilling her dreams, makes her way towards Jean's tight, wet lips.
The bed is all limbs and nipples as the three women play with one another, Summer dutifully eating Jean's pussy before shifting her attention to Stokely. Summer certainly leads the charge in this scene, but the other girls know how to keep themselves busy with her body when she's not helming their ship.
As the scene culminates, Stokely and Jean return the favor, eating out a moaning Summer and kissing her deeply. Stokely rubs her own clit as she licks Summer — who is fingering a swollen, waiting Jean — clean.
Jean even shoves her face onto Summer's asshole while Stokely is eating her out — certainly a bold move for a coming of age story. She catches herself in the mirror, a woman on the other side of the sexual experience, and the camera cuts to her coming hard in bed as she remembers her past fantasies and playtimes.
Finally a grown woman, Jean is ready to hit the road again.
"I was looking for a way to change my life but I couldn't do it on my own," she narrates over a closeup of her and Summer. Her bags and boxes are packed and she's ready to descend the hill back down to Los Angeles — and real life. "Now nothing can stop me," she says. "It's time for me to be Elsa."
Synopsis:
Sweetheart presents a coming-of-age story of innocence lost and lust awakened, when young and inexperienced Elsa Jean arrives in Los Angeles, seeking a place she can be her true self as she starts college. Welcomed by her new landlord, gorgeous older woman India Summer, and two very devious roommates (Abella Danger and Jade Kush). Elsa is soon on a wild path of self-discovery with a sexy and elusive sidekick (Charlotte Stokely) that pulls her into new experiences and awakens her secret desire for women. Experience her powerful firsts while Becoming Elsa.