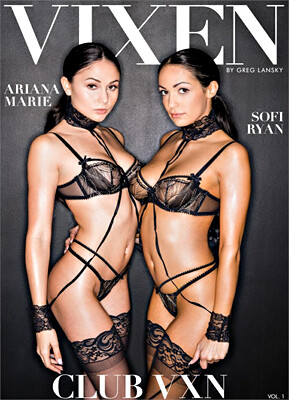 A new one from Vixen.com and director Greg Lansky, featuring gorgeous women (six in total), including a girl-girler with hotties Riley Reid and (big-boobed) Kendra Sunderland and an absolutely molten episode with uber-whore Uma Jolie.
Actually, director Lansky is clever in putting the lesbo tryst first, with each suck-cessive scene, in this perv's estimation, getting more and more volcanic; although the pairing of Riley Reid and Kendra Sunderland is in itself pretty damn fiery. Hey, I could look at Kendra all day and night and not get bored, but she looks even better licking another woman's asshole, in this case the sweet one attached to foxy Riley Reid, who puts the make on Kendra after Sunderland (playing Reid's best friend of many years) temporarily moves in with RR. It's also great seeing Reid suck on Sunderland's large, all-natural, downright friggin' amazing tits, with lucky bitch Riley jiggling those bad boys up and down while smothering their pierced nipples with sucks and kisses.
Both babes, by the way, are excellent cunt-suckers, seriously clamping their mouths down on each other's fine, fine pussy. I love the eye contact Sunderland makes with Reid while the former is chowing down on muff (yeah, there's some bush down there on lil' Riley). I also appreciate the fact that no props (as in dildos and vibes) are used. And, 'natch, one of the highlights of this entire porn-manteau is when Sunderland and Reid are, separately, on their hands and knees, bent over and letting the other sizzling bitch suck and lick her delectable doo-doo ditch. Sunderland really works her tongue on Reid's rectum, going up and down her crack, in and out of her crapper. Love it!
Nia Nacci, hands down, is one of the cutest, prettiest, sexiest black chicks I've ever seen in porn (another awesome choice in casting, Monsieur Lansky!), and she's only 19 here, getting down and dirty here with Mick Blue (and his man-bun). Our resident Austrian stud (that's Blue, just as a friendly reminder) plays the father of Nia's best friend, with Nacci having a major crush on the old timer (takes all kinds) and harboring high hopes to fuck/suck the guy. In turn, when Blue's on his way to pick up his wife at the airport, Nacci, hanging out at the pool with Mick's daughter, surreptitiously convinces Blue to instead have his daughter pick up mommy, promising that she'll make it worth his while. Lucky bastard! Anyhow, once Blue's brat's outta the way, it's down-and-dirty time! Nacci makes terrific eye contact with Blue whilst sucking McDick. Check out how she sucks gland with no hands. What a gorgeous chick! "You like fucking young tight pussy?" Nacci alluringly asks Blue before delivering some scorching reverse-cowgirl; her perfect boobs hornily shaking, while her taut little behind is magnificently revealed during cowgirl (when Blue isn't grab-assin' it), a butt which looks even better when she rides it herself. Doggie is also terrif, with Nacci's delish tits hanging and swaying. And check out when she rocks the cock all by herself. Can't wait to see naughty Nia do anal. Like Kendra, she's porn perfection!
Next up, Uma plays a "social media influencer" who is, actually, just a major whore, both figuratively and (better still) literally, obsessed with be-cumming "famous famous" (not just "internet famous") by fucking some Hollywood big shit, in this case baldie J. Mac; a pairing which rapidly evolves into quite a heated humping. Uma starts sucking the prick's prick immediately after entering his pad, not even removing her dress, but just squatting down and slurp-slurp-slurpin' that slug. Deepthroatin' it, too. A movie highlight, for sure. Uma is so superb here because she plays such an unapologetic tramp. Reverse-cowgirl is high-energy, with Mac really drillin' this cunt's cunt. And doggie totally rocks because Mac is smart enough to grab her hips and let her ride his rod, letting those butt cheeks fly, shake and roll with joy. He also pulls the hussy's hair and smacks her butt cheeks. You also gotta love how she sluttily looks back at Mac while he's filling her up. Another movie highlight. Same goes for cowgirl. Just look at how this vixen works/bounces on that worm with her undoubtedly ultra-moist twat. Jiggle-rama! Plenty of nice Uma anus views here, too. Whew! Doggie is done while standing, ending in Uma getting her hungry mouth and cute chin creamed. Actually, this one might be one of my favorite scenes of the year. Easy! Uma definitely kicks ass. And Mac (gotta give the dude cred) knows how to hit that slit without getting in the viewer's way. Good fucking job, guys.
Lastly, we have a fiery threesome between Ariana Marie (the less buxom brunette, but no less foxy, of the two tarts), Sofi Ryan and Xander Corvus, all members of the VXN Club (ergo the movie's title), a kinky whore-ganization, through which all three fuckers hornily wear each other down. The ladies show up at Corvus's stylish joint and soon go to work on … his joint! He dominates the collar-and-chained submissive bitches, who love every inch/moment of their hammering, be it in the gob or gash. Sofi, like Kendra and Nia, has another pair o' perfect boobies. And check out the saliva these girls produce while double sucking Xander stick.
In terms of actual pole positioning, the gorgeous Ariana first does reverse-cowgirl while Sofi sits on Xander's face, with the ladies soon switching positions; Sofi's boobs marvelously bouncing like mad. And the chicks switch yet again. Next, it's doggie for Sofi, which is a delight to view, lemme tell ya, as the incredibly pretty Ariana sucks those great Sofi fun bags. The gals, once again, switch positions, then partake in more double sucking. Xander then missionarily (a new word for ya) probes Sofi, soon doing the same with Ariana. Then we have cowgirl with Ariana, with Sofi spreading and squeezing Marie's ass cheeks; some double sucking; cowgirl with Sofi; more double sucking; some always welcome girlie kissing; and, a scene showstopper, Xander stacking Ariana on top of Sofi and doggie banging 'em, going back and forth between each girls honey hole; followed by both girls taking a splash o' splooge and kissing each other while all sticky. Fantastic!
Wow! Yet another killer set o' four tales and (in this case) six tails, with extra high points going to ultra-whore Uma Jolie. Love this filthy bitch!
Synopsis:
Award-winning director, Greg Lansky, proudly presents VIXEN's latest series: CLUB VXN. This newest series was built from the ground up to provide a sensual and erotic experience you cannot get anywhere else. Cover models Ariana Marie and Sofi Ryan play two best friends thrust into the dark world of an exclusive sex club. Also featuring Riley Reid and Kendra Sunderland as two best friends experiencing their first lesbian sexual encounter together; newcomer Nia Niacci as a college student living out a long held fantasy with an older man; and Uma Jolie as a socialite looking to further her fame in a scandalous deal with a paparazzo. Expect the unrivaled production value, memorable story lines, and luxurious locations that VIXEN.com is known for. CLUB VXN is the next level of erotic entertainment you have been looking for.